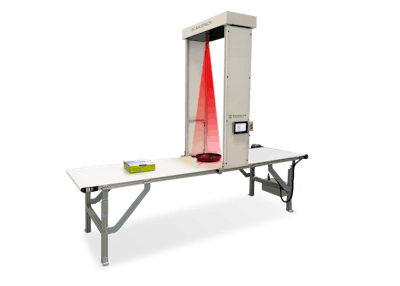 Packsize International LLC's line of On Demand Packaging® box-converting machines and accessories have proven to be a sustainable and cost-effective way to optimize e-commerce shipping cases. According to the company, rightsizing packaging using its solution results in an average savings of 20% to 30% on packaging-related costs, such as shipping, materials, and DIM weight charges.
Key to the success of the system, however, is having accurate dimensional data of those products to be packed. In Packsize's PACK EXPO Connects demo, "Capturing Product Dimensions to Create a Right-sized Box," the company discussed the range of manual, semi-automatic, and fully automatic tools it offers to customers needing to capture dimensional data to create the best box style and package for each shipment.
In a pre-show interview, Cameron Stout, Director of Sales, Midwest for Packsize, shared details on one of the company's newest products, the Scan2Pack™ customizable, 3D dimensioning system, which he championed internally in his former position of Director of the company's Advanced Products Group.
As Stout explained, not having the need previously for accurate product dimensions, many companies lack this data. "So it's always been a hurdle for us implementing On-Demand Packaging, because if you don't have dimensional data or if you don't have a time-efficient pathway of getting that information to the machine, then what's the point of doing on-demand packaging, right?"
Among the range of solutions offered by Packsize for capturing the data are static dimensioning systems for low-throughput applications with a certain size requirement all the way up to in-motion systems designed for high-throughput, high SKU-variability applications. For the in-motion systems, the price tag, ranging from $45,000 to $60,000, is cost-prohibitive to those companies just getting into e-commerce.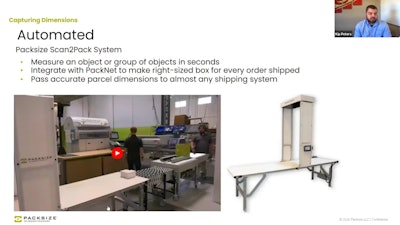 To fill this gap, Packsize developed the Scan2Pack with partner LMI that uses a laser light scanner that Stout says is essentially a laser light curtain, with the software integrated with the Packsize On Demand Packaging machine. The scanner is mounted over a variable-speed conveyor. When a product passes under the scanner, the dimensions are calculated and sent to the machine via Packsize's PackNet® software. The machine then produces a case that fits those dimensions. To create a right-sized box for multiple items, the Scan2Pack employs cubing logic to the items as they pass under the laser light curtain.
"It allows a customer to be able to work quickly and efficiently without a dimensioning database and allows them to create right-size packages, really, truly on-demand. Anything they can put into the machine, they can scan, and it can be sent off," Stout shared.
One unique feature of the Scan2Pack, Stout added, is that it allows customers to dimension larger items—up to a 48 inch by 48 inch by infinite-length item—in a cost-effective fashion. "We can design the system specific to each individual customer, which is not something that was readily available in the market. Everything else was confined by just a certain window, so this allows us to expand that window or contract that window depending on the application as we see fit," he explained.
The Scan2Pack also helps customers build a dimensional database, a significant benefit for those companies just starting in e-commerce who may not have the sway with their suppliers to demand dimensional data. "This allows them to do it on their own, and it allows them to do it relatively quickly and painlessly, rather than having a temp employee going around with a dimensioning system on a cart, for example, then pulling things off the shelf and scanning them, spending weeks and weeks and months to do this," said Stout. "This is just the most cost-effective pathway for them to either build a database or build their boxes in real time."
Another product new to the Packsize range of dimensioning systems is the DIM2Ship™. Using the manual DIM2Ship system, an operator places a product to be scanned in the designated corner of the table and then scans the length, width, and height of the item. The scan data is then transmitted to PackNet to create the right-sized box on an associated On Demand Packaging system.
To view demos from Packsize (available through March 31, 2021) and to add the company to your MyConnects Planner, click here.
Companies in this article