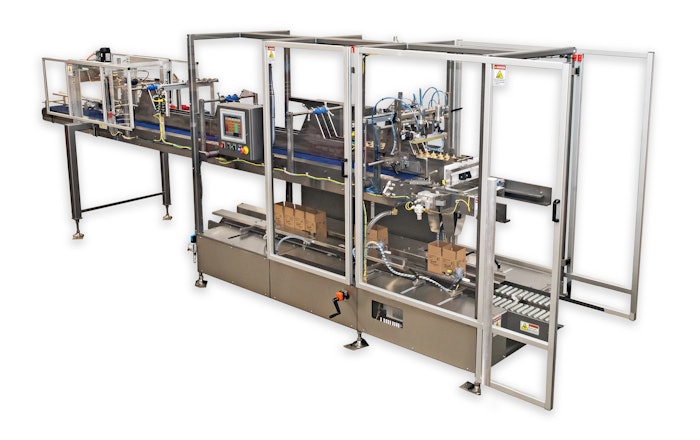 The new Model 600D-S All-Servo Case Packer is Hamrick's newest case packer. It incorporates a servo case-lift table, side-belt servo lane divider, servo case indexing system, and a premium controls package. It runs at speeds to 30+ cycles per minute and has multi-case per cycle ability, which means undersized cases can run in excess of 60 cases per minute. It's an ideal solution for a dedicated line, but flexible enough for a co-packing operation Also featured was Hamrick's pursuit into robotics. On January 1, 2020, Hamrick joined FANUC as an Authorized System Integrator of secondary robotic pick/pack/pal solutions. The firm is closing in on its year one goal of 10 robotic arms, and it's looking likely the year end total will be closer to 13-15. This includes robotic partition inserters, robotic case packers, robotic palletizers, and collaborative robotic palletizers for low-speed, small-footprint areas. Hamrick's plan is to invest heavily in the robotic areas of growth.
PACK EXPO Connects – November 9-13. Now more than ever, packaging and processing professionals need solutions for a rapidly changing world, and the power of the PACK EXPO brand delivers the decision makers you need to reach. Attendee registration is open now. 
As for the re-brand, it's about focusing more on the firm's growth in the packaging industry and an emphasis on its new capabilities. Hamrick has primarily gone from being an OEM of case packers to being an experienced supplier of integrated packaging systems from erecting through palletizing. The firm is finalizing details on a new 65,000 square foot facility that will enable it to continue its growth from $15M/year to $50M/year. 
Go here to see a PACK EXPO Connects demo on high-speed case packing options for undersized cases.
Companies in this article