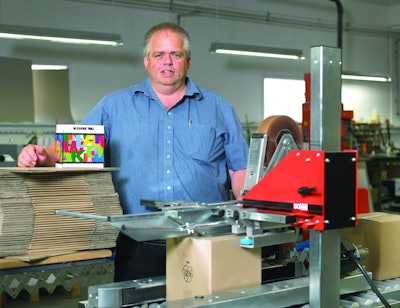 The packaging lines, featuring the case sealers, are placed in the bookbinding department ensuring efficiency improvement and minimizing manual lifts. The packaging line covers the entire logistics from printed matters to closed cartons - ready for palletizing.
The core of the packaging lines is a semiautomatic case sealer for simultaneous top and bottom tape sealing. This feature is particularly interesting for Kailow as they cannot use cartons with automatic bottom due to the weight of the contents. This means that Kailow saves two manual handling processes for each carton (bottom and top tape sealing) when using the case sealer from Soco System. Furthermore, this ensures packaging savings as cartons with automatic bottom are significantly more expensive than regular folding cartons.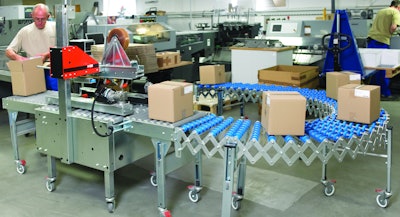 After the case sealer, the cartons are accumulated on a flexi conveyor system. The conveyor system is designed as an adjustable boomerang requiring a minimum of space. The boomerang brings the carton back to the operator, thus minimizing the number of steps. Finally, the packaging line is equipped with castors for easy relocation in the production.
The total investment per packaging line was less then DKK 50,000 including delivery, installation, and commissioning and it was, therefore, not a difficult decision for Kailow to make the packing shop more efficient and ergonomic. A few weeks later, the system was delivered and put into operation.
The packaging line is easily extendable with a bottom flap folder which is a small unit to be placed in front of the case sealer. The operator is then only to open the carton and place it in the bottom flap folder that will fold the bottom flaps of the carton and hold it firm during insertion of catalogues.
A unique extension feature for the case sealer is the Zipper - which is a small piece of paper placed at the end of the packaging tape for easy reopening of the carton at the consumer. This patented SOCO SYSTEM feature saves time and eliminates risk of damage to contents as in connection with traditional opening with a knife.
The case sealer is easily adjustable for new carton dimensions and this is a huge advantage for Kailow working with very different carton sizes.
According to production manager, Klaus Kailow, two major arguments were decisive for the investment in the packaging lines: "One weighty argument is ergonomics. The pallets of the printing industry are probably among the heaviest in the market and manual handling of carton sealing is not easy. The other argument relates to finances and flexibility in the ability to deliver. With the new packaging line from Soco System, we have halved the packaging time for volume orders for catalogues. This means that the investment has paid for itself a long time ago. In addition to this, competitiveness in the form of the shortest delivery times in the market is ensured".
Companies in this article