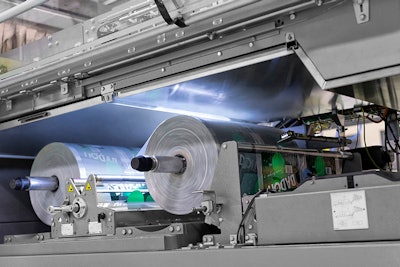 Danone group's Badoit brand of carbonated natural spring water, obtained from natural sources at Saint-Galmier just southwest of the French city of Lyon, has always been positioned as a product that is best in class. So it's no surprise the brand's managers view the appearance of both primary and secondary packaging as absolutely critical. Etienne Marie, Plant Manager at Badoit, sums it up this way.
"Our customers make the highest demands of our products—and not just regarding our water. The perfect quality of the packaging also plays a decisive role."
A few years back Badoit management recognized that there was room for improvement in the appearance of its multipacks, which often had creases in the shrink film that resulted in distorted graphics. Also less than optimal was that sometimes the multipacks of PET bottles weren't stable enough to withstand the rigors of distribution.
In some ways it was simply a matter of outmoded packaging machines that were no longer state-of-the-art in terms of efficiency, sustainability, and technology in general. But regardless of the cause, management decided that it was time for a change. Says Marie, "We were no longer able or prepared to accept these compromises in packaging quality and machine efficiency."
Parent company Danone was all in favor of initiating a search for improved multipacking technology. It launched a competition between its individual brands and their production plants, who then turned to their respective suppliers, among them KHS. "Danone Waters wanted a packaging machine that, thanks to significant further developments in the shrink tunnel segment in particular, considerably improves the standard of the shrink film processing available to date," says Christopher Stuhlmann, Head of the Line Product Division at KHS.
Following intensive talks on the new specifications to be adhered to and the first promising tests, KHS was ultimately awarded the contract for the project. Needless to say, a key driver behind the development was the wish to eliminate distortion of lettering and logo.
Don't miss this recent PMMI Business Intelligence report on sustainability in secondary packaging operations.
The KHS team, working closely with the engineers at Badoit, replaced the old KHS Kisters shrink packer with a whole new machine: the KHS Innopack Kisters SP A-H shrink packer. First came initial commissioning in December 2017, followed by a process of optimizing the system and its processes under real production conditions. "At first we weren't able to fully achieve the required packaging quality with the combination of shrink film and machine used," says Stuhlmann. The team therefore spent the following months working on the various machine components, further developing, constructing, installing, and testing them—time and time again.
One major development on the new generation of machines was a way of distributing the hot air supply more accurately on both lanes. The optimum alignment of the hot air flow on both sides of the multipacks while they're still loosely wrapped in film also had top priority for the KHS machinery designers. "Both are crucial for crease-free pack quality," says Stuhlmann.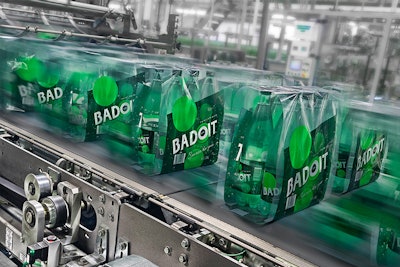 Part of the solution KHS came up with was a specially designed central tunnel nozzle, which will be made available to other projects in the future. Also helping to ensure crease-free packs are special air nozzles with optimized perforated nozzle plates.
The reimagined shrink packer sets a new benchmark for efficiency and saved resources. For example, it now uses an optimum width of film per pack thanks to better film web control. Because of this improvement, the film is guided to the center of the pack with very minor deviations, thus ensuring a stable pack at all times after the shrinking process. Consequently, web width of shrink film has been reduced from 720 to 680 mm.
"With this new technical feature we were able to achieve the goal set by the customer, namely of providing optimum packaging quality while using the lowest possible amount of material," says Stuhlmann. The team of experts also managed to boost the packer's performance: up to 37,000 bottles/hr can be formed into packs of six on two lanes at the existing line speed.
The final acceptance test at the beginning of 2019 was performed to the full satisfaction of all involved. "KHS has met our requirements in every respect," says Marie. Creasing and distorted print are now no longer a problem for the premium brand. "Thanks to the improved quality we've been able to double the size of the lettering on the packaging," adds Marie. "This is a great advantage in product presentation. Our brand is now more visible to our customers than ever before."
Companies in this article