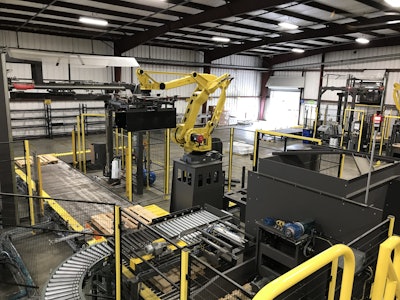 Based in Germany, BASF SE is the largest chemical producer in the world. The BASF Group comprises subsidiaries and joint ventures in more than 80 countries and operates six integrated production sites and 390 other production sites in Europe, Asia, Australia, the Americas, and Africa. At its location in Sparks, GA, BASF produces granular and liquid fungicides and insecticides used in the agricultural industry.
In 2018, with demand for its products forecast to grow, the Sparks facility began looking into ways to automate its case palletizing operations for its liquid packaging area to meet that demand. As Scott Freeman, TES (Technical Engineering Services) Manager explains, the plant's existing palletizing system was semi-automated: "There was some automation in key areas, but it was kind of antiquated, so there were a lot of manual steps in the process.
"Another big driver for automation was reliability. And, just in general, we looked at it for improvements in EH&S [environment, health, and safety], but it was really the increase in future forecast volumes that drove the change."
With access to a range of BASF packaging plants as well as to co-packers that handle packaging overflow for the company, Freeman was able to benchmark different palletizing systems to determine the best solution for his operations. "Brenton [a product brand of ProMach] was a name that popped up as being reliable and easy to work with, and providing a good-quality product," he says. "That's really where we started when we began talking to equipment suppliers. A lot of it had to do with word of mouth and experience with utilizing Brenton as far as building a degree of certainty that we were going to get a good product in the end."
BASF went to Brenton looking for a system that could handle a variety of pallet configurations and case sizes at speeds to 15 cases/min. Ease of operation was also an important factor, although not at the top of its list initially. "It was less of a driver than other aspects, but we certainly noted that we'd eventually have to have on-site resources to be able to program the system," Freeman says. "Early on we took the position that the vendor would do a lot of the initial programming work, as we may not have a ton of changes in a year, and that would get us started."
Brenton's solution was a robotic palletizing cell that includes pallet dispensing, sheet dispensing, product feeding and metering, and robotic palletizing with a Fanuc M410iC/185 four-axis robot. RMH Systems provided systems integration. The system is designed for flexibility and ease of changeover, as BASF uses 15 pallet patterns and runs case sizes that range anywhere from a little over 10 in. tall to 18 in. tall, with widths varying from 8 to 12 in., and lengths from 8 to 16 in. Case weights range from 20 to 55 lb.
Setup of the palletizing system requires the operator to manually load the Brenton-supplied Standard Sheet Bin, which holds approximately 24 in. of slip sheets, with the appropriate size sheets for the job. Meanwhile, a lift truck operator loads a stack of pallets on the Brenton fork-style pallet dispenser's infeed conveyor. The dispenser holds from 12 to 15 pallets. A stack light indicates to operators when the pallet dispenser or sheet bin are low and need to be replenished. Both processes can be done while the palletizer is in operation, without stopping production. To begin a new job, the operator assigns the product to be palletized using the system's HMI, then starts the system.
Upon startup, the pallet dispenser's motorized pallet forks engage the second to the bottom pallet in a stack and lift the remaining pallets. The singulated bottom pallet then conveys out of the dispenser into the palletizing area, after which the motorized forks lower the remaining pallets, retract, and then repeat the cycle. At the same time, the cases to be palletized transfer off of the discharge conveyor of an upstream case packer supplied by RMH.
The Fanuc robot is equipped with two end-of-arm tools: a pneumatic clamp for picking cases from the discharge conveyor and placing them on the pallet, and suction cups that work with the clamp tool to pick slip sheets from the sheet bin and place them on a pallet layer. The robot can pick from two to four cases at one time, depending on the size of the case and the layer configuration. Finished pallets are conveyed out of the palletizing cell through a CAT3 safety light curtain.
According to Freeman, changeover involves simply selecting the recipe from the HMI. While programming was done by Brenton, staff training was needed to get the operators up to speed on the robotics system. "Knowing this technology was new to the site and to employees—it was really moving the ball up from where we were before—we spent a lot of time training our operators," says Freeman. This involved classroom and in-field training with Brenton at its plant in Alexandria, MN, as well as at the Sparks plant before startup.
Since BASF started up the palletizing system in May 2019, Freeman says the company has been able to achieve the 15-case/min rate it was designed for. This is up from six to eight cases/min with the previous, semi-automated system. "Now that we have more speed on the line, we are more flexible. We do a lot of different products at our facility, and now we can move quickly to the next product," he says. "As more time passes, and we have more experience with the system, I think we'll realize more benefits. But for now, we're pleased with the system that's on the floor. It certainly improves working conditions for employees and makes us more reliable in terms of getting the product to the customer on time."
Read the full article, "Packagers Realize ROI with Robotics," here.
Companies in this article