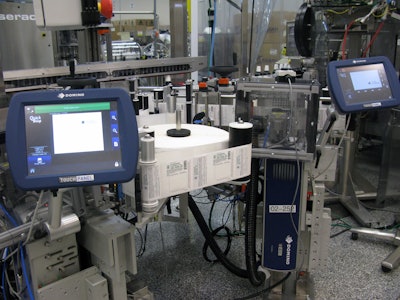 Pharmaceutical manufacturers in the U.S. that produce prescription drugs have until November 26 of this year to have in place serialization technology that lets them comply with the U.S. Drug Supply Chain Security Act (DSCSA). Essentially, serialization is the assigning of a unique serial number to each product item giving it a unique identity that allows it to be effectively tracked at virtually any moment and traced to its location at any stage of the supply chain.
Mindful of the November deadline, Xttrium Laboratories of Mount Prospect, IL, recently implemented a comprehensive serialization solution from Systech International on a new line for 16-oz PET bottles of prescription mouthwash. The Systech solution puts Xttrium in compliance with Levels 1 through 4 of the DSCSA. (Go to pwgo.to/3792 for a fuller description of the five-level model to which serialization systems are supposed to adhere.)
Equally impressive is the level of automation up and down the entire line, including a side-load case packer from Arpac. Arpac also supplied a robotic palletizing system featuring a software tool that generates ideal pallet patterns, thus enabling robots to palletize more variations quickly and efficiently. Stretchwrapping of pallets is also done on an Arpac machine.
According to David Maldonado, Director of Operations at Xttrium, Arpac became an integral part of this serialization solution early on. "I met with Rick Allegretti, Arpac President, at PACK EXPO 2016, and right away I liked what they had to offer," says Maldonado. "Serialization was new to us and it was new to them, too, at the time, but they said they'd like to work with us and customize if need be to come up with what we needed."
Close coordination between Systech and Arpac was called for in order to make sure the lighting and cameras that are so essential in a serialization solution were all properly embedded in the case packer with the best possible field of view. In addition to these more or less mechanical considerations there were electrical and data sharing connections involving the Systech PC and the case packer's PLC that had to be addressed. Arpac's Brian Ormanic, Lead Applications Engineer, puts it this way. "Inputs, outputs, wiring, programming, data checks, reject stations—it all has to be tied together if serialization is going to work."
Own brands plus others
Xttrium produces own-brand products and also contract manufactures and packages for other brands. Growth in the volume of business was the primary reason behind the addition of the new line, which operates at a rate of 150 bottles/min. Production begins with an unscrambler from Kaps-All. Operators load 16-oz amber PET bottles from Pretium Packaging into the hopper and the unscrambler does the rest, depositing bottles right-side-up on a discharge conveyor.
Bottles are conveyed single-file around a turn and then enter a filler/capper block from Serac. 18 filling nozzles in a rotary configuration fill bottles by volume. The bottles pass immediately to a capper with six heads that applies a threaded closure injection molded of polypropylene.
Exiting the Serac system, the bottles pass through a pressure-sensitive labeler from Quadrel Labeling Systems that has two label unwind stands. This helps keep efficiency high because when one roll of labels runs out the other kicks in automatically. Integrated into each unwind stand is a Model D320i laser printer from Domino. The Systech serialization system sends a unique serial number to the Domino printer for the printer to encode and print the serial number into a 2D Data Matrix code, along with product identification and lot and date code information, on each label. For Xttrium-brand products, these codes are generated internally by Xttrium. For contract packaged products, the codes emanate from the customer. In either case, the Systech system expertly manages the codes, extracting them from an Enterprise Resource Planning system and sending them to the Domino printers.
Right after printing and while the label is still on the web, a Systech vision system checks to see that each 2D code is correct, that the GTIN (Global Trade Identification Number) is correct, and that the human-readable text is all legible. If anything is inaccurate or sub-par, that bottle is rejected. The Systech software also keeps careful track of all the unique codes commissioned or, in the event a bottle has to be rejected, decommissioned during production of the entire lot.
Next the single-filed bottles pass through a Tripack unit that applies a tamper-evident capsule over each bottle neck. A heat tunnel follows immediately to shrink the TE capsule tightly around the bottle neck. "We have Tripack TE applicators on most of our lines," says Xttrium Automation Engineer Jose M. Figueroa-Matias when asked why the Tripack system was specified on the new line. Figueroa-Matias is the Xttrium individual who oversaw the entire serialization project.
'Helper code'
At this point the bottles pass beneath an overhead ink-jet printer from Videojet that prints a 2D code on the top of each cap. Xttrium refers to this as a "helper code." It's essential because when 12 bottles are collated and pushed into a corrugated case in the Arpac PC 2000 side-loading case packer immediately downstream, there's no line of sight for a Systech camera to verify the 12 unique 2D codes on the labels because each of those codes is on the side of a randomly oriented bottle. If the 12 unique 2D codes on the labels can't be inspected, there's no way that the Systech system can generate a unique code that associates those 12 label codes with a unique case code in a parent-child relationship.
This is where the helper code comes in. Once it's printed by the Videojet printer, bottles go through a 360-deg Systech vision inspection system that takes multiple images to find the unique 2D code on the label and associates it with the 2D code on the top of the cap. So now when the bottles move into the Arpac case packer, the helper codes on the caps are easily inspected from above and Systech software is able to assign a unique case code. It sends this code to a Markem Imaje print-and-apply thermal-transfer labeler that applies a printed corner-wrap label to each case so the case can be scanned from either of two sides. At that point the helper code ceases to have a function.
The side-load case packer picks corrugated case blanks from a magazine and erects them. It also collates bottles into groups of 12 and pushes these in a side-load manner into the erected cases so that a Systech camera system can inspect, verify, and aggregate groups of bottles into cases. All that remains is folding of the flaps and application of hot melt by a Nordson unit, and with that the filled case is discharged.
Now that a parent-child relationship has been established between each case and the 12 bottles inside, a parent-child relationship must be established between cases (children) and pallet (parent). So a Systech camera reads each unique case code on the freshly applied corner wrap label and associates these codes with a unique SSCC-18 linear bar code created for the pallet. This pallet code is sent to a thermal-transfer printer from Zebra that prints a pallet label. An operator applies this label to the stretch-wrapped pallet by hand, and once it's on, a parent-child relationship is established between cases and pallet.
New palletizing software
The robotic palletizer in this case is an Arpac Arbot-LT, which features a robot from Yaskawa Motoman. End-of-arm tooling uses vacuum pick up to put a slip sheet on the pallet, place 126 cases on the pallet, and then place a slip sheet on top.
Arpac was among the very first to take advantage of a new robotic palletizing software from Motoman called PalletSolver that streamlines the palletizing process by generating ideal pallet patterns and enabling robots to palletize more variations quickly and efficiently. Thanks to its intuitive drag-and-drop features, PalletSolver makes it possible to quickly set robotic palletizing routines for virtually any mix of SKUs entering the Arbot-LT. Unlike the more conventional or traditional approach, where programming lines of robotic code is required to make a change in a pallet pattern, with PalletSolver a trained operator can go to the machine's teach pendant and program a new pattern with no need for input from a dedicated robot programmer.
One additional layer of customer notification can be executed at Xttrium thanks to the way the Systech software is set up. "Let's say we have a batch of 30 pallets and Walmart wants us to ship 20 pallets to a warehouse in Indiana and 10 pallets to a warehouse in Ohio," says Xttrium's Figueroa-Matias. "The client app will then help us with this process as follows. The warehouse will scan the 20 pallets that are going to Indiana and create a shipping confirmation file with all the required information (order shipment, invoice, delivery numbers, and any other data required.) Then we will scan the other 10 pallets and create another data confirmation file. This file goes to our client and they will be able to know the exact serial number of all the items that are being shipped to them, thus enabling both parties to track and trace the product that is shipped."
With this Level 4 capability in place, says Maldonado, Xttrium is one step ahead of the serialization compliance curve. "Level 4 is not an FDA requirement until 2023," he observes.
Five factors spur pharma equipment growth
According to recent PMMI research, the pharmaceutical packaging and processing machinery markets are growing. Find out what primary factors are driving this growth, and learn how your operation can benefit. Download the whitepaper for free at pwgo.to/3822
Companies in this article