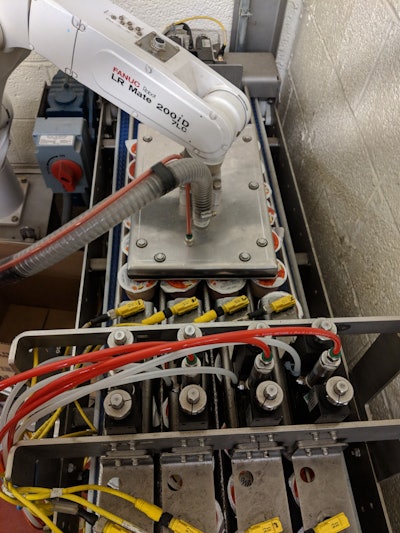 J&J Snack Foods Corp. may not be a household name, but many of its diverse and delightful treats certainly are. The Pennsauken, NJ-based company's branded niche snack foods and beverages include Auntie Anne's soft pretzels, ICEE and Slush Puppie frozen beverages, Minute Maid juice bars and soft frozen lemonade, Luigi's Italian ice, Whole Fruit frozen novelties, Dogsters ice cream-style dog treats, The Funnel Cake Factory funnel cakes, Pillsbury mini pies, and Patio burritos and hand-held sandwiches, among many others.
With such a range of product types, distributed nationwide to supermarkets and foodservice operations, J&J needs a lot of square footage for manufacturing. The company operates 16 plants across the country, most of which are bakeries. Two are dedicated to frozen dessert production. One of them, J&J Snack Foods' Mia Products division in Moosic, PA, recently became the proud owner of a robotic case packer from Flexicell, a Pearson Packaging Systems company.
Producing 400 million servings of frozen snacks a year, the Mia plant spans 58,000 sq ft and operates eight production lines: one for frozen juice bars, two for Italian ice in tubes, and five for Italian ice/sherbet cups. Before J&J installed the automated system to case-pack its cup products, the process was labor-intensive and manual.
Explains Jason Pniewski, Automation Technology Manager for J&J, "Cups would come out of a blast freezer around 260 cups per minute. Operators would pick several cups off a conveyor line and place them into a corrugated container for our foodservice customers. One challenge was the temperature of the product: grabbing cups that are zero degrees Fahrenheit, even with cotton gloves, can make your hands pretty cold, and packers got fatigued with repetitive motion throughout their shift."
Another challenge—one that many packaging operations currently face—was the tight labor pool, Pniewski adds. "In our region, several manufacturers and distribution centers all compete for the same laborers," he says.
While J&J was interested in automating the process, it was a bit gun shy. In 2004, it had installed a larger robotic packing system from another vendor that didn't perform as expected. According to Pniewski, it took many years and a few upgrades to get the system to perform properly. For this new project, J&J was looking for a system that could keep up with its existing line speed, with additional capacity that would allow it to make up for machine stoppages, easy operation, and a compact footprint, as space was very tight. "Flexicell came through with a unique design that is both user-friendly and compact," Pniewski relates.
The turnkey solution from Flexicell, commissioned in April 2017, includes infeed conveyors, a sortation belt with cup handling, a case erector, and a pick-and-place robot. The system came preprogrammed from Flexicell's shop floor, "so there was very little on-site debugging," Pniewski says.
Just one size cup, 4 oz, is being packed on the line, which handles two case configurations—three layers of 24 cups and four layers of 24 cups—for foodservice customers. During operation of the line, filled cups are conveyed from the blast freezer single file to a sortation table that uses puffs of air to segregate the frozen products into four equal lanes. The system then presents 24 cups at a time to the robot for picking and placing into a shipping case. The system operates at speeds to 300 cups/min.
The robot is a Fanuc LR Mate 200iD, a six-axis mini robot having the approximate size and reach of a human arm. Flexicell designed the robot's custom end-of-arm tool, which uses vacuum to easily pick and place the lightweight treat cups.
With the installation of the Flexicell robotic case packer, J&J's faith in robots has been restored. "The system keeps up with and exceeds our original hand-pack configuration while freeing up labor for our other production lines," Pniewski says. "Since the installation of this packing system, this line is our most cost-effective."
Read Part II of Packaging World's Robotics & Automation Special Report, "Robots prove their mettle."
Companies in this article