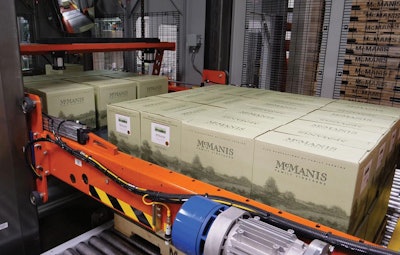 McManis Family Winery in Ripon, CA, receives empty bottles in two very different formats. When the firm is contract filling for a customer, typically it's corrugated reshippers in which the glass bottles arrive. When filling a McManis brand, it's palletized bulk glass.
When bulk glass on pallets is in production, two key pieces of packaging equipment come into play: a corrugated case former from DS Smith and a partition inserter from Wayne Automation.
"If you look across the industry you'll find most people are comfortable with a case erector," says Director of Packaging Operations Manny Moreno. "But the DS Smith equipment is not an erector. It's a former, as it forms a case from a flat blank of double-wall corrugated that has no manufacturer's joint. It's actuated by 16 servo motors, so there is very little manual change of tooling required when going from one bottle shape to another. We only do 12-count cases, and all bottles are 750-mL. But we have four different bottle molds or shapes, including a reverse taper, a Bordeaux, and a claret. You choose the shape from a menu on the touch screen and nearly everything that needs to be adjusted, like the case-forming mandrel for example, is automatically adjusted."

Moreno says another key advantage is that case forming brings a savings in packaging material cost compared to case erecting. "You're not paying the supplier to form a manufacturer's joint," says Moreno. "It's also nice that more case blanks fit on a pallet."
Companies in this article