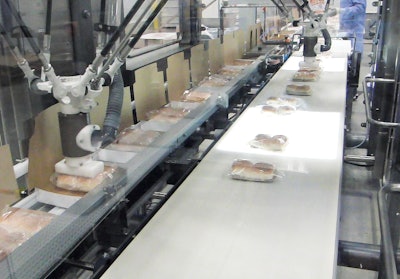 In January 2017, the Vandalia, OH facility of White Castle installed a Model VGR2000 vision-guided, vacuum pick-and-place carton top loader supplied by the Bradman Lake Group.
The VGR2000 contains two delta-style robots and can pick and place up to 250 packages/min, depending on size, shape, and weight. Modularly designed, the system can be easily integrated with Bradman Lake standard flow-wrapping and top-load and end-load cartoning and casing machines to create fully automated lines.
According to Brad Rife, Project Manager for White Castle, "We've had a successful relationship with Bradman Lake for 13 years and excellent experience with their equipment and technical support. So, when we wanted to upgrade the cartoning line from manual to automated loading, they were a natural go-to. Our own in-house staff roughed in the VGR2000 prior to the BL service engineers' arrival. BL staff then took over the installation from there, making necessary positioning adjustments. And they stayed on for full commissioning and live-production start-up."
Cartoning procedure
The individual burgers are flow-wrapped in two-count pillow packs, using 80-gauge polypropylene film, supplied from multiple sources. But now, instead of manually depositing these pillow packs (three or eight pillow packs at a time) into cartons, they are robotically loaded. The 18-gauge chipboard cartons are supplied by Graphic Packaging International, Inc. They are erected using previously in-place Bradman Lake Model HS2/60 Lock Erect carton-forming equipment and closed using Bradman Lake Model RA90 carton-closing equipment, also previously installed at Vandalia. The filled, sealed cartons then are manually loaded (12 or 16 cartons per case) into corrugated shipper case flats supplied by WestRock. As for date coding, White Castle relies on a Domino laser coder for cartons and an Evolution IV system from Digital Design for case coding. Like its predecessors in the Evolution line, the Evolution IV uses digital thermal ink jet (TIJ) technology to deliver a high-resolution print with a clean, self-contained system that is easy to install in just minutes. The Evolution IV is the first system of its kind to pair a one-inch print head with an integrated ink supply in a 128-mL cartridge. The proprietary cartridge design decreases the time required for cartridge changes, reduces downtime, and eliminates maintenance and repair schedules required of other types of ink jet technologies. The TIJ printing system is mounted on the Little David case taper from Loveshaw used to tape cases shut.
"The one-inch printer is simple to set up and use," says Jonathan Hopkins, Lead Maintenance Technician at the White Castle plant. "The larger print is easy to read from a long distance. My favorite quality is how quick and easy you can change the print height to accommodate for different products without changing equipment."
Summing up, Brad Rife notes, "In addition to speeding up the carton-loading operations, we have been able to make them less labor-intensive, taking some burden off our human resources. We are well satisfied with the new robotic carton-loading system."
Companies in this article
Videos from Graphic Packaging Intl.