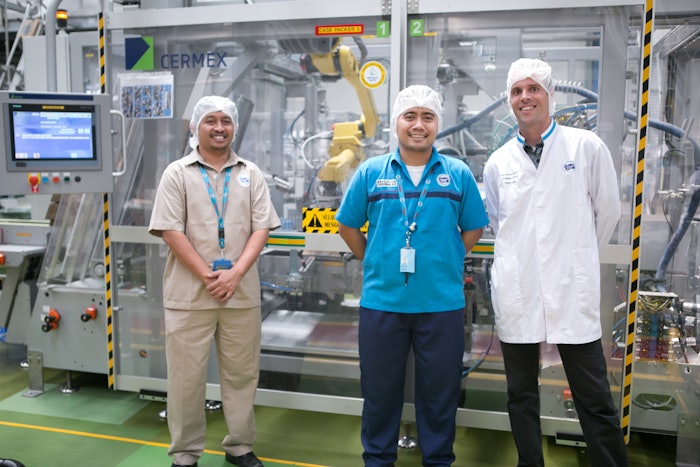 Frisian Flag Indonesia, part of Dutch international dairy group Friesland Campina, has become a convert to robotics, after adding end-of-line automation to 16 packaging lines at its Pasar Rebo, Indonesia, manufacturing facility. As part of Friesland Campina, Frisian Flag is required to meet the same international safety and quality standards as its parent company. This applies both to consumer product safety as well as to employee safety. Production processes are run on the principles of four zeros: zero accidents, zero incidents, zero waste, and zero losses. This makes productivity, efficiency, and safety important drivers when investing in new equipment.
Until the addition of 11 robotic case packers from Gebo Cermex to its Pasar Rebo plant—one of two in Jakarta—Frisian Flag's case-packing area for sachets of sweetened, condensed milk was severely congested: More than 100 people worked in the area 24/7 to manually case-pack sachets coming from 16 filling lines.
Explains Johannes Althuisius, Project Manager at Frisian Flag, "In the past, we had a process where the sachets would come out of a filler, operators would fold them over manually and put them on the infeed to a flow wrapper, and from the flow wrapper, operators would pack the sachets into a case, and then put the case onto a conveyor that would bring it to the palletizing area. The packing department was very, very crowded, and at the same time, there were forklifts moving through the area. It led to a lot of unsafe situations. And it was also quite hard to manage that many people."
Not only were there safety considerations, but labor costs were also a concern. Each year in Indonesia, minimum wages rise by 10% to 15%. "We realized we needed to mechanize and automate our packing solution," says Althuisius. "Case packing seemed like the low-hanging fruit."
In selecting a system, Frisian Flag received bids from three suppliers. According to Althuisius, the first company offered a good machine, but the equipment was not flexible, which would make it difficult to incorporate into Frisian Flag's layout. The second, also a good machine, did offer flexibility, but there was no local support. "Gebo Cermex offered us both," he says. "They offered us a machine that was very flexible and could fit into our squeezed department, and on top of that, they had a local support team."
As a result, Frisian Flag purchased 11 Gebo Cermex automated case packers, each equipped with a six-axis industrial robot from Fanuc and each designed to handle output from two filling/flow-wrapping lines. During design of the system, Althuisius made it clear that each case packer had to be flexible enough to manage product from two different fillers—either together or separately. If one filler was not functioning, the case packer needed to be able to work with the other filler. In effect, this meant the case packer had to be able to work at full speed with both fillers or at half speed if just one was in use. Furthermore, all sachets in any one case needed to come from just one filler.
Althuisius adds that Frisian Flag went back and forth on the question of whether a robot was the best solution for them, especially since the plant had never used robotics before. But, given the required capacity and speed of the packaging lines as well as Gebo Cermex's local support, they decided "to go for it," he says.
During operation of the case packer, sachets are conveyed single-file from the flow wrapper to the infeed of the machine and into a collator. From there, 10 sachets are pushed onto a platform, which lowers to accept a second layer of 10 on top. The Fanuc robot then picks the stack of 20 sachets and places them into a wraparound case blank. Next, the blank is folded around the sachets and proceeds to a gluing station. At the same time, sachets are also being conveyed from the second flow wrapper and into a separate, independent collator. After the robot finishes placing a stack of sachets from one side of the machine into the case blank, it moves to the other side and picks up the next set of 20.
According to Althuisius, the addition of automation has been an important step in Frisian Flag's "factory of the future" project. "Not only are we looking at what's happening tomorrow and in the coming weeks, but we are also looking at what is happening 10 years from now," he says. "Ten years from now, the role of the operator will be completely different. Today there is a lot of manual packing, but in the future, an operator will be operating a machine. Maybe he will be pushing a stop/start button, but he will spend most of his time analyzing, doing inspections, and maybe performing maintenance on the machine. And we wanted to make sure the robotic automation introduced would be able to support future development."
Six months after installation, the new case packers have met Frisian Flag's standards for production output, efficiency, and safety. The processes have become more standardized, the area is less congested, and the working environment has become safer. The company is so pleased with the success of the new solution that they have ordered two additional case packers—one for stand-up pouches of condensed milk and one for powdered milk in cartons—and two new case palletizers from Gebo Cermex.
Pictured are (l. to r.) Petrus Kurniawan Joko Wibowo, Production Manager at the time of the project, Yohanes Chandra Putra Yudhatama, Supervisor SCM Sachet Dept., and Johannes Althuisius, Project Manager, of Frisian Flag, in front of one of the company's new robotic case packers.