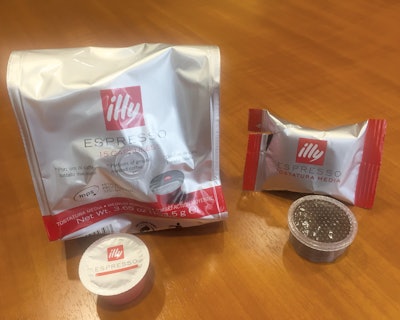 The co-inventor of the single-serve coffee capsule way back in 1978 (see sidebar at end of article), Edoardo Macchi is now the President of coffee producer Mitaca S.r.l. Among the many packaging operations Macchi oversees at the firm's impressive plant in Robecchetto con Induno, about 25 miles northwest of Milan, two are especially notable: a compression-molding department dedicated to making polypropylene coffee capsules and a new flow wrapping and cartoning line for single-serve capsules of tea as well as hot drinks other than coffee. We begin with compression molding.
Like others who make single-serve coffee capsules, Mitaca, a division of the Italian coffee giant Illy, for many years relied on outside vendors to injection mold or thermoform the capsules it fills. But in 2015 the firm began making its own capsules when it installed a Continuous Compression Molding (CCM) press from Sacmi, and in 2016 It installed another. On these machines Mitaca now makes 85% of the capsules it fills. This makes the firm considerably more vertically integrated than its peers. They've even installed their own roasting system to further advance their vertical integration goals.
While some coffee marketers might be understandably nervous about bringing in-house something as potentially complicated as compression molding, Macchi says it didn't worry him all that much because he had prior experience in molding caps when he worked for a previous company. He acknowledges that both thermoforming and injection molding were considered as he and his colleagues prepared to bring capsule production in-house. But the downside to thermoforming, they felt, is that it generates a sizeable amount of scrap matrix once the individual capsules are formed from the continuous web. As for injection molding, it was not selected because both higher speed and greater precision can be achieved with compression molding, says Macchi.
"Inherent in compression molding," he explains, "is better control of material flow. Also in compression molding we heat the plastic to a temperature 20 to 30 degrees lower than what's called for in injection molding. Not only does this mean that compression molding brings energy savings, it also means that the plastic undergoes less stress. With less stress you get more consistent resin behavior and greater precision. And with this capsule, where the break point is so crucial, precision was more important than ever."
The "break point" he refers to is a patented feature that sets Mitaca capsules apart from the competition. It's essentially three incisions in the bottom of each capsule that radiate out toward the circumference. When hot water enters the capsule under pressure, for a period of time there is no place for the water to exit. Only when the right internal pressure is reached do the incisions open and let the coffee flow out and into a cup. This slight delay gives the pressurized hot water ample opportunity to infuse all of the coffee in the capsule, which guarantees the fullest possible body and flavor.
Cycle times
Both of the Sacmi CCM systems at Mitaca are of the 32-cavity variety, so cycle time is in the range of 2.4 to 3.2 seconds. According to Sacmi, this is the shortest cycle time in the industry, and it compares to 3.8 to 5 seconds when injection molding is used.
In compression molding, a continuous flow of molten PP is extruded by a screw and passed through a volumetric pump up to a nozzle. Three high-speed wheels take over from here. The first one cuts a "gob" of molten PP and deposits it into one of 32 molds mounted on a rotary device. Each mold is then elevated up into a top plug that closes on it. Hydraulic pressure is applied to force the material to contact all areas of the mold. Throughout this process, heat and pressure are precisely maintained until the PP has been cooled. When the mold completes its 360-degree rotation and returns to about the same position where the molten gob was inserted into it, the mold opens and a finished capsule is picked by starwheel transfer and sent toward a large box that heads for work in process storage until such time as it's needed for production.
Also in place is a camera vision system for quality inspection. Because the compression molding system deposits each capsule on the discharge belt in the same open-side-up orientation and with a precise pitch, it's easy to inspect 100% of the capsules for quality and immediately reject those with potential defects.
But there is an additional quality control/inspection routine set up at Mitaca. Every 10 minutes, one capsule is removed from each of the 32 molds. These capsules are sent through a machine that tests and records the amount of pressure required to cause the incisions on the bottom to open. "So we know that if mold #1 is making a capsule that opens under 6.7 bar of pressure when it's supposed to open under some other predetermined specification, we can take corrective action," says Macchi. This could include an adjustment in the quantity of the plastic being deposited in the mold. But if necessary, says Macchi, "we can take that one mold out of operation and keep right on producing with the other 31 molds."
Two styles of capsules are made at Mitaca. On one Sacmi system the I-Espresso System (IES) is made at a rate of about 550/min. This is aimed at the Office Coffee Channel market. It weighs 3.61 g. After it's filled it has heat sealed to it a flexible film lid that is perforated. The perforations, explains Macchi, permit optimal diffusion of the water on the coffee in the capsule.
All IES capsules get individually wrapped in a foil-based structure on a flow wrapper. This is necessary for two reasons. First, neither the PP capsule nor the perforated lidding material provides sufficient oxygen barrier. But the other reason has more to do with hygiene. People in an office setting, which is more or less a public space, appreciate knowing that the capsule they use to make their cup of coffee hasn't been handled by their office mates. So the secondary packaging material applied on the flow wrapper not only provides the necessary oxygen barrier but also adds a measure of hygiene.
On the other Sacmi system the Mitaca Professional System (MPS) is made. These capsules, each weighing 2.15 g, are sold not through the Office Coffee Channel but rather through retail channels. The lidding material heat sealed to these capsules is a polyester and foil-based lamination from Goglio, so it delivers plenty of gas barrier properties. But because the capsule is made of PP, which is not known for its gas barrier properties, Mitaca multipacks them 15 per standup pouch in a material that does include an oxygen barrier. The pouching is done on a Volpak vertical form/fill/seal system.
Non-coffee products, too
In addition to single-serve coffees, Mitaca sells a lot of tea in the single-serve capsule format, and much of this is sold through retail channels. The packaging format the firm has relied upon is individually wrapped capsules in a 16-count folding carton, and that format is still in place. But it's radically different thanks to a new packaging system designed jointly by Mitaca and ACMA.
The best way to appreciate the advantages of this new approach to packaging is to look at Photo B. On the left is the new format. "Look how much more compact the new format is," says Macchi. "It permits us to use a much smaller carton, which retailers like because it doesn't consume huge space on the store shelf. And the packaging materials required for this new compact format will cost us 40% less."
The first machine in the new line, supplied by S.B.M s.r.l., denests, fills, and seals pre-made PP capsules. These are then conveyed into the ACMA QW 200-H wrapper. A new machine featured this past spring at interpack, Mitaca represents the first commercial installation of this technology. Operating at 200 capsules/min, it takes roll-fed material through a CO2 laser from Videojet that imprints production batch and date and also produces a "pre-cut" notch that makes the package easy to open in the hands of the consumer. The machine is also equipped with a photocell that looks for an eye mark and communicates with a Schneider Electric controller to ensure the wrapping material is indexed in register with printing and graphics. In addition, five Schneider Electric servo motors are responsible for capsule infeed screw, film unwind, film cutter, heat-seal jaws, and the machine's main motor.
Capsules enter the wrapper single-file by way of a feedscrew that indexes them into the eight pockets of a feeding wheel. Then a pusher/counter-pusher system advances the capsules into an eight-station wrapping wheel (Photo A). At this point the wrapping material has already been cut from the continuous roll and is held by mechanical pincers. As the capsule goes from station to station in the wrapping wheel, the material is formed into a tube around the capsule, the longitudinal seal (fin seal) is made, and then in a nearly simultaneous manner the leading and trailing flaps are sealed as ambient atmosphere is evacuated and nitrogen is backflushed in. In the remaining stations on the wrapping wheel, the flaps are trimmed and folded and the compact, hermetically sealed package is deposited on an outfeed conveyor belt. As for the folding, it's done mechanically by way of pincers that are driven by mechanical cams.
Finished packages are now ready for the ACMA QC 60 cartoner, another impressive piece of servo-driven gear. Unlike the wrapper, though, the cartoner marches to the beat of a controller from B&R. A total of 13 B&R servo motors are deployed: five for the cartoner itself, five for product indeed, and three for pick-and-place robotic discharge. Packages are picked eight at a time by a three-axis pick-and-place robot and deposited on two parallel belts—four on one belt four on the other—leading to a star wheel that delivers four capsules at a time to a pick and place unit that picks each group of four and puts them into a folding carton that has been erected in a nearby station. When four layers are in place, the carton is closed and glued. One capsule variety that Mitaca makes is not as tall as the other, so when the shorter one is in production, a piece of paperboard is automatically placed on top of the top layer so that the packages don't move around during transit and get damaged.
Additional content available at pwgo.to/3034.
Meet the inventor
It was Edoardo Macchi and another business partner who first invented the idea of a single-serve coffee capsule when they launched in Italy the firm called Unoper. Product was sold strictly through the Office Coffee Channel. Also invented by Macchi was the machine in which to brew the single-serve coffees. Macchi and his partner sold the company to Lavazza in 1989. The PP capsules were made in-house on injection molding machines having 64 cavities.
In 2003 Macchi and colleagues from the original Unoper company launched a new company that is now known as Mitaca. It was here that the patented bottom incision concept (see main story above) was developed. Mitaca S.r.l. is now 100% owned by Illycaffe.
Companies in this article