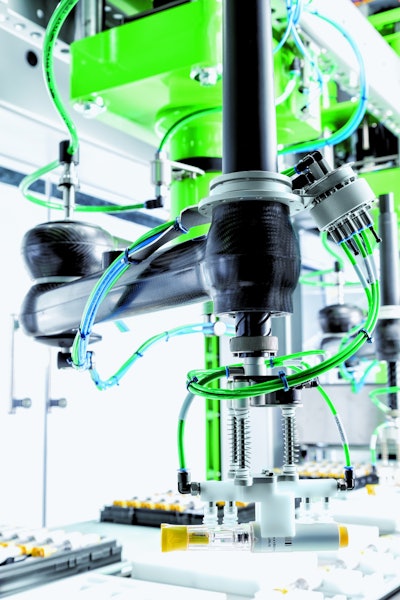 Based in Dessau, Germany, IDT Biologika is an international contract packer for pharmaceutical products and part of the Klocke Group. IDT specializes in the production, filling and packaging of vaccines and biologics. The service company covers all development, production and quality steps from active ingredients in bulk form, through sterile filling, to packaging processes and cooling chains, where the company uses state-of-the-art manufacturing and packaging technologies.
The increasing complexity of packaging solutions, changing customer ordering behavior, as well as the trend towards smaller batch sizes pose new challenges to production technology that led IDT to implement a new manufacturing strategy in the field of assembly.
The packaging applications at IDT include cartoning vials of various sizes, numbers and configurations, with or without partitions, as well as blistered syringes and combination packages of syringes and vials, which are combined into kits. A recently added application is to package and carton medical devices in thermoformed packages. IDT approached various machine manufacturers with these requirements.
In late 2016, IDT selected a system from Schubert-Pharma that combines thermoforming and cartoning tasks in a TLM system in a way that is both space-saving and efficient. By handling different types of products on the system, IDT achieves efficient capacity utilization since thermoforming and cartoning are usually carried out on two separate machines.
"We want to achieve greater flexibility with fewer packaging lines over the long term, while increasing capacity utilization," explains Raimund Merkel of Klocke Holding.
"The decisive factor for [selecting] Schubert-Pharma was its ability to realize the required processing operations within a single line," adds Karin Kleinbach, from Schubert-Pharma Sales and Project Engineering. "Since IDT is a contract packer, more and more formats are continuously added to the required production portfolio. Creativity and flexibility were required from all involved parties and this is what made the project especially exciting."
High added value on a small space
In spite of the complexity and the many applications and formats, the machine is compact, which ensures operability, serviceability and a clear machine layout.
When packaging the devices, the thermoformed trays are produced in Schubert's thermoforming module. In this process, a mother tray is formed with a defined number of individual trays that are separated later in the process.
In the area of product feeding, the grouping processes of the products to be packaged are carried out on transport robots—called Transmoduls—using F4 picker robots. A vision scanner positioned above the product belt transmits the position and number of the products of the delivered trays to the F4 picker robots. These then pick up the individual products and place them in the thermoformed trays. Subsequently, the trays are mechanically separated and the product is loaded into a top-load carton.
The vials are conveyed to the labeler in a standing position either by means of a turntable or a belt and then transferred to the product belt. This belt is positioned in the working area of ​​the F4 picker robots, so the vials are pre-grouped by the same robots, which also process the devices.
Faster batch changes
Since IDT packs a range of products on the line, proper line clearance between batches is an absolute requirement. "Intermingling must be entirely ruled out," says Merkel. This process runs automatically in the TLM machine and offers time savings, increasing the system availability.
System control is handled by Schubert's VMS packaging machine control system. By means of confirmations and counter-checks, it is ensured that no products from the previous production are still on the line. A sensor automatically checks whether all transporters are empty and passes this information on to the machine operator. This guarantees safety and security, eliminating any potential for cross-contamination. The process is also designed to reduce manual documentation, leading to faster batch changes.
IDT and Schubert-Pharma harmonized all existing packaging and product formats and also planned additional formats for future applications. As a result, IDT is equipped to package new products for its customers quickly and flexibly.