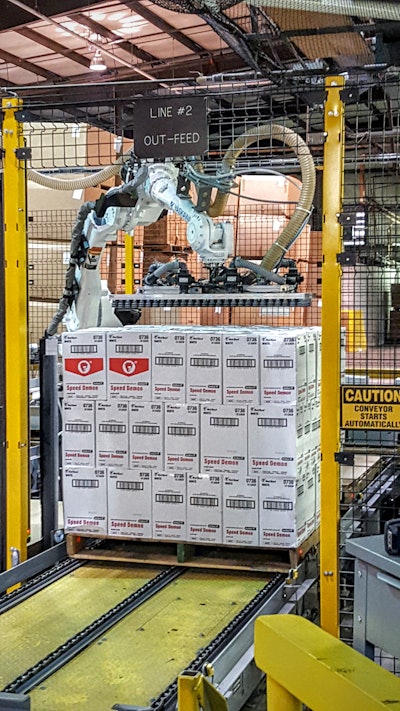 Pryor, OK-based Red Devil, Inc. is a privately owned maker of more than 400 hand tools and chemical products, such as caulk, spackling, and sealants, for professional construction and home maintenance and improvement. Along with its brand-name products, Red Devil manufactures private-label products for some of America's largest hardware and home center chains.
Red Devil's manufacturing facility includes semi-automated production lines, which, until recently, terminated with a manual palletizing process. One high-volume line produces, among other things, custom color caulk in tubes for tile grout and backsplashes; the other line produces spackling and sealants in pint-sized cans to gallon-sized pails. Previously, Red Devil employed workers who stood two and three deep at the end of the line lifting and positioning boxes of product weighing up to approximately 30 pounds on pallets. Workers would rotate on the lines to give one another a break. One would palletize, while the other fed the assembly line's box erector. Each line would run two, 10-hour shifts per day for four days.
"People were getting back injuries, and we struggled to keep running at a pace of boxing 100 tubes per minute," says Kelly Brown, VP of Engineering for Red Devil. "We were keeping that 100-tubes-per-minute pace about 50 percent of the time."
Red Devil hoped to reduce injuries and labor costs, while improving the efficiency of its lines. The company wanted its new solution to pay for itself within two years.
"We looked to automate the production lines and deploy our people elsewhere, instead of hiring more people to increase throughput," says Brown, who adds that hiring an additional staff position for robotic programming was not possible.
Flexible, easy-to-program automation
S&R Robot Systems, LLC, a Yaskawa Motoman integrator, recommended the five-axis Motoman® MPL80 II robot with MLX200 controller platform and PalletSolver® pallet generation software to replace manual palletizing.
The compact base and slim-arm design of the MPL80 II robot is ideally suited for minimum floor-space installation requirements. Its approximately 11-ft reach enables palletizing loads up to 95 in. tall. The robot is equipped with a pneumatic, multi-zone vacuum cup-style gripper assembly, comprising four pneumatic zones, for consistent product holding.
The MLX200 offers a PLC ladder-based programming approach. It enables control of robots and peripheral equipment within a single controls environment like Allen-Bradley CompactLogix PLC. No special programming language or controller is required. Its simplified hardware and controls architecture eliminates redundant interfaces.
PalletSolver allows offline generation of pallet patterns and enables fast development and integration of robotic palletizing systems. According to Yaskawa Motoman, its intuitive graphical interface makes it easy to configure cell parameters and features a step-by-step process to generate pallet patterns.
"PalletSolver is a very flexible software tool that has very little training involved and requires no training in PLC or robots for the customer," says Jason Reagan, General Manager for S&R Robot Systems.
The MPL80 II robot cell was placed between the two conveyors at the end of the line. Once the filled boxes go through a case sealer, the MPL80 II robot picks up each box and places it on a pallet. A forklift operator removes the completed pallets, and empty pallets are placed in the work area by a pallet dispenser.
In the prior manual process, workers had to also inspect boxes for damage. Now the system is equipped with upstream 2D vision to inspect case sealing and integrity, which prevents the robot from placing damaged or torn boxes onto the pallet.
Using the PalletSolver software, Red Devil's operators can generate a variety of pallet patterns to meet their specific requirements. The build sequence for each pattern is optimized based on established constraints to ensure the maximum production rate for each line. PalletSolver automatically calculates dynamic pallet-load heights, ensuring that the robot arm passes safely over the growing stack of boxes, no matter the configuration. Pallet-pattern files are transferred from PalletSolver to the MLX200 with a USB storage device.
Red Devil required the robot to palletize nine different product packing patterns across two lines. Since PalletSolver enables the setup of pallet patterns and robot motion on a PC, the robot does not have to be taken offline for teaching. This allows Red Devil to achieve quick changeovers of patterns or products without halting production for pallet-pattern validation.
Twice the production capacity
Since coming online in October 2015, the robotic palletizing cell has run continuously four days per week for 10-hour shifts each day. The caulking line is now able to maintain the 100-tube/min rate better than 90% of the time. Eliminating constant interruptions from the manual process has approximately doubled production capacity with the same upstream equipment.
During a follow-up visit to the factory by S&R Robot Systems, Red Devil's Executive Vice President, Craig Cartwright, said, "In the 40 years I've spent at this facility, no other installation has gone as smoothly as the robotic palletizing system."
Red Devil is routinely running one-shift operations to achieve the product capacity formerly requiring two shifts. As sales increase, Red Devil can run an extra shift without requiring capital for upstream reactors and filling equipment.
"After we installed the robotic palletizer, we realized that we had forgotten to tell S&R Robot Systems that we needed palletizing for two additional products," recalls Brown. "With the help of our integrator, we were able to quickly train our floor managers how to build new pallet patterns and will be adding future pallet patterns on our own.
"We don't need a programming-level engineer on staff or an integrator to create, test, and deploy new pallet patterns. PalletSolver reduces costs and improves our production."
Since installing the robotic palletizer, Red Devil has eliminated the need for its employees to stand ready to palletize boxes, thus eliminating the variety of back injuries workers were suffering because of the strain from handling heavy loads. These same workers are now able to take on other tasks around the plant.
"We've also achieved a savings of five full-time equivalencies because of the robotic palletizer," says Brown. "And we will exceed our desired ROI within the two-year time frame we targeted."
Companies in this article