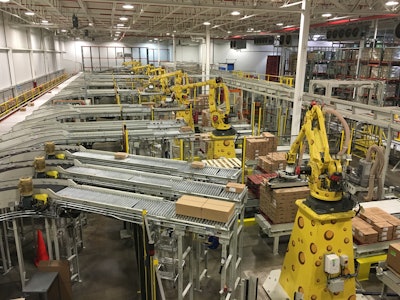 A new market study from Technavio, "Global Packaging Robots Market 2016-2020," paints a positive picture for the future of robots in the packaging plant, in particular food and beverage and pharmaceutical applications, with an estimated global CAGR of more than 9% during the forecast period.
According to the study, in 2015 the global market for packaging robots in the food and beverage industry was valued at $2.9 billion and is expected to reach $4.59 billion by 2020, growing at a CAGR of almost 10%. Reads the report, "The food and beverage industry is rapidly deploying four-axis SCARA and six-axis articulated robots and delta-style robots for accelerating primary packaging processes. These robots are low-cost, have quicker ROI over fixed automation, and offer a higher degree of flexibility."
The deployment of robots in the pharmaceutical industry has also grown over the last decade, the study says, reaching $790 million in 2015. By 2020, the global market for packaging robots for pharmaceuticals is expected to reach $1.27 billion, representing a CAGR of almost 10%. "Flexibility and accuracy of robots allow the production line to run smoothly while consequently packaging products at a higher speed than fixed automation systems," says the study. "Also, these machines reduce the risk of contamination from the direct contact of a human being in sterile environments during the packaging process."
In Part II of Packaging World's Special Report on Robotics & Automation, we see these trends in action, as five food CPGs and one pharmaceutical company use robotics to achieve the benefits mentioned above.
Robots replace manual palletizing at Sargento Foods
A complex system comprising eight robotic palletizing cells with three lanes each replaces manual palletizing operations at Sargento's Plymouth, WI, plant.
Apple packing plant automates palletizing
Washington Fruit & Produce significantly reduces labor and product damage when it implements robotic palletizing systems at its two apple-packing plants.
Automated case packing handles 450 bags/min at Pepperidge Farm
Pepperidge Farm expands its Goldfish cracker packaging capabilities, adding robotic case packing of cases, trays, and retail ready displays.
Efficient repacking of pet food made possible through automation
Automated equipment at a new secondary packaging plant for Mackle Petfoods allows the company to create mixed-product multipacks in a range of sizes and formats.
Fisher Nuts realizes twofold benefit with automated case packing
A new robotic case packing line coupled with a new style retail-ready package save Fisher Nuts labor and material costs.
Fully automated prescription assembly line ramps up in U.K.
Said to be one of the world's first, a fully automated line at Celesio UK assembles weekly trays of repeat prescriptions for LloydsPharmacy customers.
See Part I of PW's Special Report