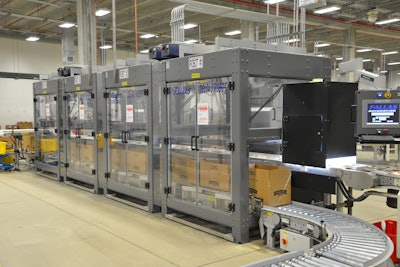 Norwalk, CT-based Pepperidge Farm, Inc., part of Campbell Soup Company, is known for its premium-quality, fresh bakery and snack products, including its popular Goldfish crackers and Milano cookies, more than 50 varieties of fresh baked breads, layer cakes, garlic bread, and many other products. According to Statistica, the company's Goldfish product is the third largest cracker brand in the U.S., with projected sales of $479.9 million in 2016.
In 2013, Pepperidge Farm broke ground on a $93 million expansion of its Willard, OH, plant that added 227,000 sq ft and additional production capacity to the facility. "The expansion was done to provide enough space to install two new high-speed Goldfish lines to support our demand for single-serve and retail-ready packaging," explains Pepperidge Farm Vice President, Supply Chain Bill Livingstone.
Having had success working with Fallas Automation on automated systems to case-pack single-serve pouches of Goldfish crackers into bulk cases and retail trays in the past, Pepperidge Farm turned to the supplier to develop similar systems for its new lines. The largest and most versatile system, installed in 2014, comprises a case erector, a tray former, and six vision-guided robots for case and tray loading.
For this line, single-serve pillow-pack bags in sizes from 0.4 to 2.5 oz are produced on three Ilapak baggers after which they are carried on three bag take-away conveyors—these are equipped with bag flipping and double-bag reject capabilities—that lead to the main product conveyor within the case/tray-loading cell. The cell, surrounded by a specially designed frame, features six ABB vision-guided IRB 360 FlexPicker delta-style robots that pick product from the main conveyor and place them either into bulk corrugated cases on one side or chipboard trays on the other at 450 bags/min.
Explains Fallas Sales Manager Chris Calabrese, "The vision system eliminated the need for special lane combining, saving thousands in additional relative costs."
On the case-loading side, corrugated cases in 24-, 30-, 45-, 36, 60-, 72-, and 300-ct sizes are first formed and bottom-sealed on a Fallas CE400 case erector, after which they are filled by the FlexPicker robots.
When the robots are not loading cases, they are filling trays in 6-, 9-, or 12-ct sizes, with trays formed by a Kliklok tray former from Bosch Packaging Technology. After being filled, the trays are conveyed out of the cell and into an overwrap machine from Campbell Wrapper, where they are wrapped with clear cellophane. The overwrapped trays are then orientated on their edge and are collated into an R400 robotic case-packing system from Fallas that picks and places the trays into a waiting case that has been formed by the upstream case erector.
In a third scenario, bags produced by the Ilapak machines travel directly through the six-robot cell to a bag-in-bag machine, after which the master packs are loaded vertically by a Fallas Model R700 ADABOT-LV robotic case-packer into cases that are also supplied by the upstream Fallas C400 case erector.
Whether holding individual bags, overwrapped trays, or bag-in-bag packaging, after case packing, full cases are conveyed to a Model CSW full-case checkweigher from Packaging Distributors, Inc. (PDI) and then to a BEL 252 case taper from Wexxar/BEL, both supplied by Fallas. Sealed cases then receive a label, after which they travel up a spiral conveyor and on to palletizing.
Since installation of this system in 2014, Fallas has equipped two more of Pepperidge Farm's 12 lines at the Willard plant with automated case packing capabilities. In addition, Fallas also designed a case-packing system that has allowed Pepperidge Farm to meet the requirements of some of its largest retail customers for shelf-ready packaging.
The shelf-ready trays are packed on a line that also loads standard corrugated shippers at speeds to 100 bags/min. The line receives flexible stand-up pouches of Goldfish crackers in sizes from 7 to 30 oz, filled on a Mespack horizontal bagger. For shelf-ready cases, a Fallas Model D3-LV retail-ready robotic case packer picks up the bags—which are lying flat on the conveyor—using a vacuum end-of-arm tool, places them into a chamber that rotates them 90 deg, and then places them into the display case in an upright position. "If the bags require a conventional lay-flat pack pattern, then the robot just loads them straight into a shipper case," explains Livingstone.
Other equipment supplied by Fallas for the Willard plant expansion included a Model R400 pick-and-place robot with a Model PLD Product Lane Collator for case-packing pre-formed gabletop bags of Goldfish crackers in sizes from 4.5 to 6.5 oz, and a Model R400 robotic case packer for packing large cartons of Goldfish crackers. Along with the machines, Fallas also provided full integration, support equipment, and conveyors for these systems.
Companies in this article