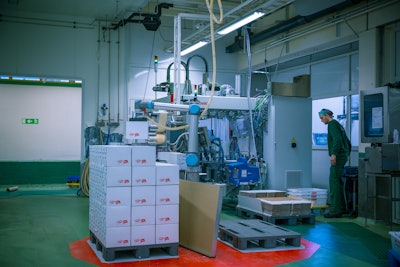 Oslo-based Nortura SA is a Norwegian agricultural cooperative that operates 33 slaughterhouses and other processing plants for the production of meat and eggs. At its Sogndal, Norway, plant, the company produces 2,200 tons annually of processed meat products, including cured ham, pepperoni, salami, and traditional Norwegian sausages. Until recently, palletizing of case-packed product at the facility was done manually. However, for employees, the work was repetitive and strenuous and provided few challenges.
While Nortura was eager to automate its palletizing operations, it had limited floor space in which to install a traditional palletizing robot, which requires a large, fixed cell with safety caging. The company wanted to be able to palletize continuously without stopping the production line, but needed the flexibility to use the space for other processes if there were no pallets in place.
With a limited budget, Nortura also had the added challenge of trying to find a cost-effective six-axis robot that had the required range and payload capacity to stack boxes of different sizes and weights at different heights on a pallet. The robot also needed to be flexible and easy to program to work with the vision system, and reliable enough to run with minimal supervision.
To meet Nortura's challenges, robotics integrator Rocketfarm AS engineered a solution comprising a Universal Robots  UR10 collaborative robot equipped with a UniGripper SMS 80-200 vacuum gripper, and a customized vision system for an innovative, small-footprint approach. Rocketfarm mounted the vision camera, an IFM O2D222 from ifm efector, inc., in the ceiling 13 ft above the robot, which is positioned below on a narrow stand.
Explains Lars Bårdgard Åstveit, Developer at Rocketfarm, "Basically, the robot is just mounted a couple of feet from the end of the conveyor. The robots are mounted ad hoc to the production lines, which means you don't have to do any expensive construction work in order to further automate the palletizing.
"In general, production lines usually can't be relocated, so our robots have to be very flexible in terms of where they can be placed. This was the case at Nortura. There were existing production lines, but the factory did not have any room for a big, centralized palletizing station. Thus, in order to automate the palletizing process, we had to be innovative and get rid of as many physical components as possible. Therefore, the only components of the entire palletizing solution are a camera, a robot, and a vacuum gripper.
"The floor is not leveled, but we are compensating for this in the software, hence the pallets are correctly stacked for transportation."
When the robot is in standby mode, its footprint is just 0.5 m2, or 1.6 sq ft; its working area is simply a painted space on the floor, which marks where operators place an empty pallet. "We used maybe 10 percent to 20 percent of the space that a traditional robot would have used," says Åstveit. "When there's no pallet there, the space is free—it's as if the palletizing system doesn't exist."
To begin the palletizing process, an operator places an empty pallet in the predefined area on the floor near the robot. The vision system then automatically detects the pallet as well as cases moving on the conveyor belt and begins palletizing. The six-axis robot is capable of handling a range of case sizes in weights up to 20 lb, although currently the heaviest case produced by Nortura is 10.5 lb.
Through intuitive, 3D visualization, the robot can be easily programmed to palletize cases in a specified pattern, such as turning them so that the labels are visible on all sides of the pallet. The robot can stack an average of 20 pallets/day, for a total of 1,700 cases/day.
"The UR10 is a robot that has all the right specifications," stated Åstveit. "It's inexpensive, it has the range [1,300 mm] that not many other cobots have, and it has the payload so it can lift the products we need it to lift. And it's quite flexible in its programming."
But one of its most important features for Nortura is its ability to work safely beside humans. The UR10 robot automatically stops if it runs into something that is not part of the planned path—even if that's a human being standing on an empty pallet. "If it didn't have that capability, we wouldn't have been able to use this robot," said Åstveit. "It's a critical feature—a deal breaker. Without the safety features of the UR10, we wouldn't have been able to do this job."
Nortura estimates the payback for the palletizing system to be less than one year when running a single shift, and they have the ability to run more shifts if necessary for even faster payback. In fact, Nortura was so pleased with the system that they immediately ordered two more systems to run on different production lines that will run even faster with smaller boxes.
Companies in this article