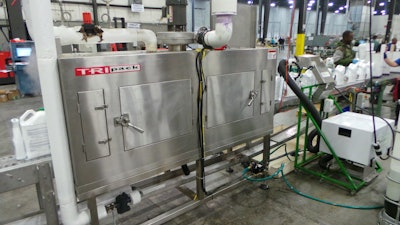 To meet increasing customer demand, Bonded Pac, the contract packaging division of Bonded Logistics, has upgraded its facility in Charlotte, NC, with a facility remodel and the installation of its second steam tunnel.
The new steam tunnel, a 6.5 foot-long Model ST175, along with a 30-foot conveyor, was purchased from leading shrink sleeve systems manufacturer Tripack. It sits adjacent to its sibling, a Tripack ST275 model, and handles flexible film application and sleeving of products such as household cleaning products and other consumer goods, as well as multipacks.
"We realized when we built our first sleeve applicator and tunnel the unique capabilities of steam," according to Jon Hayward, Vice President of Bonded Pac. "It presents a clean, pristine appearance and works well with odd shapes. We have customers with high-end products that deserve the best packaging solution and only steam provides that." He added that the company seeks to use steam instead of conventional heat "for any type of flexible film application or sleeving."
To handle the moisture that accompanies steam, the company also installed a standalone air knife (pictured to right of tunnel cabinet) with a Spyder manifold—named for its polyethylene arms—from ITW business unit Paxton Products. This unit removes moisture to ensure that products are dry before packaging. The manifold is flexible, literally, to allow it to be used for drying tips, sides and under the rim of cans, bottles and jars, as well as spot drying for hard to reach areas needing extra attention, such as holes.
The move to steam over "dry" heat alternatives was driven by a customer, according to Jan McCormick Jr., Marketing Director for the packager. "Quality is the major reason the client wanted to make the switch," a choice he says was "sold easily" when prototypes were shown to the buyers.
Matt Lind, Strategic Accounts Manager at Tripack, added that multipacks' popularity with club stores continues to grow, and therefore represents a "huge area of growth for shrink sleeve labeling. He says steam technology allows users to optimize the quality of shrink "for pretty much any customer that needs services of decorating their application or creating twin-packs," calling it "hands down the best method of shrinking film onto any product," and is the "most forgiving method" because it shrinks to conform around unique package profiles.
Other upgrades to the facility included the purchase of additional equipment to blend liquid products for filling clients, allowing the company to put products together faster using raw materials instead of relying on the customer for pre-made formulations. In addition, an on-site testing lab has been built to ensure the products on the filling lines are kept to strict client standards.
To make all the upgrades come together, Bonded Pac remodeled part of its 215,000 sq. ft. facility to make room for equipment and allow for better workflow and safety.
Companies in this article