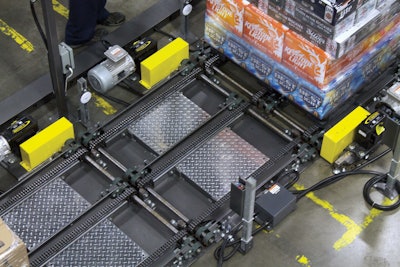 Frank Beer Distributors, Inc., Middleton, WI, is a member of the Frank Beverage Group, a family-owned and operated beer, wine, and spirits distribution company. Frank Beer distributes products from Miller/Coors, New Glarus Brewing, Pabst, Constellation Brands, Heineken, Mike's Hard Lemonade, Boston Beer Company, and many other domestic, craft, and import brands to thirteen counties in the southern Wisconsin area.
These various products arrive at the Frank Beer facility pre-packaged in flats and cases. Frank pallet wraps them using 50-gauge polyethylene-based film manufactured by Paragon and purchased through Rocket Industrial, sales rep for Cousins Packaging, Inc. The cases also come pre-labeled with UPC codes. Frank then prints and applies pallet summaries and weight labels, using label materials and equipment from Zebra Technologies, purchased through Heartland Computers.
The beer distributor had been hand-wrapping single-pallet loads and picking with counterbalance forklifts. But Frank wanted to increase pallet wrap throughput to keep up with growing product demand. The company also needed a reliable method of weighing completed pallets.
After evaluating various equipment, Frank decided to install automated pallet stretch wrapping and voice picking systems with walkie rider pallet trucks. Manufactured by Cousins Packaging, Inc., the palletizing equipment was sourced, installed, and is maintained by Rocket Industrial, Inc.
Kyle Nevenhoven, Assistant Operations Manager at Frank Beer Distributors, says, "We installed two Cousins stretch wrapping systems in April 2015. We chose the Cousins equipment for several reasons. We had prior successful experience with Cousins stretch wrap machines at our facility in Onalaska, Wisconsin. Cousins was willing to engineer a custom system to fit our needs, and the machines are priced very competitively. Cousins has custom-developed a stretch wrapping system with a low-level drag chain conveyor that allows us to load and unload three pallets at a time, using the low-level lift height available on the walkie rider trucks."
Nevenhoven adds, "We moved to a VoCollect voice-based picking system manufactured by Honeywell and supplied and integrated by Rutherford & Associates, a company that specializes in accounting distribution software for inventory management and forecasting. Voice picking replaces paper pick tickets. The operators wear mobile computer headsets and scanners. Operators are instructed to go to a location. Once at the location, the product is scanned to ensure the correct location. Upon scanning verification, the system instructs the operators on how many cases to pick for each pallet. After the cases are picked, the operators confirm to the system the quantity picked, and the system directs them forward for pallet loading and stretch wrapping."
Installation & outcome
Cousins provided Frank with an on-site engineer for a week to oversee the installation, provide training, and support the start-up, which included fine-tuning the system programming. The Cousins engineer also helped to make slight system modifications as needed through the installation process. In addition, Rocket Industrial, the local distributor for Cousins, had two people on-site to assist in the installation.
The beer distributor has realized important benefits by implementing this automated system. Nevenhoven explains, "The most important benefits we have gained from implementing the new system are improved efficiency in our picking operations and reduction in errors. We are seeing an average picking speed increase of 50 to 75 cases per hour. This can be attributed to the combined transition to voice picking, picking three pallets at a time, and using automated stretch wrapping. And, on an average day, our pallet weighing system, a load cell system from Matrix Scale Service integrated into the drag chain conveyors, prevents 10 to 20 wrong-weight pallets from leaving the building."
Companies in this article