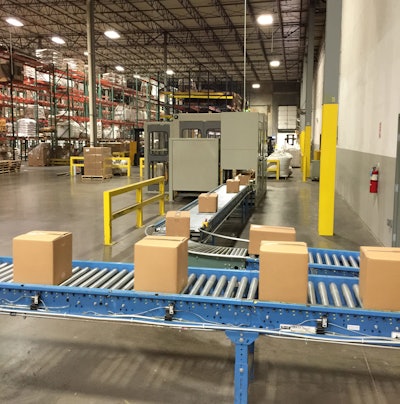 St. Louis-based Spectrum Brands-Pet, Home & Garden is a leading global manufacturer and marketer of established-brand-name pet supplies. The company works hard to build strong relationships with its retail partners, operates multiple manufacturing/distribution platforms, and is committed to innovation and R&D, including packaging technologies.
Case-packed products, such as bagged bird seed, had been manually stacked on pallets for shipment. But Spectrum Brands- Pet, Home & Garden saw a need to improve worker ergonomics and labor cost efficiencies as well as increase pallet packing speeds. After evaluating an array of options, the company decided to install customized automated palletizing and stretch-wrapping equipment from TopTier, Inc. Curtis Packaging Machinery, Inc., TopTier's St. Louis area rep, acted as a conduit to facilitate the Spectrum/TopTier interface.
According to Plant Manager Alex Meszaros, "TopTier equipment was chosen because it was a great fit for our operations. The equipment is simple for operators to understand. Pallet stack patterns are stored within the PLC (programmable logic controller), so changeovers are just a matter of referencing the stored patterns in the PLC. Once we developed our preferred general arrangements, we worked with TopTier to custom-design the system to fit our applications."
Two automated palletizing and stretch-wrapping systems were installed in January 2015.Technicians from Spectrum Brands and TopTier worked together during the installation, start-up, commissioning, and operator training. The system works in coordination with shipping case erecting/loading/taping equipment from WePackIt and on-line ink-jet case coding equipment from Foxjet.
The Spectrum Brands facility palletizes several different case sizes (mostly 12" x 12" and 12" x 14"), and personnel at the plant appreciate the benefits of having the ability to change case-pack sizes/patterns electronically. The sealed cases are roller-conveyed and lifted to the circular stretch-wrap turn-table platform in various case pattern configurations, as pre-programmed. The plant uses 62-gauge stretch film supplied by RV Evans. Corrugated case flats are supplied by Shillington Box, and the roller conveyors are from TGW Systems, Inc.
Multiple benefits
Meszaros notes, "By automating our palletizing and integrated stretch-wrapping operations, we have realized significant savings in labor costs and packaging materials costs, while increasing operations speeds. Manual palletizing had been a bottleneck for our production lines and an addition to our labor costs. We estimate that the equipment will yield a 1.7-year payback in terms of annual direct labor savings. We also have improved worker safety and reduced worker stress. TopTier has really done its homework regarding worker safety. All the moving parts of the equipment are locked into position mechanically and then verified by location sensors before we can open any of the access doors."
Companies in this article