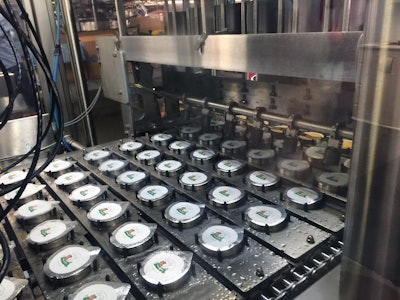 Founded in 1980 and now capable of processing an average of 225,000 kg of fruits and vegetables daily, Canada's Leahy Orchards has become a leading supplier of apple sauce, mixed fruit purees, and fruit and vegetable purees for newborns. In addition to its own Applesnax brand, the firm is a huge producer of private-label brands.
In its Franklin Centre, Quebec, plant, Leahy recently added a missing piece of equipment to its single-serve cup line: a Trayfecta S4 1501 single-head former from Delkor. This machine can function as a corrugated case or tray former one minute and a paperboard carton former the next, which makes it perfectly suitable for meeting the rapidly changing needs of today's retailers.
On the Leahy line, 4-oz premade cups are filled, put into paperboard sleeves, robotically packed in corrugated trays or cases, and palletized. About three years ago a number of highly automated packaging systems were introduced to this line. Retained, however, was a rather dated machine used to erect corrugated trays and cases. Eventually, its limitations became a problem, says Brent Frier, Vice President Production and Engineering.
"When you handle as many private-label brands as we do, your packaging equipment has to readily accept multiple formats," says Frier. "The erector we had just wasn't up to it. With this new machine we get not only better changeover and control, but also the kind of repeatability and reliability we were missing."
Frier says the Trayfecta at Leahy doesn't currently have to contend with any paperboard cartons. But it has to cope with six different corrugated tray sizes and four corrugated case configurations. One reason the Trayfecta can go from one size to another so quickly is that much of what's involved in a changeover is done automatically with a big assist from three servo motors. The machine's Rockwell control platform includes a ControLogix PLC, Panel View Plus 700 HMI, and Kinetix 5500 servo drives.
Changeovers can be completed in three minutes with no tools required. This is accomplished through a specific step-by-step menu on the touch screen that walks the operator through each step with confirmation required. Critical set-up functions like the blank presentation and forming head and cavity are aided by change-out tools specific to each size, so no adjustments are needed. All other adjustments are completed via counters or numerical scales. The machine can be set for any one of three formats: glue, lock, or fold-over lock.
Shuttle feed
In operation, the Trayfecta uses a servo-driven pick-arm assembly to pick a case or tray blank from the magazine and place it into a shuttle. The servo-driven reciprocating blank shuttle provides positive blank location and adhesive application. Then the servo-driven forming head drives the case or tray blank downward through the forming cavity to create the formed container. A special offset head lets Leahy run a larger blank than is typical done on the S4 1501.
Forming activity occurs in a unique spring-loaded precision forming cavity that prevents jamming during the forming process. The newly formed corrugated container is positively ejected from the forming head and onto the discharge conveyor. Leahy runs a shallow 3" deep tray at 50/min and a full-height display tray at 25/min.
Hot-fill machinery at the front end of the line has been added as capacity has grown. Now there are three hot-fill and lidding systems from Oystar. Supplied by Printpack, the cups are thermoformed from coextruded sheet that includes an EVOH layer for gas barrier purposes. The Oystar machines heat seal to the filled cups a foil-based multilayer lamination supplied by Winpak.
Filled cups feed into a laning conveyor built in-house at Leahy that meters them into a paperboard sleever from Paker. Both four-count and six-count sleeves are produced. Changeover, says Frier, is done at the push of a button.
A short distance from the sleeving system is where robotics enters the picture, as a Fanuc system picks sleeves and places them into the trays or cases it receives from the Delkor Trayfecta. In terms of hours of operation, says Frier, production is split about half trays and half cases. Regardless of which format is in production, a Videojet ink-jet coder applies production date and bar code.
While trays proceed next to a shrink wrapping machine, cases are directed to a top flap closer. A palletizer from Priority One brings the line to a close.
Looking back at how much more efficient the line is now, Frier says the addition of the Trayfecta has been the key. "Easy to change over, great operator interface, and robust construction—that's what we gained by adding it to the line," he concludes.
Companies in this article