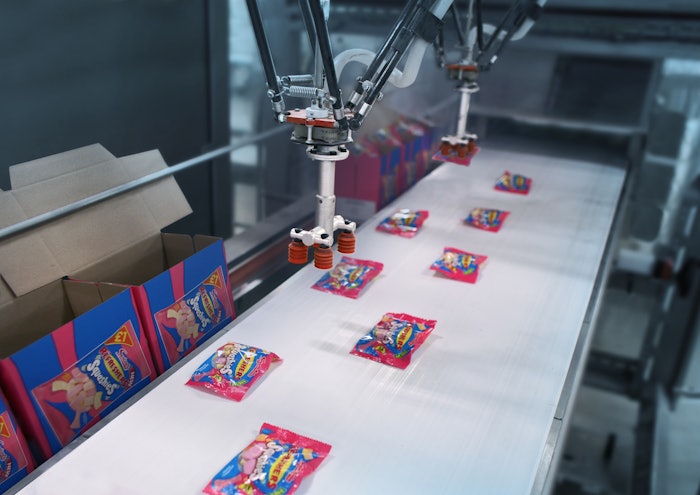 You always remember your first Love Heart candy, and for many, these heart-shaped sweets with embossed messages are an indelible part of childhood. Behind these and many other top-selling treats is Swizzels Matlow (Swizzels), a U.K. confectioner with an 80-year history that boasts 550 employees and worldwide sales of more than £60 million (US$80 million).
Based at a former textile factory in New Mills, Derbyshire, England, Swizzels believes the key to future success is reinvention of its popular products and continued innovation in its production lines. In 2012 the company launched Squashies, a new confectionery range where its leading brands—Love Hearts, Drumsticks, New Refreshers, and Double Lollies—are made into squashy gum formats, available in four pillow-bag sizes ranging from 20 to 160 g.
To ramp up production to meet the growing demand for its new product, Swizzels installed a pick-and-place packaging robot at the New Mills facility, the Paloma D2 top loader from Bosch Packaging Technology. According to Bosch, the Paloma D2 offers a robust design and high efficiency and uses three vision-guided high-speed Delta robots to ensure accurately packaged products at a reduced cost per pack. At Swizzels, the robot replaced a drop-load system; the robot now allows up to three streams of product to arrive from the vertical bagger and be packed directly into display cases.
Says Swizzels Head of Operations Paul Harvey, "Bosch made certain they understood our business needs and confirmed the Paloma was the best-suited solution. Implementation on-site was excellent, and we were up and running ahead of schedule."
Harvey adds that results were instant. The new Paloma robot boosted output at Swizzels by 20% with the ability to package 360 bags/min, while also allowing for a 24/7 operation instead of the previous two-shift operation. As all pack sizes can now be handled by the same machine, the Paloma also saves floor space—a precious commodity in the New Mills facility.
Says Swizzles Managing Director Jeremy Dee, "The new Bosch machine is fast and inspiring. It also assures output, which is important to us with this new fast-selling range." The robotic solution has also been well accepted by Swizzels' workforce, which was excited to see the machine in operation. In addition, the installation of the robot has demonstrated that Swizzles is investing in the company's—and their—future.
To learn more about the Paloma D2, watch this video.
Companies in this article