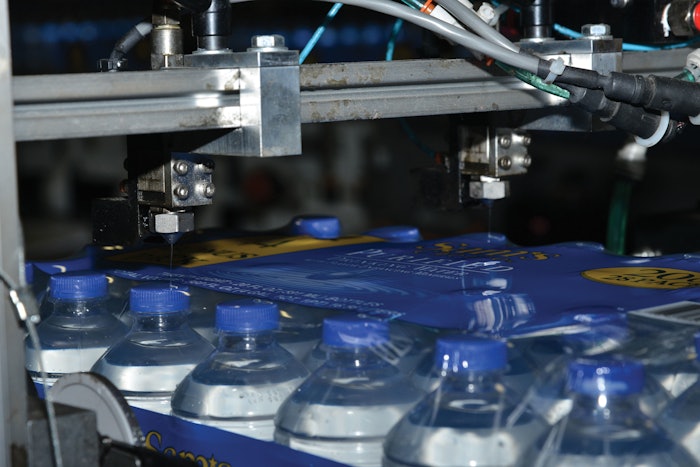 Premium Waters has roots back to 1798, when its ancestor in Europe, the Chesterman Co., first bottled carbonated water. The firm's Chippewa Falls WI, plant produces bottles in 20-oz and 1-L sizes, both with a sports cap. Unlike pallet shipments of heavy case goods which have solid case top to case bottom contact, shrink wrap trays of bottled water only have contact at the bottle top. This limited contact, combined with the slippery nature of shrink film, requires the use of multiple layers of heavy gage stretch wrap. Cases with pull-caps are difficult to stack, as the cap covers act as ball-bearings against the stacked cases due to their minimal diameter.
Premium Waters' Chippewa Falls Wisconsin plant ships most of its bottled product within a distance of about 500 miles, and occasionally more than 1000 miles to the East Coast. Once or twice a week, shifting loads and subsequent damage required either a return of all or part of a truck load or the disposal of damaged product. There was an attempt to use hot-melt as a means for stabilizing shrink wrapped trays, but this proved unsatisfactory as the adhesive ripped the shrink wrap on separation and also left objectionable residue.
Julie Fox, Premium Waters' Supply Chain Manager at Chippewa Falls, heard about tests being run at another facility with a product called Lock n'Pop, which was reported to stabilize stacks of bottles with regular caps. She thought it might be worth looking into.
Lock n'Pop water-based palletizing adhesive performs like the glue on sticky notes. It has low fracture tensile strength to allow packages to "POP" apart, without noticeable residue, when individual packages are offloaded from the pallet. Specifically formulated for shrink wrap, it has shear strength, high enough to ensure that tray packs don't shift during in-house handling or shipment.
Operating staff at Premium Waters agreed to install a trial system to test the process. Lock n'Pop would provide a system so that the load improvements and cost savings could be realistically evaluated under actual production conditions over a reasonable period of time. The application system operates on plant air and power and takes less than two square feet of floor space. Premium Waters' plant is a SQF certified facility, and the fact that Lock n'Pop's adhesive is produced with FDA approved materials is an extra bonus.
The plant produces about 300 20-oz bottles or 225 1-L bottles/min. The Lock n'Pop applicator is located about 50 feet from the discharge of the shrink tunnel and about 100 feet from the inlet to the palletizer. It is charged directly from a drum of adhesive. The only maintenance required is a replacement of the adhesive drum every few months and a rinse of the applicator nozzles by operators about twice a week.
Over the course of the first few months, Premium Waters Personnel minimized the amount of adhesive used by applying adhesive only on the shrink film on the top of only two rows of caps of the 3x4 liters and the 6x4 20 ounce shrink packs. Lock n'Pop's recently redesigned application system's unique control design not only makes such precision possible, its touch screen controls simplify changes in bottle size and tray configuration.
The results of the test project were exceptional and mandated that the test system became a permanent installation. Product damage is now a fraction of what it had been previously. In addition, product trays have been replaced with rectangular pads at a savings of nearly $100,000, a savings of 4 cents/tray for liters and 21⁄2 cents/tray for 20-oz shrink packs. This alone represents a considerable payoff since the cost of the adhesive averages about $0.15 per pallet. In addition, stretch film has been reduced from 80 to 63 gage. Testing for further reductions of stretch use is planned.
Premium Waters management is also pleased that this project has an environmental component. Lock n'Pop is a member of the Sustainable Packaging Coalition® and has been a participant in Walmart's Sustainable Packaging Coalition due to their products contribution to the reduction of greenhouse gases.
According to Julie Fox, Lock n'Pop is a "Win-Win-Win" for Premium Waters, their customers, and for the environment.
Companies in this article