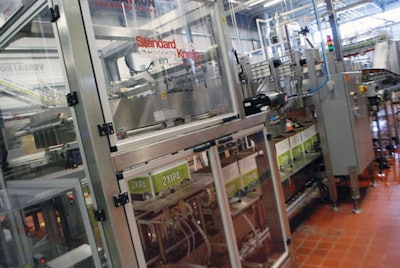 Launched in 2002 in Lakewood, NY, Southern Tier Brewing needed a new facility by 2009. So they built one. But after moving into it, they discovered that their case packer was a bottleneck. So last June, they installed a 939EZ Versatron system from Standard-Knapp. The machine is specifically designed to combine proven and reliable case packing technology in an affordable package.
The result? Production has gone up by 30%, partly because changeover time has been significantly reduced. "We make two job changes during a day, and it seemed to take forever," says Plant Manager Brian Evens. "Then we had to tweak the settings and dial it in to make it work properly."
Another issue with the old packer is that it frequently didn't line up correctly, causing bottles to fall and break. Someone often had to stand over and babysit the machine or shake or push bottles to avoid crushed and broken glass that caused shut downs. When these shut downs occurred it was bad not only because it meant a delay but also because of quality issues. According to Evens, the biggest enemy in beer production is oxygen, and every time the line was shut down it represented an opportunity for oxygen to get into the beer.
Considered the "little brother" of Standard-Knapp's industry-standard Versatron family of case packers, the 939EZ is equipped with an air-over-oil lift table, which controls the descent of product into the case, and a simple indexing case feed that maintains design simplicity without sacrificing control and speed. The 939EZ operates at speeds to 30 cases/min, which was perfect for Southern Tier's needs.
Changeover simplified
The 939EZ Versatron also has a variety of rugged and durable case packer change parts designed for safe, easy, and consistent changeover. The patented Snap-in Grid technology makes changeover an easy, one-person operation. Product riding strips are made of extremely durable material and are fitted with unique slide-in design for automatic alignment. Lightweight and strong lane guide spacers ensure the perfect width for each product.
The Standard-Knapp changeover cart provides sturdy, mobile storage for easy-to-identify, color-coded change parts. The cart holds two complete sets of change parts and offers quick and easy access.
On top of all the attractive performance characteristics the new case packer offers, Evens says that the installation process could not have been smoother.
"I scheduled the line to be down all week, but the whole thing took just two days, start to finish," says Evens. "Our old packer was out Tuesday morning, the new Standard-Knapp packer was installed in its place Tuesday afternoon, the conveyor modifications were done Wednesday morning, and the new packer was wired Wednesday afternoon. Final adjustments to box feeds were done on Thursday morning, and we ran 1,800 cases of beer after lunch that day. All the work was done by two mechanics and a contracted electrician."
Evens also says he likes the improvement in changeover with the modular parts, which reduced the time needed to change between bottle sizes from 45 minutes to ten or less. "When we need to make a change, we simply pull out the 12-oz parts, put in the 22-oz parts, and let it rip.
"Since we installed the new packer," Evens continues, "we have been running at full speed. We are very happy with the product and impressed with the way Standard-Knapp worked with us and supported us during the process."
Companies in this article