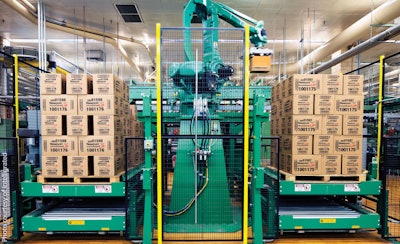 At 250-plus years old, Lorillard Tobacco Co. in Greensboro, NC, holds the distinction of being the oldest continuously operating tobacco company in the U.S. Lorillard produces both premium and discount cigarette brands for the U.S. market, with the well-known Newport brand leading its sales, representing 88% of its revenue in 2012. In total, the company manufactures 40 billion cigarettes each year.
As with any consumer packaged goods company, product quality and consistency are paramount to Lorillard. But for the tobacco company, the pressure is even greater, as new U.S. Food and Drug Administration regulations now require cigarette producers to manufacture products to exact specification. Explains Lorillard Senior Staff Engineer Randy Marshall, "By shipping product that does not meet specification, we could lose customers and bear the expense of recalling product that's already in the marketplace."
In August 2013, the company completed a massive packaging equipment installation to enable product traceability and the speedy identification of nonconforming product. Over a period of two and half years, Lorillard replaced two conventional palletizers and "many, many miles of conveyor" with 18 robotic palletizing systems from Intelligrated that allow cases to be tracked throughout the facility.
"It's all about product traceability and product quality—making sure that nonconforming product does not get on the market," Marshall says.
Single lines need single pallets
Lorillard's history in Greensboro dates back to 1954, when its headquarters and manufacturing facility began operation there. The plant encompasses 1 million sq ft and operates 36 packaging lines. Products manufactured in the plant include Newport—the top-selling menthol and second largest-selling cigarette brand in the U.S.—Kent, True, Maverick, and Old Gold. These five brands include 41 different product offerings that vary in price, taste, flavor, length, and packaging.
Since 1998, all 36 of its packaging lines—each of which includes a cigarette-making machine, a primary cartoner, a secondary cartoner, and a case packer—fed two Alvey 880 conventional palletizers from Intelligrated. Cases were carried to the palletizers via a system of overhead case conveyors that did not distinguish the packaging line from which the cases originated.
"All of the lines fed the conventional palletizers through many, many miles of case conveyors, which meant cases of Newport, produced on many packaging lines, were mixed together on a pallet," explains Daniel Walker, Staff Engineer at Lorillard.
With this system, if one packaging line began producing product or packaging that did not meet specification—such as a pack that was not formed correctly, or one where the cellophane wrapper was not sealed properly—operators had to search through multiple pallets to identify the cases originating from that line.
About five years ago, Lorillard began investigating options that would allow them to build pallets with products from the same packaging line as well as track product by case throughout the facility. Having worked with material handling automation solutions provider Intelligrated for 40 years, Lorillard looked to them for a solution. In January 2011, Intelligrated began installation of 18 automated palletizing cells, each including an Accuglide powered roller conveyor, a Motoman MPL160 four-axis robot, a Lock n' Pop adhesive applicator, and a SICK 2D barcode reader. Each cell handles two packaging lines, building two pallets at one time.
Speed and flexibility are key
In choosing a robot robust enough to handle Lorillard's needs, there were a number of considerations. Among them, the robot had to have the capability to handle up to eight case sizes—from 12 x 12 x 17 in. to 22 x 12 x 22 in.—each requiring its own pallet pattern, and weights from 19 to 45 lb. The system also needed to meet Lorillard's speed requirements. Says Marshall, "One of the requirements was that palletizing should not inhibit the speed of producing products"—approximately 8,800 cigarettes/min.
According to Shannon Spurlock, Senior Sales Engineer for Intelligrated, the Motoman MPL160 was able to meet these requirements, with a payload of 160 kg; fast axial speeds and acceleration that reduce cycle times and increase production output; the ability to serve multiple infeed conveyors and up to four pallet build locations; and easy programming and simulation of pallet patterns for multiple case sizes. The robot also offers a little more reach—119.1-in. vertical; 124.4-in. horizontal—than some of the other robots of that size, he says.
In addition, Spurlock says the Motoman robot was chosen due to the large installed base of its robots. "When you are going into a system with 18 robots, you don't want to go with a new player," he says. Motoman also had the advantage of offering local service centers and good quantity break pricing.
To accommodate the different case sizes and pallet patterns, the 18 Allen-Bradley PLC-driven robots were preprogrammed by Intelligrated. While each packaging line only produces certain cigarette and package sizes, Marshall said "it was easier to make all of the robots and programming identical."
During operation of the line, at the case-packing stage, cases are printed with a unique 2D barcode using a Wolke M600 thermal ink-jet printer from Videojet. The case is then conveyed to the palletizing cell. As the robot picks the case up from the conveyor using a pneumatic clamp, the SICK barcode scanner reads the 2D barcode and builds a file of all the cases destined for a pallet. It then creates a pallet ID that can be tracked throughout the plant. This code also ensures that product from another packaging line does not inadvertently wind up on the wrong pallet.
"There are always two products, one from each packaging line, being fed to the robot at one time," says Spurlock. "If a product is scanned that does not belong to one of the two active loads, an operator is notified. They then initiate an end-of-run command, and the system releases the partially built pallet load."
After the case code is scanned, the robot passes the case over the Lock n' Pop adhesive system, which sprays a light adhesive via two nozzles onto the bottom of the case before nesting the case onto the pallet. Cases on the bottom of the pallet do not receive adhesive, but are placed directly on the pallet.
For years, Lorillard has used the water-based Lock n' Pop adhesive, rather than stretch wrap, to hold cases in place on the pallet until they are manually disassembled for loading onto a truck. "It holds the pallets and cases in place, and prevents them from shifting side-to-side, but it makes it very easy to pop the cases loose once you start unstacking the pallet," says Marshall. "And, the adhesive does not damage the corrugated case."
Once pallets are complete, they are automatically conveyed out of the cell and are retrieved by an Automatic Guided Vehicle (AGV). The AGV carries the load to a check station, where an operator confirms that the pallet contains the correct product. Next the load is transferred to another AGV that takes it to the warehouse area, where an Automated Storage and Retrieval System stores it until it is ready to ship.
Faster tracking, quality assured
As one after another of the 18 robotic palletizing systems came online, over 30 months ending in August 2013, Lorillard began reaping the benefits of greater tracking capabilities, fewer man-hours spent tracking nonconforming product, and less conveyor maintenance—without impacting the speed of cigarette production.
"We now have better tracking of our product," says Marshall. "We know where it is, when it was produced, where it was produced, and where it is in the plant." Future plans call for expanding the system to include tracking of the product after it leaves the plant.
Companies in this article