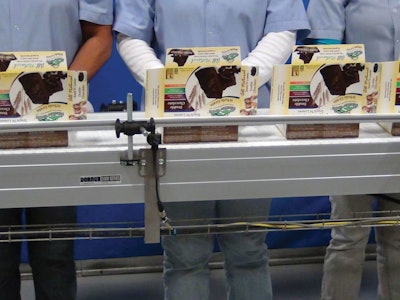 J.S.B Industries/Muffin Town, Chelsea, MA, and Lawrence, MA, is a national one-stop-shop baking manufacturing company, distributing products to retail supermarkets across the U.S.

The company had been side-loading polypropylene film over-wrapped baked goods such as muffins, muffin tops, and bread loaves into cartons. Muffin Town uses Delta Eagle wrappers from Delta Systems (www.dsarogers.com). And the company's main over-wrap film supplier is Eastern Packaging, Inc., Lawrence, MA. The SBS .018 folding carton flats, printed in a 4-color process, are supplied by Malnove.

The side-load cartoning line was experiencing jams, requiring a high amount of maintenance time. So the line was running at speeds lower than Muffin Town needed to keep up with product demand.

After reviewing the operational problem, Muffin Town decided to try a top-loading carton system using a combination of two machines from ADCO and an ADCO-supplied conveyor made by Dorner. The lead machine in the system is an ADCO Model AFHX-60-2-SSa dual-head tray former/cartoner. Next is the Dorner 20-ft conveyor section. As freshly erected cartons move down this 20-ft length, operators fill them by hand. The filled cartons then enter an ADCO Model RAC-120-WD tri-seal closer. The new system was installed during September-October 2012. Scott Anderson, VP of Operations for Muffin Town, reports that ADCO technicians were extremely helpful in setting up the machinery and training Muffin Town's personnel.

The heavy-duty stainless steel AF Series carton/tray formers can be equipped to handle almost any top-load carton size and speed. Trays or tri-seal cartons can be formed with stripper locks, fold-over end walls, or pressurized hot-melt-glue. The stainless steel tri-seal cartoner features a compact footprint and precision servo-powered 90-degree transfer. The system can seal a variety of carton shapes/sizes at speeds up to 120 cycles per minute.

And why a Dorner conveyor to link the new carton erector with the carton closer? ADCO's Scott Reed says ADCO likes to use Dorner products in installations like this for several reasons. Short lead time is one. After-sales support is also good, the conveyors are available in either wash down or non-washdown versions, and Dorner's online ordering tools are first rate, says Reed.

Muffin Town's new ADCO combo top-load system achieves cartoning speeds of about 110 cartons per minute—approximately 20% faster than the original side-load system. The bakery also has reaped packaging material savings because the old side-load system constantly was damaging cartons due to line jams. In addition, Muffin Town also has been able to cut two to three people from their staffing needs on the carton loading line.

Anderson says, "The people at ADCO were great to work with. Their professionalism and attention to detail did not go unnoticed with us, and I would definitely recommend them to other companies in our industry."
Companies in this article