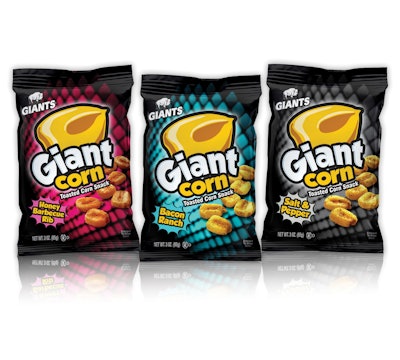 Giant Snacks, Inc., Wahpeton, ND, specializes in roasting and packaging high-quality in-shell sunflower seeds, in-shell pumpkin seeds, and corn snacks in multiple flavors (including Bacon Ranch, BBQ, Dill, Salt & Pepper, and Spicy Garlic). The company markets its products in 3-oz, 5-oz, 5.75-oz, and 9-oz resealable bag sizes made from reverse-printed lamination rollstock.
Giant uses bagging materials supplied and printed in 4 to 8 colors (depending on product variety) by Kendall Packaging Corp., Topsyn Flexible Packaging, Flexoprint, and Interflex. Product weighing is accomplished using Model F1 weighing scales from Yamato. Bag forming, filling, and sealing is done on equipment from Hayssen/Sandiacre and Matrix Packaging Machinery.

For shipping, Giant had been manually packing its bagged snack products into corrugated cases in 12- and 24-counts. But with its large variety of products, the company needed a more efficient case-packing method that would permit faster product and case-pack count changeovers. Giant Snacks Plant Manager Al Engstrom says, "We looked around and found that the robotic R700 Adabot™ case-packing equipment from Fallas offered a solution that could accommodate our changeovers while keeping our costs down. And Fallas provided assistance with installation, training, and start-up."

A Delta-style robot that uses a vacuum pickup end effector to pick and place bags one at a time, the R700's robot arm features carbon fiber construction to reduce mass and stiffness. This contributes to its speed.

Also essential to the operation of the servo-driven R700 is its Schneider Electric controls package. A photoeye from Banner detects the position of a bag on the infeed conveyor and signals that information to the Schneider controller. The controller also reads input from an encoder to track each bag as it moves forward. This synchronization is what enables the robot's vacuum pickup cup to zero in on the center of each bag with each stroke. It picks a bag and then pivots and reaches down inside a waiting case to gently and accurately place the bag precisely where it's programmed to place it.

One requirement that Giant Snacks had for its case packing operations was to be able to put multiple bag sizes into the same case so that the number of case sizes that needed to be inventoried could be kept to a minimum. The R700 meets this requirement head on, as case pack patterns can be changed in minutes by making a selection at the touch screen operating panel. Giant Snacks is currently running two Adabots, the latest one installed in February 2011.

The corrugated cases are supplied by Rock Tenn, Packaging Corporation of America , Pratt Industries, Kapstone Container Corp., and Menasha. The cases are coded using equipment from Markem-Imaje Corp.. Power Phase PLUS metal detection equipment is supplied by Safeline.

Summing up the benefits of the automated case-packing equipment, Engstrom says, "The pick-and-place Adabots can consistently pack faster and more accurately than manual case packing. With the implementation, we have increased our throughput per line by 14 percent."
Companies in this article