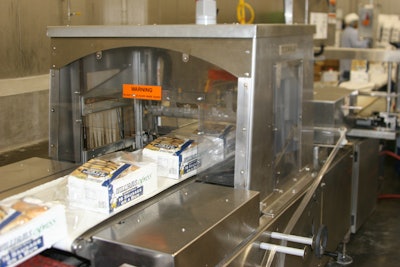 When Country singing legend George Jones wanted to manufacture his own recipe of breakfast sausage, he turned to Tennessee pork sausage processor Williams Sausage to make it for him. "I wouldn't put my name on anything that wasn't the best," says Jones. "And Williams Sausage makes some of the best I have ever had."
With 400,000 lb of whole hog country pork sausages coming out of its west Tennessee processing plant every week, George Jones is just one of many consumers that are drawn to the Williams Sausage brand.

To satisfy this huge market demand, the company's pork sausage patties, links, and chubs are distributed to retail outlets and institutions throughout the Eastern and Central U.S. Williams Sausage added to its product offerings by launching a line of ready-to-eat breakfast sausage sandwiches. Packaged products like Williams Express Sausage, Egg and Cheese Croissants have necessitated the redesign and integration of two of the company's packaging lines.
The upgrade centered on a more streamlined and efficient shrink wrapping capability to process 100% more sandwiches through the line, while maintaining a zero product-defect rate and maximized uptime. The line upgrade exemplifies how implementing the right equipment can deliver a cost-efficient and long-term return on investment.

It's all about the sausage
Since 1958, when the company was founded by Harold and Hazel Williams on their family farm in rural West Tennessee near Union City, Williams Sausage has always produced country-style whole hog breakfast sausage.
The company slaughters 1,200 hogs a week for its sausage. After slaughtering and deboning, the hog is ground and mixed with spices to conform to established recipes. The mixture is portioned into patties, links, and one- and two-pound chubs which are packaged in cartons, then cased, labeled, palletized, and put into deep-freeze storage.

All of William Sausage's fresh pork sausage products are stored frozen. Its deep-freeze can hold 1,200 pallet loads, which are kept in storage for one to two weeks before shipping. The company also warehouses and distributes its own line of smoked sausage and bacon, which are manufactured for it at an outsourced facility.

Sixty percent of the company's distribution is destined for institutional consumption, and 40% for retail outlet sales.Williams Sausage maintains its own fleet of trucks for distribution.

Jammed packaging line
Williams Sausage runs 11 packaging lines in its plant to handle different product types. Four of those lines are for packaging sausage links and chubs. Four of the lines are for packaging sausage patties. Three lines are dedicated for packaging breakfast biscuit sandwiches, of which one line handles jumbo sandwiches. The two remaining breakfast sandwich lines were redesigned to upgrade their shrink wrap packaging capability, to improve efficiency, and toaccommodate increased throughput needs.

These two sandwich lines allow for the manual "assembly" of the sausage biscuits, and their packaging. When the sandwiches are put together, the biscuits proceed through a cutter that slices them in half. The split biscuits move along a conveyor, where sausage patties are manually positioned between the two biscuit slices. These sandwiches then go through a wrapper, and the sealed biscuits are stacked into cartons. At this point the two lines merge onto one packaging line, where the cartons proceed through a shrink wrapper, are cased, labeled, and palletized.

When the sausage sandwiches were first introduced, moving 12 to 14 cartons/min through the end-of-line packaging process was adequate to keep pace with production demands. But as the breakfast sandwiches' popularity grew and orders increased, it became clear that the packaging line was no longer able to support the increased throughput required.

"Our production volumes had significantly increased," says Tommy Ray, plant manager at Williams Sausage. "We needed to double our packaging capability, our throughput of cartons per minute, to keep up with the demand.

"The bottleneck was our shrink wrapping system. The wrapper was only capable of handling 12 to 14 cartons per minute. But at this rate we were experiencing line interruptions and delays. We needed to have the ability to shrink wrap 24 to 28 cartons per minute to keep the sandwich manufacturing lines moving."

Assessing the shrink wrap problem
Williams Sausage brought in Texwrap Packaging Systems, a provider of specialized shrink wrapping solutions, to engineer a shrink-wrap system that would address its throughput issues.

"They were having difficulty with downtime on their shrink wrap system," says Texwrap's Dan Fredrick. "Aside from maintenance issues caused by heavy throughput volumes, the machine was operating in a cold and damp environment, and that was having a costly effect on the company's shrink-wrapping operations.

"In a chilled, high-humidity environment, like at Williams Sausage where the temperature is between 32 and 39 degrees F, the cool air forms ice crystals that can build up on smooth moving machine parts, like drive belts, causing them to slip or grab," Fredrick explains. "When this happens it affects machine registration, and the shrink wrapper will compensate for the slack registration by making a longer film bag than necessary. Consequently, the shrink wrapper will pull unnecessary extra film, costing more money to run the process.

"If the bag is too long, when it balloons in the heat tunnel it is going to balloon too big and will not collapse completely, resulting in wrinkled film and a product with poor appearance. And compensating for that big bag requires extra heat energy to be used."

Williams Sausage was using an L-bar shrink-wrap sealer. This type of shrink wrapper simultaneously makes the end and side seal of one package, as well as the front seal of the trailing package. It is acceptable when slow-to-moderate throughput speeds are needed.

Williams saw drawback to this sealer type because it requires the same size of cartons to be put through the wrapper at any continuous time, or the machine has to be stopped and a changeover done to accept a different carton size.

"We have 10 different box lengths for our sandwiches," says Ray. "And we have different carton sizes depending on what we are running. We have cartons that carry six twin-packs of 12 total biscuits, eight twin-packs of 16 biscuits, and 10 twin-packs of 20 biscuits, to name a few. The cartons are all the same width and height, but different lengths."

Shrink wrapping streamlines packaging
Williams installed a Texwrap Model 2202 CR continuous-motion side-seal wrapper in which the incoming stream of product does not stop while the end seal is made, thereby increasing throughput speed. Its conveyors can move at 100 ft/min with versatile carton-handling flexibility.The system is all stainless steel for ease of washdown.

For this box-motion-style wrapper, the device makes the end seal move horizontally with the product as the seal is being made. When the seal is complete, the head raises and the carriage returns to engage the next package and make the next seal. Box motion refers to the rectangular-shaped path of the sealing head.

"The box seal requires a heavy carriage assembly to which the seal is mounted," says Fredrick. "The hardware that has to execute rapid movements back and forth. It has to open up, come back across the package, seal, open again, and go back and grip the next package. This requires considerable motion for a large, heavy assembly. Instead of using just bottom bearings typical on most shrink wrappers using this method, this unit uses top-rail bearings as well, double bearings. This takes the stress load off from the top and stabilizes the movements of the seal assembly. Without this feature, the carriage could not move as fast.

"Also, instead of using bumpers to provide hard stops for the seal carriage, as is the norm on typical shrink wrappers, a cam and spring assembly, assisted by compressed air, is used to rotate the carriage into a soft return," continues Fredrick. "This eliminates the shaking that usually occurs on fast returns, forcing the system to pause while the photoeyes and sensors settle out. Since there is no bounce, the carriage can return up to 15 percent faster, increasing cycle times."

To further maximize throughput speed, the wrapper is equipped with Motion Trim™ technology, which electronically minimizes the motion of the end-seal device. It also includes a Speed-Maximizer™ system that automatically brings the machine up to top speed for any given carton size setup.

Auto-Spacing™ is used to separate randomly spaced incoming cartons for wrapping. A photoeye is mounted above the infeed conveyor, which detects the front and rear edges of the incoming cartons and spaces them an exact distance apart for wrapping.

With Auto-Spacing control, horizontal as well as vertical photoeyes, and the ability to precisely vary the conveyor speeds to relax the film between products, Williams Sausage' new shrink-wrapping system can accommodate randomly fed cartons and accurately separate them for reliable, consistent packaging using the absolute minimum amount of film.

"The cartons are manually placed on the conveyor, and automatically indexed just before they are inducted into the shrink wrapper," continues Ray. "If the line is running boxes with 10 different lengths, they can be put back-to-back on the conveyor without worrying about spacing. The wrapper spaces the variable-length cartons with automatic standard gapping before induction."

To negate the problem of ice build-up and belt slippage, which can affect registration, Texwrap embossed some of the wrapper's surfaces with little bumps to minimize the slick surface-effect. Also, special freeze-resistant valves were utilized on its air cylinders.

The wrapper can run either flat or center-folded film, including a wide range of polyolefin, polyethylene, PVC, and some polypropylene based films.

To support the shrink wrapper, a Texwrap Model 1432 CR shrink tunnel was added to the line. This single-chamber forced air convection tunnel uses large volumes of high-velocity air to impart the necessary energy to the film for the best shrink package.

The design of a shrink tunnel is critical to the quality and appearance of the final package. If the tunnel cannot impart sufficient energy into the film early enough to create the maximum ballooning effect and allow the bubble to collapse at just the right rate, the film will not shrink to its maximum extent, imperfections will not be cleaned up, and end result will be undesirable.

When the shrink wrapper and shrink tunnel are operating in complete compatibility, the film will puff up, completely away from the carton, and then settle down. As the carton gets about two-thirds of the way through the tunnel, the film balloon should collapse all around the carton at the same rate.

The tunnel is equipped with digital temperature controls, high-velocity fans, individual top and bottom controls for air direction, and variable-speed conveyors. These features control the right amount of heat to be put in the right places, over the correct amount of time to produce consistent shrink results.

Shrink-wrap system reliability
Williams Sausage strives to maintain a high return on investment from its plant equipment and systems, which it considers critical to running a costefficient plant. Its upgraded shrink-wrap line exemplifies this position. Having been in operation for a number of years, the equipment continues to deliver consistent and accurate results due to its robust design and the attentive maintenance provided.

"This shrink wrapping system consistently provides a very good quality seal," explains Ray. "We are running it at 24 to 28 cartons per minute with no downtime, no product defects, and have had virtually no problems. Since we first implemented the shrink-wrap upgrade, it has proven to be one of the most reliable systems that we have in our plant."

Because the popularity of its breakfast sandwiches is continuing to grow, Williams Sausage is now planning another upgrade to its sandwich lines by again expanding its shrink packaging capability. "This new system will be equipped with servo controls, which will allow us an even higher level of line throughput and performance," Ray says. "We are looking at another Texwrap, because our current shrink-wrap system has proven to be such a good investment for us."

By Jim McMahon, Zebra Communications, a writer covering advances in food processing automation.
Companies in this article