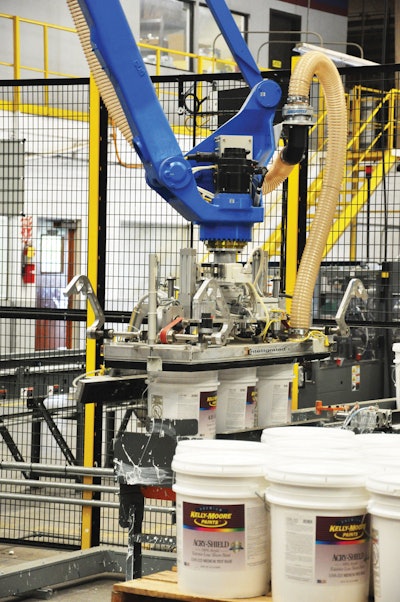 "Robotics industry poised for another banner year in 2012": That's the headline of a recent article published by the Robotics Industries Assn. (RIA) that predicts "robot orders in 2012 have the potential to surpass the mark set in 2011, which marked the beginning of a major rebound in the industry." In fact, Robert Little, COO of ATI Industrial Automation is quoted in the article as forecasting a 15% growth rate in 2012.

Says Dean Elkins, a senior general manager at Yaskawa America Inc.'s Motoman Robotics Division, in the article, "I see continued growth in food and beverage, pharmaceutical, and laboratory applications."

As the five case-history applications below confirm, robotics are alive and well in the packaging plant and are increasingly taking on tasks traditionally relegated to human operators. As these examples illustrate, packagers from food to pharma are realizing labor savings, increased productivity, and higher product quality through the use of strategically placed automation designed to meet their specific packaging needs.

Cheese-packing injuries eliminated through automation
At dairy giant Arla Foods' factory in the small Swedish town of Götene, the repetitive work of packing cheese into boxes on Line 21 was taking its toll on the workforce. Plucking a block of plastic-wrapped cheese off a conveyor belt and putting it into the correct position in a box at the rate of nearly one per second caused such high rates of repetitive strain injuries that this particular part of the factory had been labeled a "red" workstation—a designation for areas with an elevated health and safety risk.

"This is high-speed, repetitive work, and it led to injuries, which in some cases were permanent," says Thomas Johansson, project manager at Arla Foods. Determined to take steps to protect the health of its workers, Arla Foods brought in engineering company Graniten to come up with an automated solution to take the strain off its employees.

Replacing workers with an automated solution would not be easy, due to the limited space available. "We needed machines with a very small footprint that could nonetheless handle a high flow rate," Johansson says. The robots would also have to deal with packing the cheese into both cardboard boxes and returnable plastic crates that have different dimensions and have to be packed differently. "So our demands were for a pretty sophisticated solution," he adds.

Graniten has been supplying Arla Foods with specially designed machines since the mid-1990s, most of which have replaced manual product handling. "The basic idea was to create a better and safer working environment," says Martin Krewer, project manager at Graniten. "Our solution was to design a system with two operation levels: one for the crates and boxes, and one for the cheese." Cheese comes in on the upper level and is distributed evenly to four packing cells, each built around an IRB 120 robot from ABB. The cheese can be picked up from three different angles, allowing the robots to pack all the different patterns required.

Krewer says that one of the main reasons that Graniten chose the IRB 120—ABB's smallest-ever multipurpose industrial robot—was its six axes of movement. "That gives you tremendous flexibility and allows you to do exactly what you want," he explains. "And because of the robot's small size and low weight, we could wall-mount it above the line for better access to the packing boxes. We have been working with ABB robots for several years, and they are always well-tested. Their reliability is excellent." (The Arla Foods facility in Götene had already been using three other ABB robots: an IRB 340 and two IRB 360 pick-and-place robots.)

Prior to installation, Graniten used ABB's RobotStudio simulation program to simulate the cell and optimize the placement of robots for the shortest possible cycle time. The solution is controlled by ABB's IRC5 compact controller to ensure predictable and high-performance motion. Graniten provided about 50 hours of training to Arla Foods' staff, and the 30 people who took part included electricians, mechanics, and several of the operators who had previously packed the cheese by hand.

With a total footprint of just 25 x 25 ft, the four robots pack 90 units of cheese per minute, which is the same amount of cheese that two workers handled before. The robots are in operation from 6 a.m. to midnight, or the equivalent of two shifts per day. One person is required to monitor the robots per shift, so about 16 man-hours have been saved per day. And, most important, there are no more repetitive strain injuries on Line 21. The payback time is estimated to be about two years.

Johansson declares himself well-satisfied with Graniten's solution and adds that the workers who are now monitoring the robots rather than packing cheese by hand welcome the fact that they are no longer exposed to potential injury. He says, "The robots can't do everything that a person can do on this workstation, but they can certainly do 98 percent to 99 percent of the job."

Robot multitasks to handle paint cans and pails, plus pallets
Paint production has gotten a lift at the Kelly-Moore Paints facility in Hurst, TX, through installation of a custom, multitasking robot system that handles 1-qt and 1-gal cans, and 5-gal pails coming off three filling lines, and picks empty pallets, as well. The equipment, installed at the 3 million-gal/yr facility in November 2011, followed the successful implementation of a similar system at its sister plant in San Carlos, CA, in early 2009. The Hurst system, however, takes the technology one step further.

In San Carlos, four packaging lines were equipped by Intelligrated with two robots—one for 1-qt and 1-gal cans in trays, and one for 5-gal pails—as well as complementary conveyors and an Alvey palletizer. For the smaller product sizes, the robot demanded an end-of-arm tool (EOAT) that could pick up 1-gal configurations of 2x2 and 3x3, and 1-qt paint-can patterns of 3x3, along with their respective loose corrugated trays. Working with Tepro Machine & Pac System and its line of Unigripper® lifting tools, Intelligrated created a design that lifts the cans and secures the tray with a separate pivoting vacuum arm that descends as product is moved to the pallet.

Five-gal pails presented their own challenge. The pails feature a 2-in.-dia tinting port in the lid that allows customers to tint the paint in the store. However, the ports could not withstand a vacuum EOAT. The solution was a custom-designed ring within the vacuum plenum in the EOAT that prevents the flow of air from pulling out the port. The pails are then lifted three at a time and palletized in a nested configuration. Both robots at the San Carlos facility also pick and place empty pallets.

After seeing the success at the San Carlos operation, the Hurst facility was inspired to add robotics to three of its production lines employing manual palletizing. (The plant operates two additional production lines, which were combined from four manual lines in 2005 to employ automation, but no robotics.) "We didn't realize the versatility of robotics until San Carlos implemented their project," says Hurst plant manager Calvin Chun. "We realized that there is more versatility and more functionality with robotics than with the standard palletizer and standard equipment we had previously purchased."

The Kelly-Moore team at Hurst hoped that moving from manual palletizing to an automated system would eliminate the wear and tear on operators, who were lifting pails weighing more than 40 lb apiece, as well as increase the efficiency of the lines.
"When the product was being manually stacked, once a pallet was completed, the operator had to haul off the pallet and then come back and put another pallet down," explains David Dillaha, Hurst production supervisor. "So we had some downtime after the product was completed on the pallet."

Using the San Carlos installation as a starting point, Hurst sought to take the robot technology one step further in order to run the three production lines side-by-side. Requirements included end-of-arm tooling that could handle all three container sizes, as well as empty pallets, at a speed of 40 containers/min. As for payload, Hurst was looking for a robot arm with the capacity to lift from 275 to 300 lb.

Intelligrated handled the design, integration, and installation of the new robotic palletizing system, which includes a Yaskawa Motoman MPL160 four-axis palletizing robot arm with a DX100 controller and custom-designed EOAT. "We have a combination of devices on the end effectors," explains Intelligrated senior controls engineer Greg Koble. "As far as picking the pallet, we have pneumatic arms that swing down to grab the pallet. Probably one of the most significant things about this is that we have a Tepro-designed end-effector that utilizes a vacuum blower motor. It's a special design because not only can it grip and lift the three heavy pails, but it also can grip the smaller cans that are in trays. So we are handling two completely different product types with one end-effector, plus the pallet."

Intelligrated also supplied both the pallet conveyor and dispenser, a Lantech stretch wrapper, and an Accuglide™ zero-pressure accumulation case conveyor that carries paint cans to the palletizing area, with a special product stop mounted to the conveyor that separates the row-forming area from accumulation. According to Chun, "What we've encountered with the AccuGlide is that we have less maintenance, better flow of material, and fewer dead spots," than with standard chain conveyors.

Since installing the robotic palletizing system, Dillaha says the Kelly-Moore Hurst operation has experienced a 50% increase in productivity, while eliminating three operators from the line. Chun adds that the quality of the plant's finished pallet loads have improved as well. "The packaging is more precise," he says. "With manual labor, you have some inconsistencies from one operator to another, as well as the tightness of the packaging on the pallet. With the robotic units, you get better preciseness and accuracy.

"The implementation was very successful and very clean, not only from the design side, where Intelligrated took a lot of our concepts and brought them to life with this unit, but also there was no second-guessing after the implementation. We didn't have to do any major modifications or equipment changes after the implementation was completed."

Tray-packing sausage with 'Crazy Hands'
"Manos Locas," or "Crazy Hands": That's what production line operators at Kayem Foods in Woburn, MA, called the new Heron robotic packaging system from JLS Automation, upon its installation at the facility in fall 2010. Kayem is a fourth-generation family-owned producer of sausage, frankfurters, ham, and sliced, ready-to-eat lunchmeats for retail and foodservice customers. The company operates two facilities—one in Woburn, and one in Chelsea, MA, with the capacity to produce 0.5 million and 1.5 million lb/week, respectively.

Three years ago, Kayem sought to maximize the existing square footage of its 40,000-sq-ft fresh, frozen facility in Woburn, by optimizing the high-speed production and packaging line for its double-linked sausage products. As part of the upgrade, Kayem looked at options for replacing the repetitive-motion task of manually placing sausages into polystyrene trays with an automated solution. An initial, nonrobotics option was evaluated and then discarded, after which Kayem overcame its trepidation related to robotics and spoke frankly with JLS about its automation needs.

As Matt O'Malley, vice president of manufacturing, Fresh Sausage Division, for Kayem, explains, one of the major requirements for the equipment would be its ability to gently handle soft-textured sausages without leaving any damaging marks. "JLS's first challenge was to prove that their technology could handle a wet, fresh sausage link," he recalls. "That was the biggest hurdle. Our biggest 'wow' moment was the initial test done at JLS's site in York [PA], seeing them actually pick and place the sausage."
Also vital was the equipment's ability to be thoroughly cleaned to meet Kayem's strict USDA sanitation requirements, O'Malley adds, as well as the safety of the operators who would work in the vicinity of the robot. In terms of speed, the automated solution would need to be able to maximize the output of the sausage stuffer and linker immediately preceding it and have the flexibility to easily change over to accommodate different diameter sausages.

JLS's response was a custom solution, the Heron tray-packing system, that includes a robotic workcell with two ABB FlexPicker™ IRB 360 full stainless-steel, washdown-rated pick-and-place robots from ABB Robotics; an ABB PickMaster™ vision system with conveyor tracking; JLS "vacuum on board" end-of-arm tools; a JLS tray denester; and two conveyors—one stainless-steel belt conveyor to carry product from the discharge of the linker through the vision-based, product inspection and "pick" zone, and one flighted conveyor to transport trays from the denester, through the Heron's robotic workcell and onto the wrapper infeed belt.

Factory acceptance tests (FAT) were conducted at JLS's York facility, with Reiser generously donating the use of one of their high-speed linking and cutting systems to simulate the production speed at Kayem's facility. "You just couldn't hand-feed product fast enough to determine if the Heron system would run at rate," explains O'Malley. "What it allowed us to do was, in JLS's testing area, run product at rate and run the different recipes [product counts/tray sizes]."

Proven to meet Kayem's requirements, "Manos Locas" was installed in Woburn in fall 2010, packing two sausage types—a 4-in.-long, 35- to 38-mm dia, double-linked pork dinner sausage; and a 4-in.-long, 19-mm dia, double-linked collagen breakfast sausage—in three tray colors and five sizes, and in six-, eight-, 10-, and 14-count varieties. According to O'Malley, the JLS-designed vacuum end-of-arm tooling can easily be changed over in three to four minutes to accommodate different sausage diameters—an operation that takes place at least once, sometimes twice, each day.

Since the installation, O'Malley reports that Kayem has seen a 50% improvement in efficiency on the line, as well as a 25% increase in first-pass quality for the sausage products. "The first metric comes from the fact that you don't have the variability of the human hands on the product," he explains. "The famous joke is that the robot never calls in sick. So you are able to run at rate and stay at rate.

"As far as the 25-percent increase in first-pass quality, I think it can be attributed to the fact that hands are not touching the product. The product is coming off the linker and being delivered directly to the tray. It's not that with a manual operation anyone intentionally mishandles product, it's just that one wrong move with the thumb, and you've got a thumbprint, and you have a product that needs to be stripped out and restuffed."

O'Malley admits that before working with JLS, robots were a bit of a mystery to the Kayem staff. "But JLS took the intimidation factor out of it," he says. "The customer service team did an excellent job of not just being there for us for that initial startup, but JLS also partnered with us to work through any hurdles that arose later."

Also facilitating smooth operation of the line since its installation is a remote monitoring and diagnostics system, called predictive maintenance by JLS, that allows the supplier to tie into the data stream for the Heron system when a problem arises. "JLS can log in and actually see what's going on and troubleshoot remotely from York, without anyone getting on an airplane, and without us spending a day and a half with the line down," says O'Malley. "This has been a great asset to us."

The result of the increased efficiency has been extra capacity on the line, which Kayem hopes to fill with new customers interested in Kayem's own-brand and Al Fresco sausage products, as well as its private-label offerings. Kayem has also moved forward in its Chelsea facility with automation by JLS that includes primary, secondary, and tertiary packaging operations for cook-in, vacuum-packed product.

Says O'Malley, "I would advise companies to let JLS come in and offer some solutions. I think if you go into it with an open mind, you will be impressed and surprised with what they can do for you."
Companies in this article