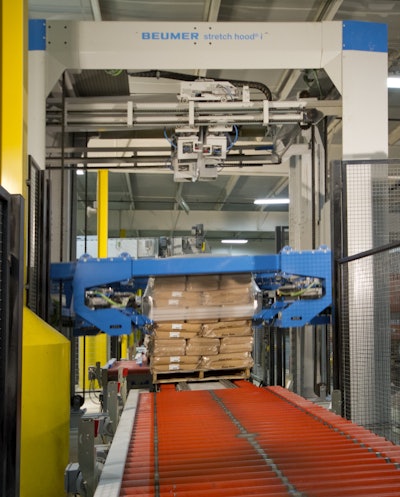 Bay State Milling Co., Clifton, NJ, provides premium-quality flour and other grain products in bag volumes up to 100 pounds each to many of the largest multi-national food companies as well as to local, independently owned food establishments. The company had been operating a semi-automatic spiral stretch wrapping system and an older standard, conventional palletizer to prepare shipments of its bagged products.
The existing equipment could not keep up with growing production capacities, and Bay State was not satisfied with the pallet stack quality. The unique dimensions and specifications of the CooLift pallets from Magliner that the company was using presented some handling, conveying, and wrapping challenges that needed to be addressed. Specifically, Bay State's Clifton, NJ, plant superintendent Mike Carlson explains, "We needed to reconfigure the palletizer's pallet delivery system and modify the table at the point where the bags are placed upon the CooLift pallet."
Bay State Milling wanted a smoother, more reliable packaging and palletizing solution with high uptimes and minimal maintenance requirements. The company also wanted to improve pallet stack quality and support its two different size pallets--one standard GMA 40" x 48" size and a smaller 43" x 18 ½" CooLift pallet. Mike Carlson notes that there was one more challenge. "Our management asked us to develop a proposal for the entire upgrade in three months."
Initially, Bay State considered installing a robotic palletizer and a stretch wrapping system. But after screening various options, the company chose a combination of the paletpac® 1800 palletizer and stretch hood® i pallet packaging system from BEUMER. The low-maintenance paletpac® easily accommodates bagging rates of 1,000 to 1,800 units per hour. And it is quickly and simply adjustable to handle a wide range of bag and pallet dimensions.
Suited to accommodate a range of products, the BEUMER stretch hood i with menu navigation is a compact, energy-efficient machine that draws down the stretch film hood uniformly over the pallet load and securely seals the hood. The machine automatically measures the load height and prepares the stretch film bag to fit without any excess film usage. This stretch hood improves load stability and provides load protection against contamination and the elements. Also as part of its packaging upgrade project, Bay State Milling installed a new Stonepak bagging and sealing system from Premier Tech Industrial Equipment Group at its Clifton plant. The BEUMER and Premier systems were integrated to refine bag shape/design and enable optimum automated palletizing of stable, uniformly stacked loads.
The new, fully automatic line, which handles 25-, 50-, and 100-lb bags, replaces two of three older lines and upgrades the third pre-existing line. The three old lines used to operate at a combined 45% efficiency. Now, the integrated, revamped system operates at 75% efficiency.
The bagging/palletizing/stretch hooding system was designed during the months of March, April, and May 2010. Installation and start-up took place in December 2010 and January 2011.
Big benefits, small footprint
Carlson says, "The palletizer and stretch hooder integrate well with the new, high-consistency-performance bagging system, and both palletizing speeds and pallet stability have been improved. We have achieved about a 30 percent production rate increase at the Clifton plant with the new system. Uptime has been maximized and maintenance needs have been minimized. Every wrapped pallet goes either to the warehouse or directly to the delivery truck."
The stretch hood system accommodates unique pallet dimensions, and stretch hood film rolls need to be replaced only once per week versus the old stretch wrap system that required multiple daily film roll replacements. The protective shield created by the stretch hood also successfully addresses flour packaging condensation concerns. Bay State uses a hooder film made by Shields and supplied by Apex Packaging Corp. Click here to view the stretch hooder system in operation.
Together, the bagger, palletizer, and stretch hood system require a relatively small footprint (4,700 square feet), enabling plant floor space savings. And the simplified, modular design enabled Bay State to install the entirely new packaging line in less than 20 days. BEUMER technicians and service staff assisted in the equipment installation and make periodic on-site visits to support in-house engineering staff in the on-going fine-tuning of the system's performance.
Carlson notes, We're looking at plans to install similar packing machines in the future."

Companies in this article