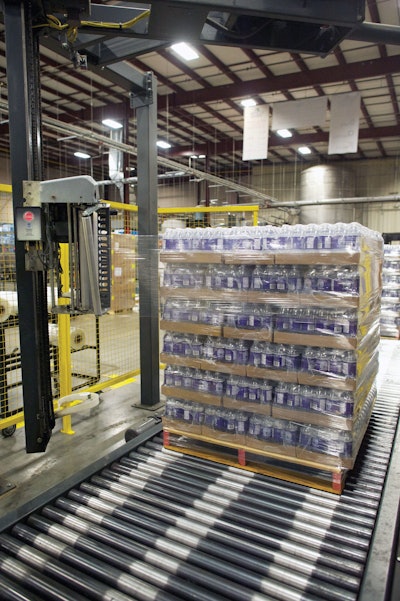 Canada-based bottled water company Ice River Springs is headquartered near Feversham, Ontario, Canada, and also operates water bottling facilities in Grafton, Ontario, Calgary, Alberta, Morganton, NC, Marianna, FL, Kentland, IN, Pittsfield, MA, and its two newest plant locations in Allentown, PA and High Springs, FL. The company was experiencing some pallet stretch wrapping and load stability inconsistencies from facility to facility and also encountering some stretch film cost-inefficiencies and fluctuations due to over- and under-application of the film wraps.

Ice River Springs wanted to upgrade its stretch-wrapping operations to avoid over-spending on film and improve pallet load integrity. The company realized that better monitoring of the stretch wrap operations was key to accomplishing the operations and maintenance upgrade. After evaluating various avenues, Ice River Springs determined that implementation of the MUST (Materials Usage Standard Tracking) system, invented and patented by Atlantic Packaging, was the best path to success.

The MUST system is designed as a solution to eliminate the unknown in wrapping costs. The monitor is part of an entire program that focuses on machine refurbishment and plant personnel training to increase the knowledge of stretch film application. The monitor can be retrofitted to any automatic stretch wrapper. Ice River Springs adopted the MUST system company-wide, installing it in all of their plants on all of their stretch wrappers.

Each MUST monitoring system is identical—the only difference being how the monitors are wired and integrated with the wrapping equipment. The main unit of the monitor is installed to the exterior of the wrapper cabinet and allows plant personnel to view stretch-wrapping operations data in real time as the pallet is being wrapped. A box is mounted on the film carriage and gathers data about how much film is going on each pallet. All of the information gathered from the carriage box is sent via wireless transmitter signal to the radio receiver in the main panel.

All-out effort
The MUST system first was installed at the Ice River plant in Morganton, NC, in January 2011. The other facilities followed soon after. All the facilities also operate pallet stretch wrappers (variously, Models WCRT-125 through WCRT-200) from Wulftec, except for the newest facility in High Springs, FL, which is wrapping with equipment from Pieri.

The pallet wrap film used by all the stretch wrappers is a 71-gauge multilayer film supplied by Atlantic Packaging under their private label. The film is produced by Berry Plastics and is commonly known as their R122 blend.

Ice River Springs corporate purchasing manager Shelley Orwin notes, "This was a step down in thickness/weight from the 80-gauge film we were using in the past. It is important to remember that, with down-gauging of film, the pallet wrap patterns to which the film is applied become more crucial. With the MUST monitoring system, we are able to ensure consistent, proven patterns making it much easier to have faith in the lighter gauge film."

The company packages and ships water in a wide selection of bottle sizes and brands. Ice River Springs uses a range of pallet-load pack pattern dimensions for boxes, pads, and film-wrap multi-packs, depending on the bottled water size, brand, and destination. But all the pallet loads weigh approximately 2000 pounds.

Installation and start-up
According to Orwin, the installation of the MUST monitors across all Ice River's facilities took less than four months to complete. "The process begins with an Atlantic MUST technician performing an audit on each piece of wrapping equipment. The technician also provides information about possible upgrades or retrofits that could increase machine performance and have a short return-on-investment.

"After the audit, parts are ordered and monitors are custom-built and programmed, all by Atlantic. Then, four to six weeks after the audit, the team returns for installation, custom integration, and training. The Atlantic Packaging engineer works with our Ice River Springs staffers who have been designated to be in charge of wrapper operation monitoring within each plant. This training includes instructions on how to adjust machine settings to achieve benchmarks, how to test for load stability, and how to navigate the monitoring website and analyze data," Orwin explains.

Real-time reports
Operators can review average amounts of film used daily or hourly, number of wrap revolutions per pallet, total pounds of film used, total number of film breaks, total roll changes, and total number of pallets wrapped. These averages indicate how close to benchmarked wrapping the system is performing, what adjustments need to be made, and how film inventory needs to be managed.

All of the wrapping data captured by the MUST monitors can be viewed locally in the plant as well as on the Atlantic Packaging Web site (www.atlanticpkg.com). This data can be accessed at any time by whomever the plant chooses. In addition, email alerts can be sent out whenever wrapping falls out of specs. And 24-hour daily reports summarize the last day's production and wrapping.

Ice River Springs staffers are very pleased with the MUST system's ability to provide production/productivity numbers in such an immediately actionable, per-hour and per-day fashion. A wireless transmitter allows each stretch wrapper monitor in the plant to communicate to a wireless network box. This box contains a cellular bridge that enables the data to get from the plant to the servers to be posted online (updated in near real time).

Pallet load failures have been mitigated. Wrap cycle times have been reduced. Excessive usage of film has been eliminated. System-wide, film savings of 25-30% have been achieved. And Ice River Springs packaging machine maintenance personnel now have significantly greater understanding of and control over wrapper maintenance, thus slashing downtime. 
Companies in this article