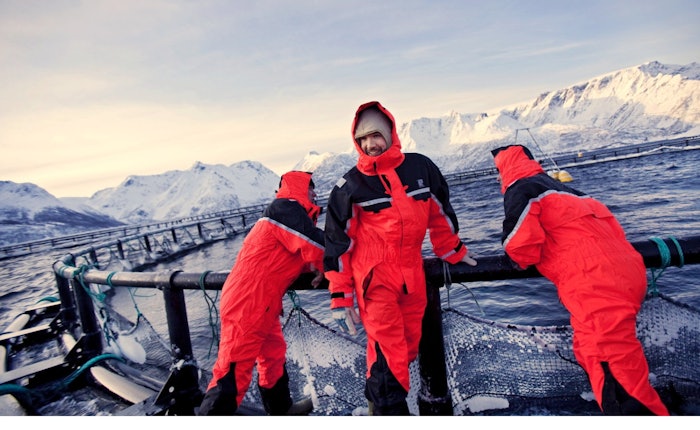 The SoniXs TRP-VA strapping machine from Gerd Mosca AG has successfully emerged from long-term testing at Grieg Seafood Finnmark AS, Norway's northern-most fish-farming facility. According to Mosca, the automatic strapping machine is built to remain completely corrosion-free and can be cleaned using a water jet with a force of up to 100 L/min. The machine's technology, which Gerd Mosca says is unique in the strapping business, offers a highly efficient and trouble-free means of complying with strict hygiene regulations, and thus sets new application standards in the fishing sector.

In industries such as fish processing, maintaining absolute hygiene, along with the time frames required to pack produce, are critically important. The machines that secure the outer packages or crates for safe transport must also be able to complete this processing quickly and reliably, while at the same time being easy to clean thoroughly. When strapping machines equipped with conventional heat welding are used to secure packages for transport, they are frequently damaged due to high humidity and contact with saltwater, Mosca relates. The presence of these heating elements, in other words, makes it impossible to produce them in completely corrosion-proof materials. This may lead to unpredictable production downtimes.
The SoniXs TRP-VA, however, is said to easily manage such extreme conditions by ultrasonically sealing the strap ends, thus permitting the use of corrosion-proof materials. Even the strap magazines and strap guide frame are made of stainless steel. The machine can thus be cleaned with a strong jet of water to IP-56 standards, without sustaining corrosion damage or compromising its service life.

Strapping crates right up at the North Cape
Norway's Grieg Seafood tested the robust machine for several months last year, subjecting it to the fishing industry's most extreme operating conditions. Every day, the company secures large numbers of polystyrene crates loaded with various kinds of seafood produce. All of the machinery involved is continuously exposed to humidity and salt water. Prior to the SoniXs TRP-VA, the seafood supplier employed a variety of strapping machines for securing their loads of produce; however, it was experiencing production interruptions due to the machines' large number of wear parts. Operations frequently came to a halt, and loads of produce could only be completed irregularly.
In contrast, the SoniXs TRP-VA was able to strap some 22 crates of fish reliably every minute. "We have very tough standards at Grieg Seafood. But we've yet to see anything that compares with the Mosca SoniXs TPR-VA, under the same demands and conditions," says Bent Hansen, production manager at Grieg. "The long-term tests went well. We've had less downtime, and we're operating at higher capacity."

Optimum package strapping for the fishing industry
According to Mosca, this latest strapping technology is about to permanently change the way the fishing industry secures its produce for transport. By the end of 2011, Mosca had already installed six more SoniXs TRP-VA machines on the premises of other fish processors, to equip them with high-performance machinery in time for the high season beginning in January.
Companies in this article