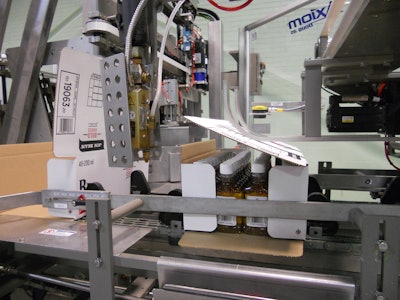 A recent switch from glass to PET on three bottle sizes at the Frankfort, KY, plant of Beam Global Spirits & Wine required three new pieces of packaging equipment.
"The project was driven by the potential for cost savings," says corporate packaging engineer Robert Land. "Not just the cost of the bottle but the corrugated, too. The wraparound case we now use is cheaper than the case we used before because with plastic bottles there is no need for a partition insert to keep the bottles from rattling against each other and possibly breaking."
The newly installed case packer at Beam is the Axiom from Douglas Machine.
"We looked at several options, and we saw the Douglas machine at other plants in the spirits manufacturing sector," says Land. "We liked how flexible this machine is. We do 200-mL bottles in a 48-count case and 375-mL bottles in a 24-count case. And in the future we'll be looking at other configurations. The servo-driven Douglas machine makes it easy to switch from one to another."
The case packer's servo-driven functionality is in plain view when it comes to flap folding. Flap traps and minor-flap tuckers are servo driven to control their speed and timing. Servo-driven flap traps operate consistently at all speeds to capture the case during setup, one of the most critical areas affecting efficiency. Precise control of tucker speed and timing is the best method for folding at the flap score line.
Four-corner case control squares the leading and trailing walls of the case just prior to case sealing and compression. Again, servo control of the squaring guarantees precise operation. One-touch jam clearing is accomplished through the HMI by automated manipulation of compression components to quickly and efficiently clear the affected area.
Bottle unscrambling
At the opposite end of the line, where empty bottles are introduced, is another new piece of equipment required by the shift to PET: a bottle unscrambler from Posimat.
"Once again, we saw these running in other food and beverage plants we went to, and Posimat was well represented," says Land. "Also, this machine gives us all the capacity we'll need in the future."
The future Land refers to will require a larger filler than the 48-valve filler currently in the line. "Both the unscrambler and the case packer are designed for 500 bottles per minute," says Land. "Currently we don't go past 400 per minute." The time will come, however, when 400/min won't suffice, and at that point a new filler will be installed.
The third piece of new equipment at Beam's Frankfort plant is a vision inspection system from Mettler Toledo CI-Vision. It uses three high-resolution cameras to inspect for correct label, label positioning, label skew, label flagging, high cap, corked cap, and fill height. Familiarity with CI-Vision systems in other Beam plants was a key consideration in selecting this particular unit, which is mounted just downstream from the Krones labeler.
"Krones reconditioned the labeler for us," says Land. "Two pressure-sensitive labeling modules, one for front label and one for the back, now take the place of the glue-applied labeling station that had been used for glass bottles. The pressure-sensitive labels adhere better to a plastic bottle than glue-applied labels. Also part of the upgrade was a new PLC control panel. We saved about 30% by going this route instead of buying a brand new labeler."
Also upgraded was the Fogg filler and Fowler/Zalkin capper.
As for bottle vendors, Land indicates the bottles come from Amcor and Berry Plastics.
"Market research indicated that consumers would be fine with our products in PET," says Land. "These bottles are a little narrower front-to-back than their glass counterparts, but in height and width they're nearly identical."

Companies in this article
Videos from Douglas Machine Inc.