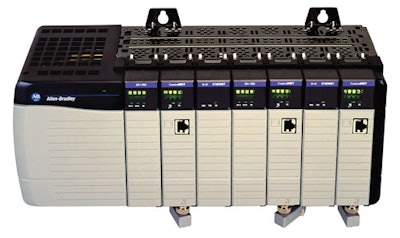 "With this new control technology, our own people and the people in our customers' plants are able to interact with the robot using an interface with which they are already familiar."
That's how Michael Senske, president of Pearson Packaging Systems, describes that firm's RTL-MX (Robotic Top Loader-Multi Access) product line. The system is used to case pack a wide variety of products, depending on the end-of-arm tooling Pearson designs for it.
Historically, whenever Pearson integrated a robot purchased from an outside source, the robot would have its own proprietary controller. "It was frequently the size of a small rerigerator," says Senske. "It was programmed using a teach pendant, and its control system was different than the portion of the RTL-MX that we design and build here at Pearson. The part we build would typically be controlled by a Rockwell platform. The situation this created is you had one portion of the overall robotic case packing system that had to be programmed and maintained separately from the rest of the total system. To get around this, we used to install a Rockwell PLC and HMI that converted the proprietary language in the robot's controller into something with a more familiar look and feel."
The downside to adding a second controller was, of course, cost. Not just the one-time upfront cost, but the ongoing cost of maintaining a separate controller software program.
Pearson found a way around this seemingly built-in shortcoming with help from robot builder KUKA and automation supplier Rockwell. "Those two suppliers, over the past 12 to 18 months, have worked together to come up with a way to control the KUKA robot with the same Rockwell Logix platform," says Senske. "So the robot uses the same programming language, the same interface, as the rest of the machine. There's no separate control mechanism, no other controller, no other modules necessary to make this all work together. It's all controlled from the Logix platform."
According to Senske, customers have been asking for some time to have a robotic case packing system where the robotic arm—rather than being subject to a proprietary controller—behaves just like any other servo-driven component on a packaging machine. Afer all, who wants to learn a proprietary robot code? Space constraints are also less of an issue with this new controls platform, says Senske.
"Suppose you have three robots in a system? A single PLC can control all three. There's no longer any need to have a proprietary controller for each robot. Fewer controller enclosures means a reduced overall footprint for the system we deliver. Not to mention less wiring."
Companies in this article