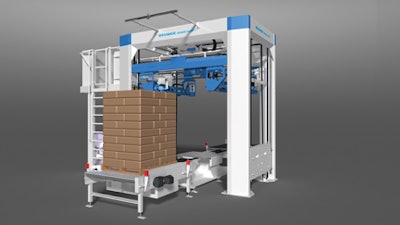 Research conducted by
BEUMER
, a leading maker of conveying, palletizing, sortation, and other end-of-line systems, revealed that a better user interface was high on the list of things that customers wanted to see on the next generation of stretch-hooding machines.
"We kept hearing that the machines needed to be easier to work with, more intuitive not only in terms of daily operation but also with maintenance and troubleshooting," says Uffe Kristiansen, division manager of palletizing and packaging at BEUMER. "So as we re-examined our approach to HMI, we drew inspiration from iPads and ATM machines rather than from the world of industrial applications."
Working closely with Schneider Electric —the technology supplier that provided the HMI and the PACDrive controller and servo drives and motors that are behind the eight-axis system—BEUMER developed an HMI that not only delivers error messages but also explains in a fairly detailed way where an error has occurred and how to correct it.
"It's a huge step forward," says Kristiansen. "It used to be that you'd get an error message and maybe a reference to a page in a manual where you could look for advice on resolving the error. Now the instructions are right there on the HMI. Also available are explanations of routine operations such as film change, and it's done with photographs and drawings as well as written instructions, so it becomes very intuitive. In addition, you can interface with the HMI in a preferred language just by pressing a button."
Film change is one area that's greatly improved, says Kristiansen. If the dimensions of the hood being applied to a pallet need to change, the new dimensions are selected at the HMI. The four stretch horns—one at each corner—along with the entire film stretch system automatically adjust to the new dimensions.
The other thing about the new servo-driven system that Kristiansen likes is that the stretch horns operate in much closer proximity to the pallet load being hooded. The gain in positioning precision that comes with servo technology makes this possible. At the end of the day, it means that a smaller film with greater pre-shrink properties can now be used. This brings film cost savings and sustainable packaging benefits, as well.
Companies in this article