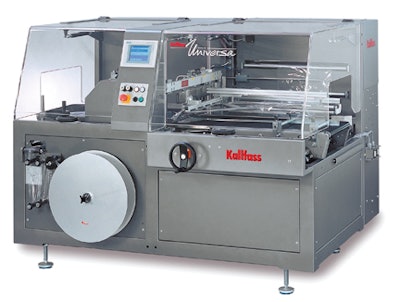 Elliot Huss is chief operating officer of Garden Lites, a Jamaica, NY, manufacturer of premium, vegetarian frozen dishes. Huss will return to
Pack Expo International
this fall to find new technology to help streamline operations and increase the efficiency of his plant staff. After his last trip to the show in Chicago in 2008, Elliot purchased new end-of-line equipment to automate the company's packaging lines—ultimately reducing costs and nearly tripling production output.
Garden Lites was founded with the mission of delivering healthy meals without sacrificing taste and quality. The company uses all-natural, gluten-free ingredients to create low-calorie fresh and frozen soufflés such as its Roasted Vegetable, Butternut Squash, Spinach, and Zucchini varieties. Other dishes include Zucchini Marinara and Zucchini Portabella entrees. Garden Lites also manufactures a selection of low-calorie salad dressings and soups. The company's products can be found in several national chains, including Publix, Stop & Shop, Wegman's, and Whole Foods. As Garden Lites's product range expanded, so did demand for its good-for-you products. Eventually, capacity in its two New York-based facilities was maxed out. To boost production, the company required a full renovation of its Jamaica, Queens location. In addition to re-building the facility from the ground up at the existing location, Garden Lites invested in capital equipment that would increase overall automation and maximize efficiency.
"Case packing had traditionally been a manual process, making it very difficult to keep up with growing demand," Huss said. "We quickly realized that we had to bring in automated equipment to streamline our operation. In addition to speeding the pace of production, it provided the benefit of letting us reallocate staff to more strategic tasks.
Greater demand calls for greater capacity
Huss turned to Pack Expo to find the automated packaging solutions he needed. Before heading to the show, Huss visited www.packexpo.com, where he was able to research equipment from various exhibitors. Armed with a list of options, he hit the show floor to examine different end-of-line machines amid the 1,600 exhibitors.
"The show allowed me to expand my understanding of manufacturing," Huss said. "With so many technologies in one place, I was able to evaluate equipment in action and see how it would help innovate my own line and enhance efficiency at our own plant." As a result of the show, Garden Lites effectively upgraded several pieces of equipment, including an integrated Spartan cartoner and Econopacker case packing machine from Econocorp, Inc. Highly satisfied with the quality of the equipment, Huss determined that transitioning to a fully-automated option would be a prudent choice for increasing production.
Designed to help reduce labor-intensive workloads, the all-stainless steel machine features a fully-automated conveyor belt where product is automatically boxed, cartoned, collated, and loaded into the case. The machine can run at speeds up to 2,400 cartons per hour. By integrating the two pieces, rather than purchasing them individually, Garden Lites reduced the overall footprint of the system and saved precious floor space in the redesigned facility.
The Garden Lites team also purchased overwrapping equipment from Kallfass Packaging Machinery. The Universa 400 side sealer and Compact 650 D shrink tunnel helped to further boost overall production speeds.
The stainless steel Universa 400 offers fully automatic, continuous-motion operation and encoder controls to automatically time the packaging of different products—a useful function for manufacturers or contract packagers aiming to reduce changeover between different product runs. The machine can operate at 85 cycles/min in applying a full overwrap with center-folded film or flat film with center folder.
Designed to work with a Universa 400 overwrapper, the Compact 650 D shrink tunnel is equipped with a chamber featuring two successive concentric nozzles that transfer heat evenly into the film to maximize shrink capacity. The film shrinks tightly even with irregularly shaped products.
High standards
"We set very high standards for the equipment we purchase," explains Huss. "In addition to overall quality, we selected these technologies because they enabled us to meet our automation goals and stay within our budget."
Installation of both pieces of equipment began almost immediately following Pack Expo. Return on investment was seen almost as quickly, with significantly reduced changeover time and production volumes tripled.
Econocorp provided thorough on-site training, which enabled Garden Lites to troubleshoot potential difficulties and helped the company maintain its time-sensitive production deadlines.
"We have a team that is nearly 70 people strong," Huss said. "Econocorp understood that we were eager to get up and running as quickly as possible. They walked our staff through the operational steps, making sure they knew how to maximize the equipment's functionality for the best results."
Garden Lites is well positioned for future growth, particularly as consumers continue to seek healthy, convenient meal options. But, staying ahead of the curve requires being attuned to technology innovations that will make production of its high-quality foods more efficient.
To help accomplish this goal, Huss plans to return to Pack Expo this fall to search for equipment that will further increase production speeds, reduce cost, and support the company's sustainability efforts.
"We'll always be looking for ways to add innovation and effectively utilize our most important resource, which is our staff," Huss said. "Trade shows, such as Pack Expo, offer the most efficient way to source the latest technologies and resolve production challenges—and then get back to business so we can focus on delivering quality foods to consumers and keep expanding."
Companies in this article