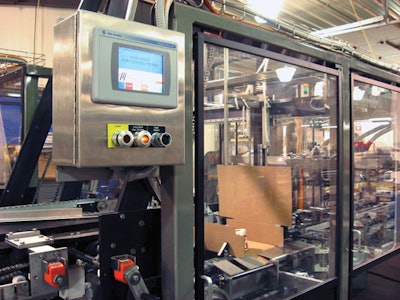 Ecolab, Inc., headquartered in St. Paul, MN, is a leading supplier of cleaning and sanitizing products for hospitality, institutional, and industrial markets. The company packs a broad range of products in weights from 3 to 7 lbs in various product counts and shipping-case pack configurations.
The manual and semi-automatic case-packing operations at the company's Garland, TX, plant required upgrading to keep pace with growing customer demand. In December 2008, the company installed a customized automatic wraparound case packer from Massman Automation Designs LLC (www.massmanllc.com) to pack plastic-wrapped soap blocks. The case packer combines programmable, PLC-controls, servo-drives, and easy handwheel adjustability to accommodate various container and case sizes and multiple pack patterns.
Principal engineer at Ecolab Martha Granados says, "The main reason we chose the Massman equipment was the quick changeover feature. We had a case packer before, but it took from two to four hours to do a changeover. With the Massman equipment, we can do a changeover in 10 minutes. And the change to the fully automated process reduced our labor requirements. We were able to reassign two operators to different jobs in the plant."
As part of the line upgrade, Ecolab also installed a new checkweigher from AP Dataweigh (www.apdataweigh.com) and a palletizer from FKI Logistex (www.fkilogistex.com) downstream from the case packer. The preprinted corrugated cases (supplier undisclosed) are coded using ink-jet equipment from multiple suppliers. The cases are glued using hot-melt glue application equipment from Nordson Corp. (www.nordson.com).
Granados notes, "Massman technicians were brought in to make sure we followed their requirements during the installation process. Then they also were involved in the start-up for each one of the packing configurations we have. After all the machine settings were established, Massman technicians trained all our operators, supervisors, and mechanics. This involvement by Massman definitely helped our staff to be more knowledgeable about the equipment."

Companies in this article
Videos from Massman Automation, a Massman Company
Videos from Nordson Corporation