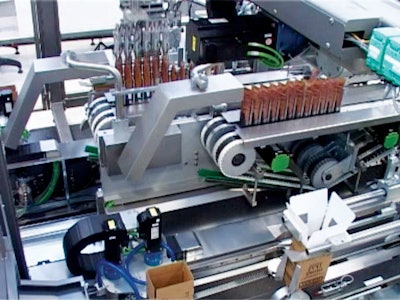 Kao Brands Co. (formerly The Andrew Jergens Co.), Cincinnati, produces a diverse range of familiar name products, including Ban antiperspirants/deodorants, Jergens and Curel hand and body lotions, Biore facial care items, and John Frieda Frizz-Ease, Sheer Blonde, and Brilliant Brunette professional hair-care products.
The company was in need of an automated case packer to pick and place conveyor-fed tubes into erected shipping cases to replace its manual packaging operations. The machine also had to automatically tape-seal the tops and bottoms of the corrugated cases and convey them to the next station.
As part of their search for a system that would satisfy their speed, efficiency, and reliability requirements, Kao engineers perused trade journals and made networking contacts. Based on this background investigation, they decided to meet with the sales team from
MG America
(
www.mgamerica.com
) to discuss in detail the technical specifications and performance qualifications that needed to be addressed by the new pick-and-place packing equipment.
Together, representatives from Kao and MG America evaluated the operational criteria and the equipment footprint dimensions as related to the available plant floor space. They concluded that the compact MG America GTL 30 case packer, with its pick-and-place head and high-speed capability, was just right for the application. Incorporating servomotors for main machine movements, the GTL 30 features an advanced operator touchscreen interface for ease of use and an exclusive balcony design for ease of cleaning and maintenance. The machine requires no change parts to accommodate different case sizes.
Installation and start-up
Kao ordered two machines with the intention of "marrying" them as one system with a common infeed. This combination achieves the overall packing rates that Kao required. MG America provided four technicians for the line installation and start-up. Kao reliability planner Dwyane Watson says, "This support was critical to reaching our line start-up goals."
The GTL 30 packer was installed on Jan. 29, 2007 by
Fenton Rigging & Contracting, Inc
. (
www.fentonrigging.com
). Service technicians from MG arrived on Jan. 30 to complete the installation and setup. In all, the installation took two weeks, including all the electrical and mechanical connections. Post installation and start-up, MG America technicians have continued to communicate with Kao engineers on a monthly basis regarding the operation of the case packers to ensure overall customer satisfaction.
Since the installation, Kao has benefited from the new case packing system in several ways, including reduced packing personnel, increased packing speeds, and alleviation of ergonomic issues related to hand-packing of the finished, plastic tubes. The tubes are supplied by
Berry Plastics Corp
. (
www.berryplastics.com
). The tube filling and sealing equipment is a Model 1700 from
Norden, Inc
. (
www.norden-pac.com
).
Kao is packing 2-in-diameter, 8.45-oz tubes of John Frieda shampoo and conditioner with the new equipment. Six tubes are packed per case. The case dimensions are 41⁄4 x 63⁄8 x 9-in tall. Watson points out, "Currently, we only run one case and tube size. But we have 50 SKUs, including different types of shampoos and conditioners, which are run on the same machine. So there are no big changeovers in the equipment. We just change out the printed corrugated flats to match the product that is being cased."
The corrugated case flats are supplied by
International Paper Co
. (
www.internationalpaper.com
). The GTL 30 delivers erected cases for picking and placing of the tubed products and discharges the filled, taped cases. Packing speeds now are 24 cases/min versus the 20 cases/min with the old manual operation. But the number of packing line personnel required has been reduced from 11 for the manual packaging operation to four with the automated operation.
Watson notes, "MG America worked as a partner with Kao Brands throughout the whole process. They took the time to listen carefully during the initial stages, which saved valuable time and resources throughout the entire project. The complete experience was a textbook example of how to source, purchase, install, and support a major capital investment in packaging machinery. We project a three-year payback time on the equipment investment."
Companies in this article