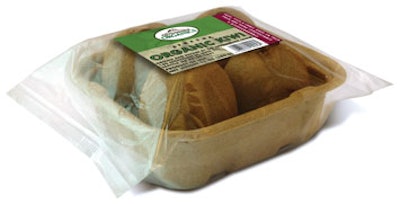 Kiwi fruit is "the nutritional powerhouse of the produce department," according to the Web site of global produce marketer The Oppenheimer Group, Vancouver, British Columbia, Canada. The company's "packaging powerhouse" is a renewable, compostable NatureFlex™ tray from Earthcycle Packaging (www.earthcycle.com) that's overwrapped in a cellulose-based film from Innovia Films (www.innoviafilms.com).
Measuring 5.5 in. L x 4.9 in. W x 1.8 in. H, the tray is made from palm fiber, an agricultural biomass that is a byproduct of the palm oil industry, says Shannon Boase, Earthcycle's president and founder. Palm fruit grows on a fibrous husk, called a Full Fruit Bunch (FFB). When the palm fruit ripens, the FFB is harvested from the palm tree and the fruit is separated from the husk through a mechanical process. The oil is used for various products, including food and cosmetics. The remaining product, Empty Fruit Bunch (EFB), is virgin fiber used to form a pulp that is ultimately made into packaging products.
Boase prefers not to divulge supplier details, but does say the material is vacuum-thermoformed into finished trays with an Earthcycle partner in Malaysia. Nested trays are shipped to Oppenheimer for packaging.
Trays of fruit are overwrapped in NatureFlex 120 NVS film from Innovia. The 1.2-mil, monolayer, transparent film is made of regenerated cellulose produced from trees grown in South Africa and Brazil under standards of the Forestry Stewardship Council (www.fscus.org), a nonprofit organization devoted to encouraging the responsible management of the world's forests.
The material is manufactured into film at Innovia's facility in Wigton, England and shipped to an unnamed converter before it's sent to Oppenheimer. Each overwrapped tray includes a label, sourced in Europe by an unidentified vendor.
"Our partnership with Earthcycle began in 2005," says John Anderson, Oppenheimer's chairman, president, and CEO. "As a marketer of hundreds of varieties of produce from over 25 countries, we always have our antennae up for more sustainable avenues to bring our fruit to market. Earthcycle approached us when the company was just getting its feet on the ground in Vancouver. We liked the idea of two Vancouver-based companies introducing this revolutionary new packaging concept and providing the kind of Earth-friendly solution that our customers, and, in fact, several of our growers, were seeking."
Before launching kiwi fruit in the Earthcycle trays in 2006, Oppenheimer "used traditional clamshells and bags, and still do in some cases," says Anderson. "But Earthcycle represents a whole new opportunity for us, especially for our organic products. It's a natural fit with our values and it gives our customers a unique new choice. We made this switch before Wal-Mart's scorecard was introduced. This four-pack has been [carried] at Wal-Mart for over two years, which is a testament to its popularity."
He says, "We've also received numerous e-mails to our Web sites from consumers who have actually thanked us for providing sweet, good quality kiwi fruit in a biodegradable pack. Our kiwi fruit packs are sold in Wal-Mart stores throughout the Eastern U.S., with some distribution in the West. They are selling for an average of $2.59." Anderson says that Oppenheimer "has the capacity to pack many products into this biodegradable and compostable pack."
From an economic perspective, Anderson says, "Earthcycle packaging is cost-competitive compared with plastic packaging, PLA, and pressed fiber packaging alternatives."
Oppenheimer is touting the environmental benefits of the tray and overwrap through point-of-sale signage, as well as on the pack's label. The label, says Anderson, "states that the tray, film, and label used on the pack are compostable and biodegradable. The backside of the label explains that the consumer should tear the packaging up and place it in his or her home compost to make a healthy contribution to the soil."
Despite the environmental benefits, Packaging World was curious: Since the trays are made in Malaysia and the film overwrap comes from Europe, how can this package be environmentally friendly? Are there not carbon footprint issues involved?
Oppenheimer had Earthcycle's Boase respond: "The criterion for sustainable packaging, which was the basis of the DuPont Award given to the Earthcycle-NatureFlex pack, is an eight-point definition. The points of the definition are:
1. Is beneficial, safe, and healthy for individuals and communities throughout its life cycle;
2. It meets market criteria for performance and cost;
3. It is sourced, manufactured, transported, and recycled using renewable energy;
4. It maximizes the use of renewable or recycled source materials;
5. It is manufactured using clean production technologies and best practices;
6. It is made from materials healthy in all probable end-of-life scenarios;
7. It is physically designed to optimize materials and energy;
8. It is effectively recovered and utilized in biological and/or industrial cradle-to-cradle cycles.
Companies in this article