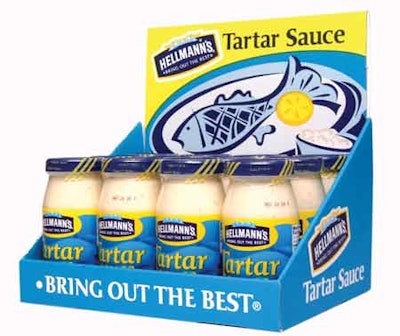 Consumer product goods companies are trending toward "core competency" thinking. They focus on what they do best—marketing, technology development, and sales. Increasingly, they are outsourcing their packaging operations, which they see as non-core functions.
Unilever, a $13 billion consumer products giant in the United States, is one company following this model—and providing greater opportunities for contract packagers.
The company's Food Division is focusing a growing portion of its in-store marketing strategy on special packs and products sold from promotional displays. The special packs, such as shrink-bundled 25-oz squeeze bottles of Hellmann's mayonnaise, create additional value for consumers while also raising the "ring" at the retailer's checkout. The displays tie products to special promotions or events and drive incremental sales.
From a contract packaging perspective, these special packs and displays rely heavily on repacking. Unilever ships primary packages in cases to repackers, where they are unpacked from the cases and then assembled into the specialty packs and displays using materials that Unilever sources from suppliers. These specialty packs and displays are then shipped to customers.
This sequence of events often involves hand assembly, which is expensive when compared with automated packaging lines that can shoot out completed packages swiftly when the job doesn't include more complex assembly requirements.
The strategies that are supporting Unilever's marketing initiatives require a multitude of packaging formats to satisfy package requirements across distribution channels. The company believes these specialty packs are more economically produced externally rather than investing in manufacturing lines to produce package new products and short-run promotional campaigns. For any contract packager wanting to join the list of co-packers that help Unilever get its products to market, Michael Potochar, supply manager, contract manufacturing, Unilever US, lists three requirements:
1. Your co-packaging facility must be either near a Unilever distribution center or production facility, or located in a distribution hub.
2. You must be able to manage costs in the system.
3. Be prepared to demonstrate capabilities that can help Unilever's packaging initiatives support its brand marketing strategies.
Location of facilities
The first consideration is perhaps the most important one, says Potochar, Unilever's point man on contract packaging projects. He works with about 20 contract packagers on more than 100 outsourced packaging projects per year, and says logistics play a large role in selecting a co-packer.
"Price is very important, but the location of the co-packer is so important because of the high cost of transportation," Potochar says. "This factor can override even the most inexpensive cost structure a co-packer could have."
Close proximity to Unilever facilities is vital because the contract packagers that Unilever selects receive products mostly from the company's distribution centers. After a co-packer receives the products, it then redeploys them in multipacks, floor displays, and rainbow pallets to other Unilever distribution centers or directly to retailers. Time is of the essence in packaging food products with expiration dates or in assembling specialty packs with a short sales window.
"My suggestion would be that repackers be set up in strategic locations throughout the country where there may be a strong demand for these types of services," Potochar says. "Distribution hubs in areas where there are low or no inventory taxes could be a good place to start. And by having other customers, it reduces your exposure if and when one customer does decide to move an operation."
Cost management
A second key factor in winning Unilever's business is cost management. Potochar explains: "A key driver of my decision to use a contract packager is cost. If a contract packager has five of the six pieces of the puzzle in place and the sixth one is costly, I can't do business with them. However, I will keep them on the radar for the future."
With such a strong focus on logistics and cost management, it seems curious at first glance that Unilever makes heavy use of contract packagers in assembling promotional displays. Potochar says Unilever earns higher gross margins when selling from standard display cases, which don't have the additional handling and packaging costs that are common with special packs and displays. Retail cases usually are not touched since they are produced on an automated line, palletized, shipped to the distribution center or retailer, then unpacked and stocked in the store. Products put into displays require human handling on multiple occasions during the repacking process, before the product reaches the store.
Double handling and other packaging costs associated with repacking reduce Unilever's gross margins, compared with standard retail cases. Another downside of filling display stands with product pulled out of regular-slotted and half-slotted cases is that the emptied corrugate cases become waste. Potochar estimates the cost at as much as 40 cents per case.
Given those cost considerations, why does Unilever invest often in floor displays?
"Promotional displays not only drive incremental sales from the product that's in the displays, they also create brand awareness and, hopefully, brand loyalty, which may in turn generate additional sales of open-stock product from the retailer's shelves," Potochar explains.
One recent example is a cross-promotional floor display that leverages Country Crock Shedd's Spread's sponsorship of NASCAR auto racing while also introducing new flavors of Shedd's Spread.
Unilever is looking elsewhere to reduce corrugate costs. In one move, the company is standardizing its floor displays. Historically, each Unilever brand was packed in different display structures—as many as 70 different displays, each with several variations. Today, the company works with just 10 general display structures. The reduction in display stands creates greater efficiency in product repackaging, Potochar says. All Unilever products in each of its brands can fit into one of the display stands with the help of different fillers and shelf sizes.
"The major benefit that has come from standardizing our floor stand displays has been cost," Potochar notes. "We can now order many of our display components in bulk and use them for different brands. Bulk pricing from our corrugate supplier has generated significant savings in the past year. Pricing from our contract packagers has also been favorable because these displays have fewer components, which makes them easier to assemble. In many cases, this has generated a savings in tolling cost."
Besides location and cost, Unilever's third qualifying criterion is a contract packager's range of capabilities and whether the co-packer can support Unilever's brand marketing initiatives.
Through tactics such as extensions of popular brands into new product categories, as well as specialty packs and promotional packaging, Unilever products are in virtually every area of the store. Repacking is vital in executing that strategy. Unilever increased its specialty food packs by 10% between 2003 and 2005. These repackaged products also include variety packs, "PDQ" trays, and sidekicks. Depending on which distribution channel the specialty packs are bound for, different packaging sizes and configurations are required. Repackers should be able to plan meticulously and meet tight time frames in facing a potential multitude of packaging formats, Potochar says.
"In most cases, co-packers should have the ability to do the basics, such as hand assembly, shrink wrapping, and bundle wrapping, in order to meet Unilever's need for repacking services," he says.
Strong warehouse management systems are essential in order to handle the complexity of trafficking the process for Unilever's dozens of brands, Potochar says, adding: "We rely on our suppliers to have the capability of managing the product flow. We do not want to micromanage the process."
One of the complexities that a good management system should address is quality. For example, Unilever looks for a solid lot-tracking procedure for mock product recalls.
"That is something that all repackers should have," Potochar says, adding that the system should be able to track incoming product as well as outgoing finished goods down to the day and shift they were produced.
"There are some items which Unilever packs out in either our production facility or our distribution center," Potochar says. "It may not be efficient to repack products internally due to other constraints such as size, labor availability, and cost, as well as complexity." [CP]
Turnkey or non-turnkey?
Packaging needs at Unilever take the form of both turnkey and non-turnkey projects. In a turnkey approach, a contract packager purchases and manages the packaging components for Unilever. In non-turnkey projects, Unilever purchases the components and the contract packager only manages the inventory of components at its own location.
Unilever opts for the turnkey approach for long-term relationships where a strong and stable forecast for a product's success provides ordering guidance for the repacker. An accurate forecast limits the repacker's risk of ordering excess corrugate material and also curtails exposure to write-offs.
The non-turnkey approach is more suitable at Unilever for short-term, "in-and-out" projects containing an uncertain forecast on a product's prospects. Unilever places a one-time order for packaging components.
Maintaining the relationship
A contract packager can sustain its relationship with Unilever by following three general guidelines, says Michael Potochar, supply manager, contract manufacturing:
1. Submit correct and consistent pricing information. "My credibility is on the line with my supply team," he says. "If you give us a price and you go back and change it later, chances are you will not keep Unilever's business."
2. Accurately assess throughput. Your proposal should include throughput rate so Unilever's planning team can forecast the amount of time required to complete a project.
3. Build trust. "You can build my trust by being consistent in what you say and do," Potochar says. "Be flexible and deliver projects with compressed deadlines."
The author, Jim George, is the Editor-in-Chief of Contract Packaging magazine.
Companies in this article