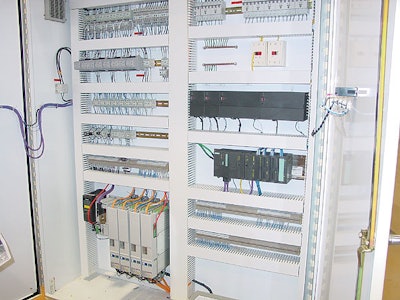 For most companies, 99% uptime is only a dream. At R.J. Reynolds Tobacco Co.'s Tobaccoville, NC, manufacturing plant, that lofty performance was business as usual for its expansive case-packing and palletizing operations. Nonetheless, business as usual was no longer an option as outdated controls compelled RJRT to make major changes to those circa-1984 workhorse machines. The machinery would have to be either replaced or upgraded.
"Working against 99% efficiency is an unenviable position to be in," says RJRT project leader Ricky Thomas. "If we reduced efficiency, the entire project would be seen as a failure."
RJRT had a clear-cut deadline pressure four years ago: Its controls vendor, Siemens, gave three years' notice, saying that after 2002 it would no longer provide support for the controls technology RJRT had been using. Parts like motors and drives had become increasingly unavailable and more expensive, according to Thomas.
"In two or three years, if we did not make these changes, we could have equipment that would not run—zero uptime," says Thomas. "The choice was to have equipment available for service in the future." RJRT felt that its best short-term solution was to rebuild the machines' controls, says Thomas, who worked closely with RJRT lead technician David Hall.
Major undertaking
After a prototype proved successful in 2000, in 2002 RJRT converted six sets of paired, adjacent case packers and robotic palletizers. Six more sets were converted in 2003; the lines will continue to be converted at a rate of six systems per year. RJRT operates more than 75 case packer and palletizer combos, which run around the clock five days a week.
The Bosch Rexroth upgrade consists of a new Bosch Rexroth PowerPC robotic controller for the palletizer robot; four Ecodrives® with a SERCOS digital, open communications network; four MKD AC servomotors with absolute feedback; and bulk-head motor power and feedback connectors that allow easy motor removal.
"We selected Bosch Rexroth because of a familiarity we had with their components," says Thomas. RJRT also liked their components' modularity. "They're interchangeable for modular applications where we're trying to conserve spare parts costs."
Siemens technology includes the new S7 PLC, which operates both the case packer and the palletizer, and a Simatic® touchscreen human/machine interface. It communicates with the Bosch Rexroth PPC robotic controller via Profibus network link from Bosch Rexroth.
For each paired system, the conversion is a three-week project for two RJRT technicians.
Rates, changeover time, uptime, waste, and most other quantifiable aspects remain unchanged—which is exactly what RJRT required. What has been enhanced are the following:
• Absolute feedback, a result of Bosch Rexroth components, eliminates the need for the palletizing robots to return to a start position. They "remember" the positioning when they are powered down for any reason. Start-ups are smoother and faster. Thomas says that saves more than 30 seconds each time—not insignificant with a benchmark of 99% uptime.
• Data collection of current production, rejects, and other information has been streamlined.
• Diagnostics is improved via the Siemens S7 PLC. "Before, troubleshooting was more witchcraft than anything," says Thomas. For example, the same error message was generated by hundreds of different faults. "Now, we can see exactly what caused a failure," he says.
• Finished pallet counts are now handled directly by the PLC. The improvement eliminates less reliable PCs mounted near the machines.
• Better ergonomics is achieved with two redundant touchscreen panels versus two independent push-button panels previously used.
Networking nets benefits
The two dissimilar controls systems used—the Siemans PLC and the Rexroth PPC—are linked via Profibus, an open, nonproprietary network protocol. "We had a vendor-specific interface before," says Thomas. "The use of standard architecture will make any future changes easier."
An example would be if RJRT adds another labeler to the case packer. "Rather than point-to-point wiring, we can rely on Profibus to carry the input and output to and from the main panel," he notes.
The reduced wiring simplifies any maintenance.
"Cabling is always an issue," says Thomas. "With Profibus, there's less chance for damage or other problems versus extensive cabling inside machines." Thomas estimates that the change eliminates 75% of the previous wiring.
Thomas says the greatest benefit of Profibus will be if they relocate the machinery because the hook-ups will be so much easier.
One of RJRT's biggest improvements has been in the HMI. Before, each system had two push-button control panels that were independent of each other. Now there are two HMI touchscreens with identical functions.
HMIs are a big benefit
"We consider having two redundant HMIs a big benefit," emphasizes Thomas. "If we were to have one HMI go down, we don't lose the machine, as before, which happened occasionally."
The main panel HMI mounted on the palletizer is enclosed in a Rittal cabinet. A second HMI is mounted on a pendant arm on the case packer. That compact HMI cabinet and arm, from Hoffman, can be swung to the palletizer side "very easily," says Thomas. The integration for the cabinets was done by Automation Tooling Systems. The design of the single-door HMI cabinets—per OSHA requirements for clearance versus the front-and-back access panels used before—also allowed RJRT to recapture valuable floorspace to store additional supplies and materials.
"We designed the HMI screens to have the same look and feel that the push-button panel did before," Thomas explains. "Once our operators get used to having all the 'buttons' available on one panel, they really like it."
RJRT has also installed several completely new case packers and palletizers as part of a comparison evaluation. While the "jury is still out" about whether this short-term solution will solve its long-term concerns, Thomas says it's entirely possible. "And even as we continue our evaluation, we had to make this move," he adds.
Companies in this article