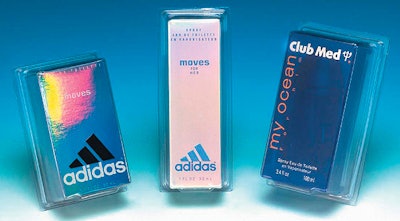 Added packaging adds up to less theft and added in-stocks and product sales for fragrance maker Coty US LLC, New York, NY.
A key customer wanted to move cartoned bottles of fragrances from behind the counter onto self-serve shelves, which would increase shopper convenience and reduce labor time involved with the products. Additionally, the mass merchandiser experienced theft of the fragrance products despite electronic article surveillance (EAS) devices in the cartons.
After the retailer's inventory checks revealed suspicious numbers of empty cartons, it was deduced that thieves simply removed the bottles from the cartons, thus circumventing the EAS alarms. That's according to Mark Newberry, vice president, logistics. Even shrink wrapping the cartons failed to dramatically curb the pilferage, he adds.
Along with all these requirements, Coty's customer wanted a solution that would help put a lock on theft. As for Coty, "we wanted a turnkey solution," says Newberry.
Meeting both company's criteria was thermoformed packaging from Alloyd. Starting in early 2002, Coty surrounded the cartoned bottles—which may or may not be shrink wrapped—with a protective shell of polyvinyl chloride. Alloyd thermoforms the packaging from 25-mil and 20-mil PVC sheet for the fronts and backs, respectively. The package is a tight fit for the cartons and is designed to stand upright for merchandising.
The initial 13 items packaged for the one retailer have been expanded to an additional retailer and now total about 30 items, according to Newberry. To handle the growth, production was moved in mid-2002 to Coty's production facility in Sanford, NC. The packaging operations are done by an Alloyd 16-station radio frequency sealer that automatically feeds the front and back forms.
"Some products use the same backing with a different size front, others use the same back and front," says Newberry. A total of nine different thermoforms are used.
"The [first] customer saw significant sales gains, a percentage in the mid-teens," says Newberry. "The conclusion is that there was less theft and more in-stocks."
The clamshell packaging is "fairly expensive," says Newberry, "but when something make sense for both us and our customer, those costs are easier to swallow. And marketing is thrilled with the sales increase." Retail pricing remains in the same $20 to $30 range, depending on the product, as before.
See the story that goes with this sidebar: Security measures
Companies in this article