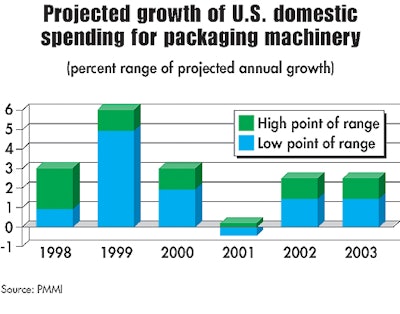 Consumer and industrial goods companies will increase their packaging machinery expenditures 1.5% to 2.5% over 2002, says the latest Packaging Machinery Manufacturers Institute Purchasing Plans study (see chart below).
The outlook, based on the results of research that consists of in-depth interviews with 417 decision makers in packaging end-use companies, is an exact repeat of the 2002 forecast. Five of the eight defined market segments studied (food, pharmaceutical, beverage, personal care, and household chemicals) are expected as a group to increase spending by 3.2% to 4.9% this year. If not for the predicted decline in demand from durables/hard goods (-8% to -10%) and paper, textiles/soft goods (-10% to -12%), as well as 0% growth from the converters and "all other" segment, the aggregate outlook would be considerably brighter.
The selective optimism expressed in the outlook is somewhat clouded by current overarching economic and geopolitical concerns. The general sentiment among respondents is that they are reluctant to spend more money on new machinery than is absolutely necessary until the turbulence of current events subsides.
In the past, during less volatile periods, respondents were more enthusiastic about adding new machinery to already existing packaging equipment. This year, 45% of packagers polled plan on replacing existing machinery, whereas only 55% will be making additions.
PMMI projects that after two years of lackluster spending on packaging machinery, the replacement of equipment will be extended to the point where end-users will have to replace older machines with newer models in order to remain competitive. In other words, the longer packagers hold out on new equipment purchases, the harder it will be for them to delay replacing older machinery. They expect this fact will contribute to increased machinery sales in 2003.
Positive factors
Prospects for the U.S. economy and capital spending for 2003, as well as market-specific factors, are also vital for projecting machinery spending. For example, the U.S. 2003 gross domestic product is expected to grow 2.5% to 3%, and the U.S. 2003 capital spending for industrial equipment is expected to remain flat early in the year but should gain momentum as the months move on. Corporate profits should also improve over those of 2002. With better profitability, packagers should be more willing to spend money on capital investment.
Flexiblity in packaging is increasingly important to those polled as well. According to the findings, 59.4% of the sample reported plans to order packaging machinery this year to gain enhanced flexibility in handling a greater variety of products and sizes. Additionally, 61.3% of all the machines being ordered by respondents in 2003 are the result of their need to gain greater flexibility. Says a packager of fresh vegetables, "Changeovers are becoming more frequent, so we have to buy machinery that makes changeovers faster and easier.
Packagers polled also expressed a need for machines with additional packaging capacity. A surprising 23% of respondents linked their 2003 machinery orders to the need for expanded packaging capacity.
More than 57% of the respondents say that their customers, particularly the food superstores and food chains, have a major impact on their packaging machinery purchasing decisions. Nearly 42% indicated that their influence is increasing.
"We're investing in a new case packer because one of our customers wants the side panel cut out for display and the other wants open top cases," says one packager of pasta products.
"Customers want us to subdivide our packaging," says a manufacturer of over-the-counter drugs. "Instead of 24-packs, they want maybe 12- or six-packs. Our current machinery can't always handle that easily."
The growing automation trend is also a major catalyst in machinery spending for 2003. Although 12% cited the need for expanded automation as the primary reason for installing new packaging equipment, PMMI says it's likely that the proportion is higher. Anecdotal evidence suggests that packagers are adding automated machinery because there is a lack of available qualified operators. A manufacturer of medical devices says, "We've found that it's justifiable to upgrade our packaging capabilities. Increased automation equals reduced labor and costs, which is our objective now."
Other important factors behind new machinery purchases include improvement in corporate profits and cash flow, further new-product introductions, the influence of ergonomics and safety issues, and the expectation that conditions will improve. Factors that could hinder growth in packaging machinery purchasing include
• weakness in capacity utilization;
• economic weakness and geopolitical uncertainty;
• mergers, plant closings, and corporate restructuring;
• increasing competition from used and rebuilt machinery; and
• substitution of retrofitted machinery. —ALR
Companies in this article