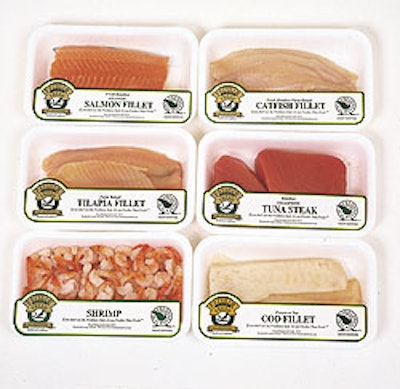 Gourmet To Go is not the first modified-atmosphere package from Fresher Than Fresh. Nearly four years ago the firm launched a line of fish under the Fresher Than Fresh brand that's still available today.
The Fresher Than Fresh product line is packaged on the same Ross tray sealing machine used for the Gourmet To Go line. Backflushed into each package is a similar mix of oxygen, carbon dioxide, and nitrogen. AERpack® foam trays are supplied by coopbox (Reggio Emilia, Italy). That firm coextrudes a five-layer polyethylene/tie/ethylene vinyl alcohol/tie/PE structure and laminates it to expanded polystyrene foam. From this lamination, trays are thermoformed. Clear barrier lidding is from Cryovac (Duncan, SC), which chooses not to divulge the material's makeup. While sheet-fed lidding is used on Gourmet To Go, this material is supplied as rollstock.
Unlike Gourmet To Go, the Fresher Than Fresh line is not in a cook-in tray, nor does the package include vegetables or a starch; a pressure-sensitive label replaces the paperboard sleeve used on Gourmet To Go. Also different is that in the supermarket, while Gourmet To Go is in its own special refrigerated display case and is positioned as a meal solution, Fresher Than Fresh is sold near the fish department service counter. Another key difference: While Gourmet To Go is delivered store-door, the Fresher Than Fresh line can be handled through central distribution points.
"With this line we aim at a consumer who is used to buying seafood and is comfortable cooking it," says David Tatman, corporate chef at the company. "Gourmet To Go is geared more toward someone who doesn't like to or doesn't know how to cook fish. There's no preparation with Gourmet To Go. Just microwave it right in the package and eat."
The 10- to 12-oz portions in the Fresher Than Fresh line retail for $10 and under. Shelf life is 10 days, which is two days more than that of Gourmet To Go. "That's partly because you're contending with fish only, not fish plus respiring vegetables," says Tatman. The two extra days make it possible to distribute the Fresher Than Fresh line through two Harris Teeter central distribution centers, one in Greenville and one in Indian Trail, NC. From there the packages reach all 230 Harris Teeter stores.
See the story that goes with this sidebar: The converting connection
Companies in this article