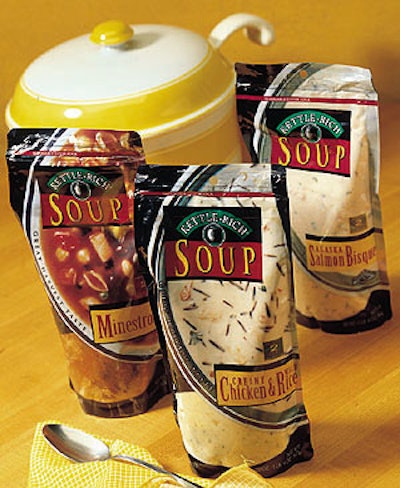 Now called the Flexible Packaging Achievement Awards, the annual competition of the Flexible Packaging Assn. (Linthicum, MD) rewards converters and packagers across a broader range of achievements than ever before. Although more than just food packages were selected for awards, a variety of food product packages secured the majority of them.
Formerly called the Top Packaging Awards, the revised competition issues awards for Packaging Excellence, Technical Innovation, Environmental Achievement and also for Printing Achievement. One package, for Tyson's Cornish Hens, won a Silver Award for Packaging Excellence and a Gold for printing. The awards were presented during FPA's annual convention, March 1, in Naples, FL. Judges were Professor Larry Gay of California Polytechnic State University, Art Friedman of the Converters Consulting Network, and Arnie Orloski, editor, Packaging World.
Because 16 different packages won awards, this report will cover those food packages that won for Packaging Excellence. Other food packages that won Technical or Printing awards are covered on p. 41. In addition, six nonfood packages were also selected, as reported in a third FPA awards story on p. 45.
The Highest Achievement Award went to Alcan-Lawson Mardon North America (Northbrook, IL) for a refrigerated soup pouch (1) marketed by United Signature Foods, Northbrook, IL. United packs the soup into 20-oz stand-up pouches under its Kettle Rich brand, and for Jewel Food Stores' Chef's Kitchen label, at its Indianapolis and Newark, CA, production facilities. A 40-oz Kettle Rich stand-up pouch is also packed for Sam's Club warehouse stores.
The pouch is a 5.5-mil construction of polyester/ethylene vinyl alcohol/coextruded sealant that's now fabricated by Alcan-Lawson Mardon into a straight-sided pouch. The material is printed in eight colors via flexo, with clear windows front and back so the consumer can see the product. Originally, says Mercer Miller, general manager of USF's soup division, the Chef's Kitchen pouch was introduced in Oct. '99, in a tapered, bottle-shaped pouch from a different vendor.
"That was really kind of a test market for us to determine if we really wanted to invest the kind of money we'd need to go into full production on the product and package. We got a 'soup season' under our belt with Jewel and it was a big success," Miller says. "The test was concluded last summer, and we [made the investments] to add production and also to produce our own brand, Kettle Rich." Alcan-Lawson Mardon has supplied the straight-sided trapezoidal-shaped pouch for several months, Miller adds.
What led USF into refrigerated soups was that product's success in Europe over the last 15 years. "That's because a chilled soup can deliver a product with bigger particulates and fresher taste than a soup in cans," Miller says. And even though shopping patterns are different in Europe, he says the market drivers of convenience, freshness, and ready-to-heat products are the same in the United States. Plus, he adds, the U.S. consumer is always looking for newer tastes and varieties.
Consumer convenience is supplied by a reclosable zipper and the ease of disposal that's common to flexible materials.
Miller was reluctant to discuss USF's packaging process, other than to say the soups are hot-filled and the process has a patent application pending. The soups are offered in several varieties and retail for $2.99 to $3.29 for the 20-oz pouches.
Kraft adds convenience
Another marketer that invested heavily in a new package is Kraft Foods, Northfield, IL, with Deli Deluxe (2), a 16-oz package of 24 slices of American cheese. From Pechiney Plastic Packaging (Chicago, IL), the pouch is an adhesive lamination of polyester/adhesive/metallized oriented polypropylene/ethylene vinyl acetate sealant. The polyester is gravure-printed in eight colors. It won a Gold award for Packaging Excellence.
Launched last October, the new package is a 16-oz alternative to sliced cheese packs previously available only in 8-oz, 12-slice packs. To lure customers to the larger size, the pack adds convenience. It begins with an exclusive laser scoring that delivers easy opening. It also adds reclosability through a zipper that's supplied by Minigrip/Zip-Pak (Manteno, IL), says Patrick Kocher, Kraft's group packaging leader for cheese.
In addition, the package graphics, designed in-house at Kraft, are especially appealing for cheese packs. The OPP film is supplied stripe-metallized by a supplier Pechiney declined to identify. The converter then laminates the web to the printed polyester and coats the OPP with the EVA sealant. "Compared to previous cheese pack materials, the structure is a major upgrade in both package performance and in esthetics," says Jan Boyd, Pechiney's cheese market manager. The new pack, she says, employs a truly hermetic seal, replacing the cold seal used on other cheese overwraps.
FPA judges tested the easy-opening feature of several packages and the laser-scoring on this package worked best. Laser scoring has been used for several years by Pechiney and its predecessor, American National Can, Boyd says. More recently, the process has undergone considerable improvements, via laser technology and new diagnostic programs that control the depth of what she calls the "weakening" of the material. She adds that laser scoring is done in-line, although she declined to be more specific.
To produce the new package, Kocher says that Kraft installed a new packaging system from SIG Pack (Raleigh, NC), but he declined to describe it. About all Kraft will say is that the company is "very excited" about the new package.
Ore-Ida's 'billboard'
Another "stand-up" product won a Silver award for Packaging Excellence for H.J. Heinz, Pittsburgh, PA, and its converter, Printpack (Atlanta, GA) (3). Heinz Frozen Foods' stand-up bag for Ore-Ida potato products won for making the French fry market vertical in a world where supermarket freezer cases have become vertical. The new packs also add convenience through the use of a zipper reclosure feature that's applied to the roll stock film on the company's bank of Model SVB3601 packaging machines from Robert Bosch (Bridgman, MI).
Although the materials vary depending on product characteristics, the primary structure is 48-ga polyester adhesive-laminated to a 2.5-mil coextruded blown film. The polyester, says Printpack's Susan Folds, provides a broader range of seal temperatures for the variety of seals used in the finished package: four side- or edge-seals, back fin seal, end seals and zipper profile seals.
The package is reverse-printed flexo in eight colors in-line with lamination. The package design presents the Ore-Ida brand name more effectively than the previous flat package, and the bright red glossy package distinguishes itself from competitors. A Printpack marketer pointed out that the bright red printing was a visual tie-in with Heinz's main product, ketchup.
A new sealant film, she says, demonstrates excellent performance for drop strength and puncture resistance; that's important because, once frozen, French fries are like spears and it's difficult to prevent bag rupture.
The top is notched for tear opening. Still, compared to the flat polyethylene bag it replaces, the Ore-Ida package's stand-up feature and reclosable zipper were persuasive to the judges. Repeated calls to Heinz were not returned by press time.
Tyson's hens stand up
As part of an ongoing program to upgrade its packaging, Tyson's, Springdale, AR, was a double winner (Packaging Excellence and Printing) for its stand-up pouch for two smoked, precooked and frozen Cornish hens (4). Converting of the stand-up pouch was done by Nordenia USA (Jackson, MO). Nordenia is the new name for a company in the U.S. that had been known as M&W Packaging.
The material is 48-ga metallized polyester that's laminated to a 4-mil ply of metallocene-based linear-low-density polyethylene. It's gravure-printed in seven colors, including transparent inks and specialty colors for Tyson's, says Dan Kinsey, graphics coordinator for Nordenia.
"We now have quite a few stand-up pouches for retail sale," says Rob Lyall, Tyson's corporate purchasing manager for flexible packaging. "But this is the first time we've ventured into a metallized substrate. Everyone has been very pleased with this package. We've seen a big increase in the print consistency by going with gravure. The overall print quality is definitely better, so we think this package is going to be the start of a lot of good things to come."
This package represents the first time that Tyson's has marketed two Cornish hens in the same package, primarily for club stores. It's due to the strength and integrity of the pouch. The use of the metallocene-based sealant was for its cold temperature strength, says Kinsey. Nordenia did not want to identify the source of the reclosable zipper because, as a company, it uses zippers from several sources. The packaged pouch measures about 12"x11"; print width is 28".
"The packaging material is definitely more expensive than others we've used in the past," admits Lyall. "But we've made a lot of strides in improving our graphics and package design over the last couple of years. We're now seeing some of the benefits of doing that."
Companies in this article