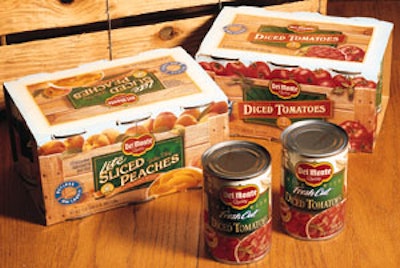 The San Francisco-based firm installed in its Rochelle, IL, distribution center a Marksman paperboard wrap machine from Riverwood (Atlanta, GA). In place of plastic ring carriers, club stores now receive six- and eight-count multipacks of canned fruits and vegetables overwrapped by paperboard carriers with rich, consumer-grabbing graphics.
Gone are the corrugated trays that used to hold the cans in their ring carriers. "The store no longer has to dispose of that corrugated," says Susan Chamberlin, packaging purchasing manager at Del Monte.
At Del Monte's Rochelle plant, a palletizer forms layers of individual packs and a cohesive spray is used to unitize the layers. Corrugated corner posts are added and the pallet is stretch-wrapped.
Converting the paperboard carriers for Del Monte is Rock-Tenn (Norcross, GA). That firm prints the Riverwood SUS Pearlkote board on an offset press in five colors plus coating. A 24-pt board is used for six-packs, 26-pt for eight-packs.
The new packaging carries only a slight upcharge, says Chamberlin.
Companies in this article
Videos from Graphic Packaging Intl.