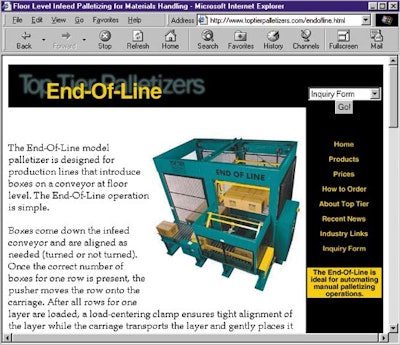 Many people use the Internet every day to purchase books, CDs, groceries and other small, inexpensive items...but a $50ꯠ palletizer? When Dallas-based Kimberly-Clark Corp. needed a palletizer, purchasing engineer Angel Hernandez point-and-clicked his way to a perfect fit before contacting the supplier. West Linn, OR-based Top Tier's Web site (www.toptierpalletizer. com) made the purchase possible.
After looking at other models, Hernandez spotted an advertisement in a packaging trade publication and surfed over to Top Tier's site. Within a short time, he had almost all the information he needed–including price–to make an informed purchasing decision. "When I saw the price I was a little bit surprised, because we had looked at other machines" that were priced higher, Hernandez says.
Top Tier's site, which features the company's two palletizer models, instructs users on "How to create a quote." Having perused the machines' features, specs, diagrams and operational information, users can select the machine that best fits their needs. After adding in the cost of accessories (all prices are given), users arrive at the final cost for the machine. Then they download, fill out and fax the order sheets to Top Tier. Hernandez notes his machine's price changed slightly from the one quoted because he needed a few additional accessories, but the quote was mostly accurate.
Hernandez was very satisfied with using the site as a sales resource. "The Web site is very helpful because everything is in there," he says. "I just selected what I wanted. The diagrams of the machine [helped us] figure out where we were going to put it on our floor layout. And the video clip was helpful because it shows you how the machine works. The site is very good."
After selecting his machine and accessories, Hernandez faxed his order form to Top Tier. Until that point, there had been no person-to-person contact involved in the sale. A Top Tier sales representative visited the Kimberly-Clark plant to answer any questions and to make sure the machine would fit. Several weeks later, Hernandez received his palletizer and became Top Tier's first Internet-generated customer.
A win/win situation
Is the packaging field ready to spend $50ꯠ with the click of a button? Top Tier marketing manager Greg Donahue doesn't believe so. "I think with machines that are in the range of $50ꯠ, you're not going to actually meet people who are going to buy them with the click of a button," he says. "[Mr. Hernandez] went to the Web site, learned what he needed to know and got in touch with us. The sale did come via the Web site, but of course we still had to have the human interaction."
Still, the idea of customers using the Internet to find equipment is good news for Top Tier, which, as a newly launched company, currently operates without a direct sales force. The company relies on its Web site to generate inquiries, which are then addressed by contracted salespeople. Donahue says he believes end users eventually may order expensive equipment off the Web, sight unseen, but for now his company is not expecting its Web site to take quite that large of a role.
Despite the drawbacks of lacking a direct sales force, Donahue says the Internet has helped customers learn about Top Tier's products. Hernandez agrees: "[Using the Web site] saved me time."