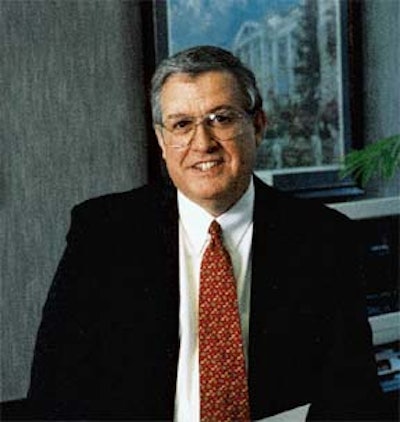 Sponsored by the Packaging Machinery Manufacturers Institute, Pack Expo Las Vegas' exhibition will be open each day from 9 a.m. to 4 p.m. The exhibition will include more than 600 exhibitors occupying over 300ꯠ sq' of floor space. Co-located will be the Intl. Exposition for Food Processors, sponsored by the Food Processing Machinery & Supplies Assn. (Alexandria, VA). Registration for the show and the Solutions 99 Conference is also available at PMMI's Web site, www.packexpo.com. A full preview of Pack Expo Las Vegas will be available in the October issue of Packaging World.
Solutions 99 will feature speakers and presentations from industry leaders from across the packaging industry and is sponsored by PMMI's Education and Training Foundation. Each day's program features multiple tracks."Packaging technologies, materials and processes are on the cusp of the new millennium," commented Ben Miyares, vice president, industry relations, PMMI. "Solutions 99 will provide attendees with the answers to issues they will be facing in the coming years."
On Tuesday, Oct. 18, Solutions 99 kicks off at 9 a.m. with a session titled Assessing alternatives to traditional rigid food packaging systems, moderated by Sacha Helfand, of the Food Processing, Machinery & Supplies Assn. Speakers include Phil Minerich of Hormel Foods Co. showing Rigid packaging innovations for consumers. John Buttermore, Graham Packaging will talk about how Teamwork between packaging suppliers and food processors can lead to plastic container development. The final part of this session will cover Systems considerations in transforming traditional packaging lines. Speakers will be Brad Kafka, and James L. Pfister, both with Metsys Engineering Inc.
Also at 9 a.m., Tuesday, a concurrent session will focus on Distribution packaging and will be moderated by Mary Ann Falkman, Packaging Digest. James Cahill, Alvey Integrated Business Solutions, will explain how to Meet transport packaging demands of ECR and EFR. Diana Twede of Michigan State's School of Packaging will discuss Returnable transit packaging, and Paul Russell of Hewlett-Packard will explain how his company "Spells" packaging supplier evaluations.
The third concurrent session at 9 a.m. is titled, How to choose the right systems integrator, the first of two sessions on this topic. Moderating is David Newcorn of Packaging World. Patrick Helm of Lockwood Greene will offer his ideas on Evaluating systems integrators, and Ed Hancock of Anderson Packaging's pharmaceutical unit will give The end-user's perspective.
More Tuesday sessions
Later on Tuesday morning, beginning at 10:45 a.m., another series of concurrent sessions are part of Solutions 99. One is called Pharmaceutical packaging in the new millennium, and it's moderated by Daphne Allen of Pharmaceutical & Medical Packaging News. The program leads off with Edward Bauer of Wyeth-Ayerst Laboratories offering his Three key packaging technologies for the millennium.
Next is Warner Lambert's Tom McMurray who will help identify Packaging implications of the Internet marketplace for pharmaceuticals. If that program is optimistic, the following one may not be. Eric Greenberg of Ungaretti & Harris will offer his view of Drug packaging regulation: You ain't seen nothin' yet!
Arnie Orloski of Packaging World is moderator of a technical session on In-package oxygen scavengers. Speakers include Roman Barski, Jr.of BP Amoco's Specialty Intermediates Group asking whether Co-polyester scavengers make better containers than cans or glass? Richard McKenna, Tri-Seal, a Tekni-Plex Co., will explain how Barrier coextruded closure liners can stop oxygen migration. How UV light can trigger absorption in MAP films is the subject for Sam Johnston with Cryovac Div., Sealed Air Corp.
Packaging World's David Newcorn moderates the second session on Selecting the right systems integrator in another concurrent session late Tuesday morning. Speakers include John Finck of R.A. Jones who will detail Advantages of an OEM systems integrator while Stephen Elliott of E2M will extoll the Advantages of an independent integrator. Finally, Pat Helm of Lockwood Greene returns to explain the Advantages of a full-service integrator.
Tuesday at 9 a.m.
Andrew Mykytiuk of Flexible Packaging will be moderator for a panel discussion, Fitment forum for flexibles. Participants include Stuart Murray of PakSource Global; William Shepard, Velcro USA, Inc.; W. Mark Dutt of Hefty® Slide-Right® Products, Pactiv Specialty & Consumer Products Co., and Jim Keelen, Menshen Packaging USA.
Riviana Foods' Lejo Brana will be moderator of Packaging technology crossovers in another session. Speakers include James Scott, Eastman Kodak, explaining how his company Evaluates and chooses barrier packaging. Daniel Finazzo and Jonas Edvardsson, both with Sebesta Blomberg & Associates, Inc., will try to show How to adapt the best technologies for your packaging operations.
Also at 9 a.m., another concurrent session explores What's next for hot-fillable PET, led by moderator Patrick Reynolds of Packaging World. Nina Goodrich of Twinpak, will address Potential for pasteurization and retortability in PET and Peter Weggeman, Innovation in Beverage Packaging (sponsor of Bev-Pak conferences) will report on Cryogenically processed PET container technologies. This will be followed by Bora Tekkanat of Schmalbach-Lubeca Plastic Containers USA, explaining how Hotter fills for PET challenge glass.
New sessions at 10:45 a.m
How OSHA's ergonomics standards will change packaging is the title of a late-morning session led by moderator Jerry Welcome of PMMI. Grab your boots for a Washington insider look at Politics, productivity and worker protection by Efthemia Hinman of Atlantic Mutual Companies.
Another session is International growth markets for packaging led by Jorge Izquierdo of PMMI.The first speaker is the well-known Sergio Haberfeld of Dixie Toga SA, who serves as president of the World Packaging Organization and other groups describing how to Understand Latin American special packaging. He's followed by Ruben Garcia Cruz, Convertidora Industrial SA de CV, explaining how Mexico can be the entry to Latin America.
Rick Lingle of Packaging Digest is moderator for another 10:45 a.m. session called Long-shelf-life refrigerated and frozen foods. Dave Adams of Purely Burley Marketing will discuss Packaging for refrigerated fish, and other fresh foods. Unique freezer-to-table packaging is the subject for Robin Sweet of The Well Fed Baby. Developing consumer-acceptable case-ready beef is the topic for Joseph Hartnett, Jr. of Monfort Inc.
Thursday at 9 a.m.
Kathryn Martin of Food Engineering will lead the session titled, Beyond identity: Labeling advances that do more. B. J. Anderson of Salem Label will discuss OPP labels and labeling systems that can be used for cans, canisters, bottles and jars. Next, Dan Muenzer of Spear, Inc., will help attendees uncover Invisible labels with high visibility as he discusses retail labels that move products off the shelf. This session concludes with a more industrial approach, System solutions to unique labeling challenges by Mark Windle of Auto Labe.
Another concurrent session on Thursday morning, How ANSI's new standards will affect the way packaging machinery is designed, built and operated, will be headed by moderator Timothy O'Rourke, director of technical services, Packaging Machinery Manufacturers Institute (PMMI). Charles F. (Fred) Hayes, Hayes & Associates, well-known legal and forensic expert, will present ANSI moves from prescriptive to process packaging machinery safety standards: Are you prepared?
Another session on Thursday will explore Retortable stand-up pouches, headed by moderator Hallie Forcinio of Packaging Management Update. Is Pet food just the beginning? asks R. Charles Murray, Profile Packaging, Inc. Eric McDermott of T.H.E.M. (Technical Help in Engineering and Marketing) will present his company's efforts in Bringing Japan's pouch experience to America.
10:45 Thursday
Money matters is the theme for one Thursday session led by Greg Winchester of Newcourt Financial. Guide to financing options for packaging machinery is the topic for Gary Levenstein, Ungaretti & Harris. He'll be followed by Mark W. Dobbins of Koch Chemical Intl.discussing Hedging strategies to keep resin costs on budget. The session concludes with Keith Strope of Tricor-Braun explaining how Container distributors stretch packaging budgets.
Another session on Thursday at 10:45 will be How contract packaging can expand packaging productivity. It will be lead by Richard Cayer of the Contract Packaging Assn. Thomas Bacon, Aaron Thomas Co. will offer Keystones to successful packaging on assignment. He'll be followed by Ann Wagoner of The Clorox Co. who will explain Why Clorox uses contract packagers.
The final concurrent session at 10:45 on Thursday is on Environmental considerations led by Steven Ennen of Packaging Digest. Jerry Powell of Resource Recycling tackles a controversial subject when he talks about What packagers and recyclers can learn from the introduction of plastic beer bottles. Three partners in a new Greener packaging concept for ice cream cups will explain how the container was developed. Speakers include Michael Brink, Ben & Jerry's Homemade; Ken Overbeck, Riverwood Intl.; and Gary Monath of Sweetheart Cup Co.
The final speaker will be the Plastic Redesign Project's Peter Anderson who will report that Plastic containers are killing the recycling industry.
Pre-registration for Solutions 99 is $150 per day, or $295 for the full three days. The fee includes admittance to the conference sessions, a copy of the proceedings, plus the $15 registration fee for Pack Expo Las Vegas. Pre-registration ends Sept. 27, and can be handled via PMMI's Web site, www.packexpo.com or by contacting PMMI's show department.
Companies in this article