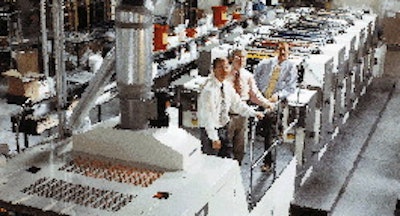 Greater efficiency through increased speed, less downtime and simpler troubleshooting are helping converter All Packaging Co. justify its recent $2 million investment in a new offset printing press.
Located near Denver, APC in May began running its new press from Mitsubishi Lithographic Presses (Lincolnshire, IL). The six-color, sheet-fed equipment immediately replaced an outdated press that was sold. And the new unit has made expendable another six-color press that's still being used, though it too is up for sale at press time. The phase-out of that press stems both from its own limitations and the efficiency of the new Mitsubishi 3F-6.
Compared to the press that's being phased out, APC's new model has:
* Increased uptime by 30%;
* Boosted output to 11ꯠ sheets/hr, from 7ꯠ/hr;
* Reduced make-ready time to 45 min from 75 to 90 min; and
* Improved print registration accuracy, color quality and consistency.
Before it added the Mitsubishi, APC operated the two six-color presses. One "was outdated, slow and was no longer economical to run," says operations manager Bob Nobles. It was sold. The press that's currently up for sale, Nobles believes, might have been too advanced for its own good.
Purchased in 1994 as a "state-of-the-art" machine, he says the unit uses digital fiber optics and a sophisticated system of 26 computers to execute press functions.
"Rather than hard wiring, the press uses fiber optics, with light carrying information through glass tubes," explains Nobles. "When we start up the press in the morning, we have to wait about a half hour just to get the light traveling through the system consistently."
Besides that warm-up period, interruptions in the light signals "continually shut down the press," he laments. "We had major problems where one computer wouldn't be able to communicate with another and that would shut the press down."
Troubleshooting the fiber optic press was also vexing, Nobles explains. "If a problem was detected, a monitor would show a series of error messages that we'd have to decipher. Many of these were in German, so it took us a long time to determine where the problem was and how to fix it."
Seeking efficiency, reliability
Looking to eliminate those problems, APC evaluated presses from four manufacturers, observing equipment at shows in Germany and the U.S. The converter supplied boardstock to press suppliers and had them print the board as tests. "The [printing done by the] Mitsubishi impressed us the most," says Nobles.
"We wanted reliability and efficiency," states Ken Pepper, APC's president. Those factors sold APC on the Mitsubishi. "Both the Mitsubishi and the fiber optic presses are forty-inch, six-color presses," explains Pepper.
"But while this new press uses computers," Nobles says, "it is hard-wired, and has override systems, which represent a significant improvement. That way, if there's a glitch, the system will inform us and we can manually make changes."
For example, he explains, if a safety switch is stuck, an operator can pull up a screen for safety-related information and the specific location of that safety switch will be flashing on the screen. The operator can go to that point and make the necessary adjustment.
"We track uptime carefully, and we estimate that with the new press, we're up and running about thirty percent more than with the fiber optic press," says Nobles. "So if we compared identical jobs on both presses for a week, the Mitsubishi would probably run five or six more jobs."
That, Nobles says, "translates into greater operating cost efficiencies. That's important because in a manufacturing plant like ours we're trying to save five minutes on a job here, ten there. If we can improve the efficiency and speed of each process by a few minutes for each job, then over the course of a year we've made significant changes."
Speed, changeover gains
The new printing press also eliminates the troublesome set-up time necessary for the fiber optic system. Instead of a 30-minute ramp-up, Nobles says, "with the Mitsubishi, we fire it up and we're rolling in thirty seconds."
The 3F-6 press is not only easier to set up and troubleshoot than the unit being sold, it's also faster and permits quicker changeovers. "On the older press, it takes seventy-five to ninety minutes to make a six-color changeover," Nobles figures. "On the Mitsubishi it's usually about thirty minutes." The press is equipped with a washing device that rinses rollers automatically and then shuts itself off. Nobles says this feature helps speed changeovers on the 3F-6.
As for speed, Pepper says the new press can run at speeds to 13ꯠ sheets/hr, though APC tends to run in the 10ꯠ to 11ꯠ range. "That's much faster than the older press we use that runs six- to seven-thousand sheets per hour," he explains.
Selecting first user
More uptime, faster speeds, quick changeover and less make-ready time are all key benefits for APC. But print quality receives top priority. "Print quality is often in the eye of the beholder," says Pepper. "But we're trying to take as much guesswork out of it as possible with this machine."
With the new press, he says, "we're able to print a dot in register much quicker, with considerably less dot gain. The Mitusbishi provides us with a huge advantage in color consistency. In the folding carton board business, that sheet-to-sheet consistency is especially important because that carton is what sits on the store shelf."
Once the new press was up and running, "We purposely picked Neoteric Cosmetics to be the first to have its cartons printed on the machine," says Pepper. "We ran their cartons on the older press and they were happy with them. Just because we were doing it right one day doesn't mean we can't do it a little better tomorrow. We wanted to get more gloss on their cosmetics cartons and develop a better color formulation. They're one of our best customers, and we wanted to show them how important we took their jobs."
"Even with the old press, All Packaging was holding some pretty tight [color registration] standards for us," notes Jim Shea, materials manager for Denver-based Neoteric Cosmetics, a subsidiary of Scott's Liquid Gold. "But with the Mitsubishi, we've noticed the colors look sharper. We just received a shipment that looks really good."
Benefitting from cooperation
While the new press can run anything from paper to 28-pt folding carton board, Neoteric specifies primarily 16- and 20-pt carton thicknesses. "All Packaging prints about twenty Alpha® Hydrox cartons that are sold in the U.S., Canada, South America, Europe, the Middle East and Asia," explains Jeff Hinkle, Neoteric's vice president of marketing. He says APC will also print cartons for a new line of cosmetics developed for people with diabetes, set to be introduced by the second quarter of 1999.
Sold to women, the Alpha Hydrox line includes cremes, lotions, liquids and gels. APC prints cartons for Neoteric's primary product line, as well as those for the packager's belleza latina(TM) line for Hispanics.
Like most packagers, Neoteric's primary concerns are print quality and price. "We've had several different carton printers in the life of Alpha Hydrox," Hinkle admits. But Neoteric has worked with APC now for about three years.
While Shea commends the color quality of the California-based converter it used before hiring APC, he says the color from the Mitsubishi is an improvement. So are the economics. "First, the cartons cost about two- to five-cents per carton less than before. And we no longer have the freight costs for shipping the cartons from California to our plant here in Colorado. APC is only minutes away from us." He says freight savings exceed $800/mo.
APC's proximity also provides service benefits. Shea explains: "We've had tremendous response from them. I remember one instance recently where I was standing at our production line, and our workers noticed a problem with a carton not opening up properly. I picked up the phone about thirty feet away from our cartoner and called our APC person. He was here in about fifteen minutes. You can't beat that kind of response."
APC worked closely with both Neoteric and its cartoner supplier, Thiele (Minneapolis, MN), to produce cartons that would run efficiently through that machine at Neoteric's plant. "We had production people spend many hours observing the machine at Neoteric Cosmetics to understand how to best produce cartons to match the specs recommended by Thiele," notes APC's Noble.
The key difficulty in the process, Neoteric's Shea recalls, was "with cartons not opening properly on the machine. As it turned out, the majority of the problem had to do with cartons that weren't 'pre-broken.'"
Pre-breaking refers to folding open the carton's four scored vertical side edges then returning them to their knocked-down position. That softens the scores and makes it easier for the vacuum cups on Neoteric's cartoner to open the carton. That allows the cartons to run more smoothly. Shea says the machine is operated at speeds of about 135/min, depending on the carton.
Shea also commends APC for helping the cosmetics maker overcome another problem running the cartons.
"At first, we had the coating applied completely over the outside surfaces of the carton," he says. "After we filled the cartons we used a water-based glue to seal them shut. We shouldn't have had a problem, but the glue wasn't keeping the carton flaps sealed, so we worked with APC and had them remove the coating from the inner flaps and now we achieve good seals."
APC has also helped Neoteric by "working with us to develop inner structures to hold the cosmetic product in place in the carton, making it difficult for a consumer to pilfer," says Shea.
The printing process
Depending on carton size, APC prints Neoteric cartons between four- and 10-up on the press. And though the Mitusbishi is capable of printing multiple carton varieties on the same sheet, Neoteric runs the same carton type and graphics on each individual sheet.
The printing process begins as Starcote® board is supplied in rollstock form from International Paper (Memphis, TN). APC cuts the paperboard into sheets for the Neoteric cartons. At the front end of the printer, sheets are stacked in a pile that sits on a plate that rises as the stack of sheets is used. Vacuum cups pick up the top sheet and place it into an infeed section. Drive wheels and a side guide help align each sheet's front and side edges as it enters the press. Grippers feed the sheet into the first of the six printing stations.
Each print station includes a set of ink rollers that transfer that station's color to the blanket impression cylinder. That cylinder offsets the image onto a rubber blanket cylinder that in turn transfers the image to the board.
According to Nobles, the color order depends primarily on how much of each ink color is needed. For most of Neoteric's cartons, black is laid down first because its use is limited to copy on the carton. Next comes a special color, such as gold, that's used as a decorative graphic. The last colors, which dominate the primary Neoteric line, are a special "Neoteric" red that APC worked diligently to achieve. The warm red color is the result of a "double-bump," with two stations used to apply the color.
Laying down inks in order of least- to most-used is advantageous because the process involves wet trapping of inks. There is no drying of inks between stations. Instead, each unit prints a wet color on top of the previous one. Once all the colors are applied, the sheet goes through a tower coater that applies an aqueous coating over the inks for rub-resistance and gloss. The coating traps the ink below. Sheets pass through infrared heat and hot air to speed drying.
According to Nobles the IR heat and hot air immediately dry the coating so that as grippers pick up the sheet, it will not stick to the previous sheet on the discharge stack. The soy-based inks take about 24 hours to completely dry, he says. Inks dry as they're absorbed by the board, and through oxidation as air enters the board, primarily through its uncoated side. The delivery of the printed sheet onto the discharge stack completes the process on the Mitsubishi press.
APC runs the new press 13 hours/day, six days/week, producing about 90% of its total sales volume on the 3F-6. APC not only uses the press for Neoteric's folding cartons, but also for Neoteric's small corrugated multipack cases that contain multiple individual cartons. Cases are typically printed in one color, which varies.
"After we started running the Mitsubishi, we were planning to run just some heavier calipers and recycled stocks on the older machine," says Nobles. "But the new press has been so much more efficient that we're moving that work over to it. The Mitsubishi has proven itself to be a heck of a workhorse."
Companies in this article
Videos from All Packaging Machinery Corp.