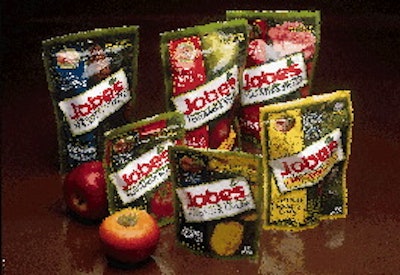 This spring, Waco, TX-based Easy Gardener began "fertilizing" sales of its popular Jobe's® brand of outdoor products through new packaging. These fertilizer spikes are used to grow plants, flowers and trees. (The company also sells Jobe's products for indoor gardening applications, though in other package configurations.) Stunning graphics make the new outdoor plastic flexible packs stand out from the competition. The new packs include stand-up, resealable pouches and overwrapped "cookie bag" packs. Jobe's new packaging was introduced to the trade at the National Hardware Show held in August in Chicago.
"The Jobe's brand has existed since the early seventies," explains Clemente Conde, the company's national marketing manager. "Until this year, these products have always been sold in a paperboard folding carton, sometimes shrink-wrapped in film. But a couple of things have happened that drove our decision to change to the new packaging structures."
The primary driving factor in the change, he says, had to do with the way retailers sell Jobe's outdoor products. "In the past, the cartons were marketed mainly indoors," Conde contends. "We sell to many of the top one hundred lawn-and-garden retailers in the country. And a lot of them have increased their presence outdoors. The new packages resist water, making them suitable for outdoor displays beside the plants, flowers and trees that they're intended to be used for. We could see that it made sense for us to offer packaging for Jobe's that could be sold both indoors and outdoors."
Humidity was another concern for Easy Gardener, particularly with the former paperboard cartons. "The package was not equipped to seal out moisture," notes Conde. Battling moisture wasn't the only challenge the carton faced. "Fertilizer is hygroscopic," he says. "And even though the carton was varnished and sometimes shrink-wrapped, moisture permeation caused some deterioration to both the carton and the product."
Selecting package and converter
Besides needing to be weather-resistant for outdoor selling environments, Easy Gardener realized a replacement structure had to be tough. "Some of our large tree spikes are about six inches long and nearly two inches wide, and they're made much like charcoal briquettes so they have sharp, jagged edges. That created another packaging challenge," says Conde.
In the search for an alternative package, several structures were evaluated. "We looked at coated and plastic-laminated board, but that left the edges of the material exposed to potential moisture," recalls Thomas Bensberg, plant manager at the company's Paris, KY, facility that fills the Jobe's line. "We also looked into plastic cartons, but they were prohibitively expensive. We then examined different wrap [flexible material] structures to try to find the best combination of water barrier, durability, abrasion-resistance and appearance."
Bensberg says that once the company became convinced that flexible packaging could do the job, it began to talk with different material converters. In the end, Easy Gardener selected Duralam (Appleton, WI). "We paid a visit to their facility and were impressed not only by the quality of their printing and eight-color capability, but they also seemed more flexible [than other converters] in terms of order sizes.
"That was very important to us," Bensberg explains. "For some of our products, we only produce one hundred thousand packages in a year, others maybe ten times that amount. Duralam was willing to work with us to accommodate some shorter print runs."
Stand-up structures
Duralam reverse-flexo-prints all of Jobe's packaging in eight colors on a narrow-web Vision(TM) press (see Packaging World, December '96, p. 16) from Paper Converting Machine Co. (Green Bay, WI). According to a Duralam spokeswoman, the PCMC machine's quick-changeover capability made it easier for Duralam to handle Easy Gardener's short-run requirements.
Several suppliers provided films for the adhesive-laminated structures. A 48-ga polyester/2.5-mil white linear low-density polyethylene is used for what Easy Gardener refers to as its "6000-Series pouches" for U.S. and Canadian fertilizer spikes; these are for tomatoes, potted plants and hanging baskets, bulbs and perennials. Duralam sends finished rollstock to a subcontractor that fabricates it into stand-up, zippered pouches that measure 5.06" H x 6.25" W x 2" D. These pre-made pouches are manually filled at Easy Gardener's Paris plant, then heat-sealed on a machine from Doboy (New Richmond, WI).
Plant workers also manually load rose and tree plant spikes into 6" x 9" x 3" stand-up, zippered pouches. The large pouch structure for these products includes 48-ga polyester/1-mil nylon/4-mil white LLDPE. These pouches hold three, 10 or 18 spikes.
As PW went to press, Easy Gardener was evaluating automatic pouch-filling/sealing equipment for both pouch sizes.
'Cookie' packs
Besides the stand-up pouch, Easy Gardener uses an overwrapped carton that Conde calls a "cookie pack." The overwrap around the carton is crimp-sealed on two ends and has a back fin-seal much like a pack used for cookies. Impressively, the print coverage on the film extends right through the end seals, providing a richer appearance than the four-color printed carton used previously.
The flexible film structure for these packs, also supplied by Duralam, is an adhesive lamination of 72-ga polyester/2-mil white LLDPE. The polyester is reverse-printed by Duralam, which ships rollstock directly to Easy Gardener. Before the overwrap is applied, however, fertilizer spikes are manually loaded into kraft folding cartons from Lithocraft (New Albany, IN). These are erected on a cartoner from R.A. Jones (Cincinnati, OH).
Overwrapping of the filled carton is done on a horizontal wrapper from PFM Canada (Holland Landing, Ontario, Canada). The packs come in five-, 12- and 20-count offerings.
Combining the overwrapped cartons and the stand-up pouches, the line comprises a total of 34 SKUs. While the overwrapped cartons are merchandised on the shelf, the hole-punched pouches may be displayed standing, hanging from a pegboard or on a clip strip. With the use of a wire or plastic strip, a clip-strip display can be attached from just about any physical object that might be found at an outdoor lawn and garden center.
How do the new packages' economics compare to their predecessors? "In terms of actual unit costs, we're certainly spending more money for the new packages than we were before," admits Bensberg. "On the other hand, the newer packages last longer and look better on the shelf. Since these spikes contain agricultural fertilizer, as long as the product stays dry, it's essentially good forever. So the new package doesn't affect shelf life, but it does keep the product dry for a longer time period than our former paperboard cartons did."
While preventing moisture from damaging the product was Easy Gardener's paramount packaging requirement, consumers will undoubtedly first notice the striking graphics. Easy Gardener worked with designer Murrie Lienhart Rysner & Associates (Chicago, IL) to create a look that communicates a promise of sorts to the consumer by showing colorful images of large flowers, luscious fruits and vegetables, plants, trees, etc.
With its new stand-up pouches, Easy Gardener believes it has an innovative alternative to more typical cartons, bags and thermoformed structures that it competes with at retail.
"Most importantly," Conde concludes, "the film keeps the product dry and allows us to market it in outdoor retail environments beside the plants, flowers and trees they're used for. We're still in the process of nailing down specific sales figures for the new packs, but in some product categories, we have seen as much as a fifty-five-percent increase compared to sales of those products over the last few years."
Companies in this article