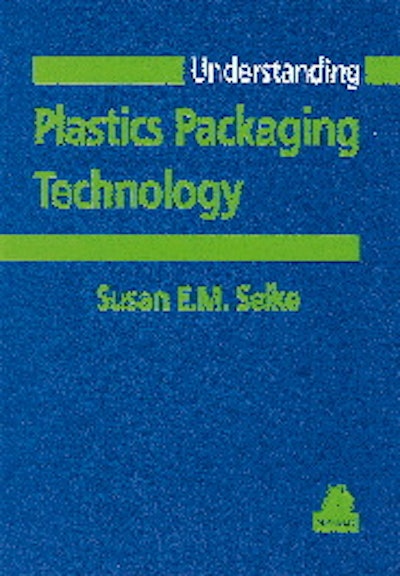 The book, aptly titled Understanding Plastics Packaging Technology, is written by Dr. Susan E.M. Selke, a professor at Michigan State University's School of Packaging. It is published by Hanser Gardner Publications (Cincinnati, OH).
Its scope is ambitious, attempting to cover in 206 pages the entire gamut of plastics packaging. It explains all the major resin types, converting processes, rigid container molding and forming methods, sealing methods and printing processes. It also covers shrink and stretch wrapping, thermoforming, barrier and migration issues, labeling/decorating/pigmenting, foams and cushioning, regulatory issues and environmental considerations.
The $34.95 paperback book is designed to "let the reader 'understand' the topic rather than to overwhelm him/her with a mass of facts and data," writes E.H. Immergut, editor of the plastics-oriented "Understanding" series to which this book belongs. It's supposed to allow readers to "reap immediate benefits when applying this knowledge to their research or work-related problems."
We found both claims to be justified. Although authored by an academic, the writing is lucid and accessible in most cases. Even when the discussion turns technical, such as in detailing chemical formulas, these sections can be skipped without compromising most of the value of the rest of the material. The book is even suitable for marketing people who often specify a particular package or process without fully understanding the economic and manufacturing implications involved.
The book moves quickly through a huge number of topics, treating each one in sufficient depth without dwelling excessively. The book is careful not to bore the reader with historical perspectives, except when it's required to provide a modern context.
One example is its explanation of the Delaney clause, which has been replaced more recently by the de minimis principle. That principle asserts that "there are risks too small for the government to be in the business of regulating," Selke writes. "It was calculated, for example, that the risk of dying of cancer associated with consuming products in PVC was less than the risk of being killed by a meteor."
The author puts the technologies in a real-world context whenever possible. That means identifying applications in which processes and materials are most often used (e.g., hot-filling, frozen food packaging, etc.). It also identifies commercial suppliers when they're closely associated with a given material or process. And the book is current enough to cover new developments, doing justice to such topics as PEN and metallocene catalyst polyethylenes.
The author also provides an unbiased view of the pros and cons as well as the economics associated with each material or process. This alone is worth the price of admission, given that many learn about such technologies from the suppliers that promote them.
The book concludes with a discussion of current environmental and regulatory considerations, an area that could span an entire book by itself. Here, the author does a credible job of identifying the challenges of collecting, sorting and recycling plastic packaging, and provides a thorough discussion of the current state of environmental legislation.
In addition to being a "rapid entry point or short course to a particular subject" (writes editor Immergut), this book makes a handy, easy-to-thumb-through reference work, meriting a permanent space on anyone's bookshelf. Certainly nothing can unseat The Wiley Encyclopedia of Packaging Technology for sheer breadth, from which this book admittedly draws extensively. However, given this book's compact size, facile writing and broad range, we'll be more likely to reach first for Understanding Plastics Packaging Technology. (DN)
Companies in this article